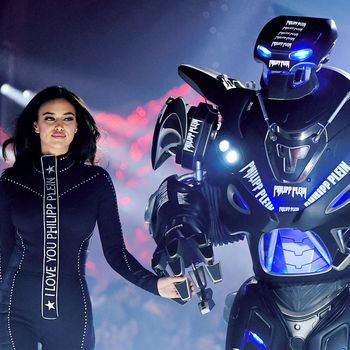 Philipp Plein.
Photo: Dimitrios Kambouris / Staff/2018 Getty Images
So, the frightfully fringy outfits the winter Olympians wore to represent the USA at the opening ceremony were a bit controversial. But what should the athletes have worn instead? Philipp Plein has the answer, or at least an answer. Plein offered his take on sporty winter fashion at his New York Fashion Week winter 2018 show Saturday night at the Brooklyn Navy Yard.
The official Winter Olympics outfits were designed by Ralph Lauren, who said the uniform "celebrates the American spirit, with iconic pieces updated with modern details and technical fabrications." Might we suggest that next time around those modern details and technical fabrications include robot escorts, branded balaclavas, and giant swaths of fur? What is more American than excess, really.
Instead of relying on one accessory (giant fringy gloves) to make a statement, Plein offered statement-making crop tops, puffer coats, and knee-high furry boots as acceptable winterwear. The women could wear ombré fur coats as minidresses and red skin-tight ski suits, while the men could choose between neon yellow sets and floor-length metallic coats.
Plein's models accessorized their looks with goggles and (in some cases) skis slung over their backs. The set included a giant spaceship, and the show kicked off with a robot walking a model through the venue to Frank Sinatra's "Fly Me to the Moon." At the end of the show, the models gathered together for a makeshift mosh pit under the space ship. That kind of camaraderie is a pretty good stunt to pull when you want to upstage Kim Jong-un's sister.