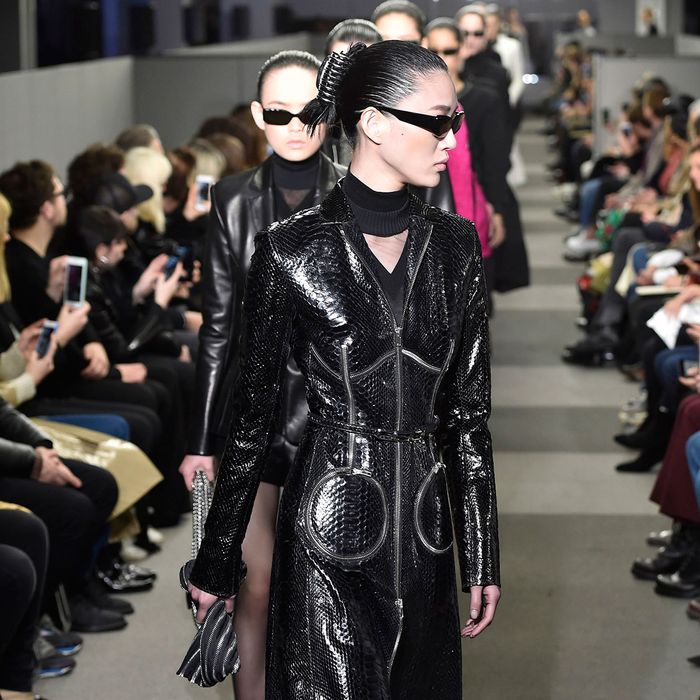 Photo: Catwalking/Getty Images
Alexander Wang is fun. He throws a killer party, embraces all the double entendre opportunities bestowed by his last name, and put a black fur hammock in his store. He's also truly funny — something not usually associated with someone so cool.
Wang has scared attendees at his own party by dressing up like a bank-robbing nun. He's given away his Adidas collaboration in trash bags (at the corner of Howard and Mercer). He's like fashion's court jester — allowed to mock nobility without consequence. And his most recent show, his last in the traditional New York Fashion Week calendar, was a court jester's final bow.
Scored to the sounds of heels clacking against marble, the runway presentation spoofed The Devil Wears Prada view of fashion. Wang showed at the old, now-empty Condé Nast offices, where he once interned at Vogue. The models marched in stilettos across the gray carpet wearing Matrix-y suits and sunglasses. They looked like an army of Condé Nast interns ready to go to war, or to go and unionize. This was how the world had long imagined Condé Nast employees, as chic little robots walking in lockstep, and Wang was obviously having fun riffing on the stereotypes.
The undertones didn't go unnoticed by the spectators, many of whom either work for the publishing giant now or passed through it at some point in their career. On social media, many mentioned the stress of stepping into the building again. Others speculated about some horror-story ending to the show, in which Condé's lowest-level employees took their revenge.
Mostly, runways are sincere occasions. The clothes are works of art being marched solemnly, unsmiling, down the runway. Even the most fantastical outfits, such as Marc Jacobs's Seussian creations from his fall 2012 collection, are presented with a poker face. On the surface, Wang's show was also serious; the models kept their own expressions emotionless, as models do. But Wang, unlike other designers, is at his best when he's creating a playful fashion environment. The only thing that would have made his final show better would have been a surprise cameo from Meryl Streep.