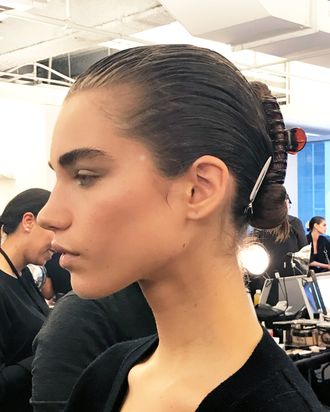 Were you looking for some sort of "businesswomen special" look? Alexander Wang found it for you. For his New York Fashion Week fall 2018 show, the Wang beauty look was a modern interpretation of a female CEO with a bit of an ironic wink – a heightened version of an Instagram #BossBabe.
First, Redken creative director Guido Palau and Wang brought back the banana clip (or hair claw) – a mainstay of the '90s professional woman or, more recently, the "I'm just hanging out" look. (Jennifer Lopez last wore one in public in 2011.) Palau called it a smart, ironic take on a "power executive of the '80s." To make it look "tough," he used tons of gel and paste (Redken Mess Around and Redken Hardwear 16) and the new Dyson blowdryer (it heats up to 150 degrees without damaging your hair) to create a super-smooth, pulled back style. This wasn't a messy bun, there were no tendrils in sight – the hairstyle was so sleek that you could see the comb marks through the hair, an intentional stylistic move.
Makeup artist Diane Kendal created a subtle power look, eschewing a bold lip ("It's not very Alex," she explained), drawing on strong contour, and finishing with lots of powder highlighter (NARS Albatross Highlighting Blush) to soften. Manicurist Rita Remark used two shades of nude polish (from the Essie Wild Nude collection) and another pearlescent (Essie Au Natural) to create a shiny, almost strobing, nail.
Wang's hair claws were branded, and might be available for sale in the future. But these practically identical ones are available right now on Amazon for $10. Now report to your cubicle on Monday with your new 9–5 look and don't forget to sign up for that 401(k) workshop later in the week.
If you buy something through our links, New York may earn an affiliate commission.