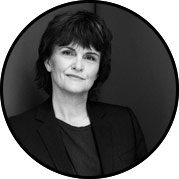 Somehow, New York Fashion Week has determined that it has no boundaries. The shows are all over town. The raunchy is mixed in with the tasteful, with long stretches of mediocrity in between. Gypsy Sport and Brandon Maxwell made for a wonderful contrast between the first two qualities yesterday afternoon.
Gypsy Sport, designed by Rio Uribe, was at Pier 59, where the models wore few clothes and included drag queens and a 10-year-old self-described "drag kid and LGBTQ activist." Uptown at Brandon Maxwell's glamorous show at the Time Warner Center, the lights of the traffic on Central Park South glowed strawberry pink in the rain-streaked windows. Maxwell's impeccably cut clothes, worn by the likes of Karlie Kloss and Gigi Hadid, were about as far from Uribe's outsider sexuality as you could possibly get. Yet, between them, they were the two most enjoyable hours I've spent at NYFW this season.
Both shows were full of attitude — Maxwell's age-old assumption that to look and dress like Gigi is to belong, Uribe's newer assertion that, no, you can be fat, gay, short, or old with saggy boobs, since no one has the right to decide who "belongs." Both left you feeling elated. Maxwell, who clearly loves what he does, invited his staff to join the models on the stage at the end. Leaving Gypsy Sport, I heard people say they hadn't had so much fun at a fashion show in a long time.
For a young designer, Maxwell is remarkably consistent without being boring. Since last season he's added more relaxed styles — like knitwear and a softly belted blazer, both worn with sharp-looking denim pants — but the silhouette remains the same. And despite the spectacular setting, he underplayed the nighttime glamour, focusing on slim jumpsuits in black or neon yellow, a red cardigan with a white blouse and a red beaded skirt, and a draped white top with black cigarette pants. It's a sleek, wearable style he's offering, good for black-tie or a cocktail party, and that tells me that Maxwell knows how his customers live.
Uribe is an outsider, originally from Los Angeles, and my sense — or, rather, my hope — is he'll remain one, even though he's been embraced by the fashion world (he won the CFDA/Vogue Fashion Fund award a few years ago). His fashion is too raw for easy or mass digestion, though someone should consider collecting his pieces. I think what gives his work so much energy is that the clothes are minimally constructed, often using found or ordinary objects and rudimentary sewing or knitting techniques. (Last season, for a street show in Paris, he apparently made a dress from a poster taken from a wall.)
So he's working more from feeling and instinct, which in itself is rare. This season Uribe was obviously interested in conveying sexuality — in almost attacking the assumptions (or what remains of them) about how much flesh to show, who is attractive, and whether new dress codes and new sexual politics have rendered runway fashion kind of powerless. Accordingly, his collection seemed to involve even less conventional construction than before. There were chain-wired bikini tops, slivers of dresses, tiny flaps for skirts, and other pieces with loose Frankenstein stitching.
Meanwhile, the diverse cast of models reveled in their own freak-a-deliciousness on the runway, cheered on by the audience. We've seen examples of free-form fashion before — from Hood by Air, for example — but the aptly named Gypsy Sport is even more ambitious in that regard, perhaps because Uribe feels he has nothing to lose.
The baffling business of reviving old labels continues. The latest is Trigère, founded in New York in 1942 by the French emigre Pauline Trigère, a formidable woman known for chic suits, capes, and her signature sleeveless coat. Two Montreal natives are involved: The designer is Franklin Benjamin Elman, who has worked for a number of European brands including Rick Owens and Costume National, and Peter Lewis, whose main business is in licensing household goods and toys (by Disney, for example), is the backer.
Lewis, who told me he has so far invested about $700,000 in the venture, admitted that he didn't know a lot about the fashion business. But he noted the trend for reviving old houses, and that having a French name couldn't hurt in terms of cachet with customers for whom Trigère was meaningless. He didn't seem fazed when I pointed out that relatively few revivals ever seem to equal the original inspiration.
Elman's designs included neat jackets with a ruffled edge, tiger-stripe prints, pleated dresses with sheer insets, and a coat with the Trigère name worked in a block pattern. Is there enough legacy in the brand to draw on? Do people care? Elman clearly thinks so. "There are such things as small businesses that grow," he said.