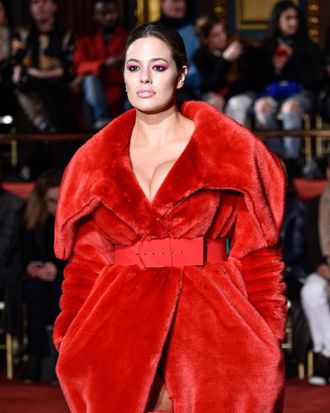 Ashley Graham opening Christian Siriano's fall 2018 runway show.
Photo: Peter White/Getty Images
Ten years isn't that long in the fashion world, but in the decade that Christian Siriano has been designing, there's no question that he has done more for women of all colors and sizes than most designers ever will. He's dressed people like Solange, Christina Hendricks, Danielle Brooks, Laverne Cox, Meg Ryan, and Cardi B, while always staying ahead of the aesthetic curve.
His influence is abundantly clear in the changing the face of the red carpet, but he's also changing how women envision themselves in clothing, making even the most glamorous pieces feel appropriate for any woman who just enjoys getting dressed up. With a new store opening, a tenth-anniversary New York Fashion Week show that featured Ashley Graham, Danielle Brooks, and Selma Blair, and his label's projected value of $20 million by the end of the year, Siriano deserves some respect behind his name. The designer talked to the Cut about diversity in fashion, his plans for the future, and what he thinks makes a good designer.
Looking back on the last ten years, what feelings come to mind about how you've evolved as a designer?
It feels like it's been a really long time, but also went very quickly. I feel super accomplished, but there's so much more that I want to do. In my ten years, things have evolved because the customer has changed so much. When I started my first market was when the economy crashed and everything was nuts. Then over the years with social media, women shop so different; it's a new world. But my overall idea of what I love, and what I think about clothes and how I approach it has pretty much been the same. I'm excited in this collection, showing pieces revamped from the past. I want to do that because some of my earlier collections got lost because I was a new brand and no one cared.
What was your inspiration behind this collection, since it's retrospective, but presenting current pieces as well?
I went in thinking that I didn't want to show an archive show, it's not about that. It's still very new, but I wanted to have elements from my early beginnings and remind people of things like the fact that I studied in London, and that's where I got my training. I want those elements to come through more because that gets lost. But I always want to focus on the glamorous, cool collection.
Why do you think you've been able to keep such a spirit of joy at your shows every season, especially since it seems to be a lost emotion during Fashion Week?
I think it's the people that I involve myself with, from the girls that are in the front row to the girls that are walking. If you book the same models that look and act the same in every show – I get the continuity and it is beautiful to see, but there's also no life to it. I'm personally not a fan of that. I want the models to feel good in the clothes, and the audience feels that and it's nice to see that.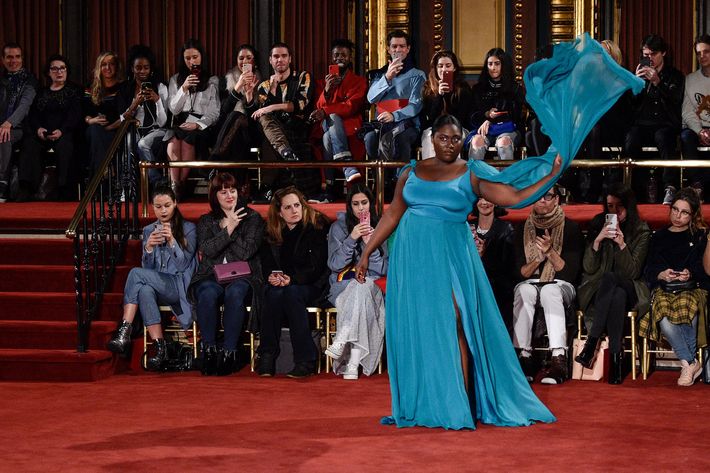 How have you handled the responsibility of being one of the only bigger-name designers dressing women of all shapes and sizes?
It's a challenge and a lot of pressure to make everyone look good. I love it, though. In the beginning, my first clients were Oprah, Whoopi Goldberg, and all different types of women. Now, at the Golden Globes we dressed ten actresses, they all couldn't be more different, from Christina Hendricks to Kyra Sedgwick to Debra Messing to America Ferrera. I've dressed what fashion thinks of as the "It" girls like Gwyneth Paltrow and Angelina Jolie, but I also just love people like Kathy Bates and Leslie Jones. We always have a such a range, that's what our customer is — so why not showcase that on the red carpet? I think there is room to do it all, that's what makes a good designer.
Who are you personal favorite people to dress?
Christina Hendricks is still one of my favorite people to dress because she has this old Hollywood, vintage quality to how she likes to get ready. I do love making clothes for Leslie Jones, she's so full of life and it's fun to see her wear pieces. It's a long list of people that I love working with, honestly! Even last week, Katy Perry calls and asks for a polka-dot outfit to give Minnie Mouse the Hollywood Walk of Fame Star and it's like okay let me try and you just make it happen.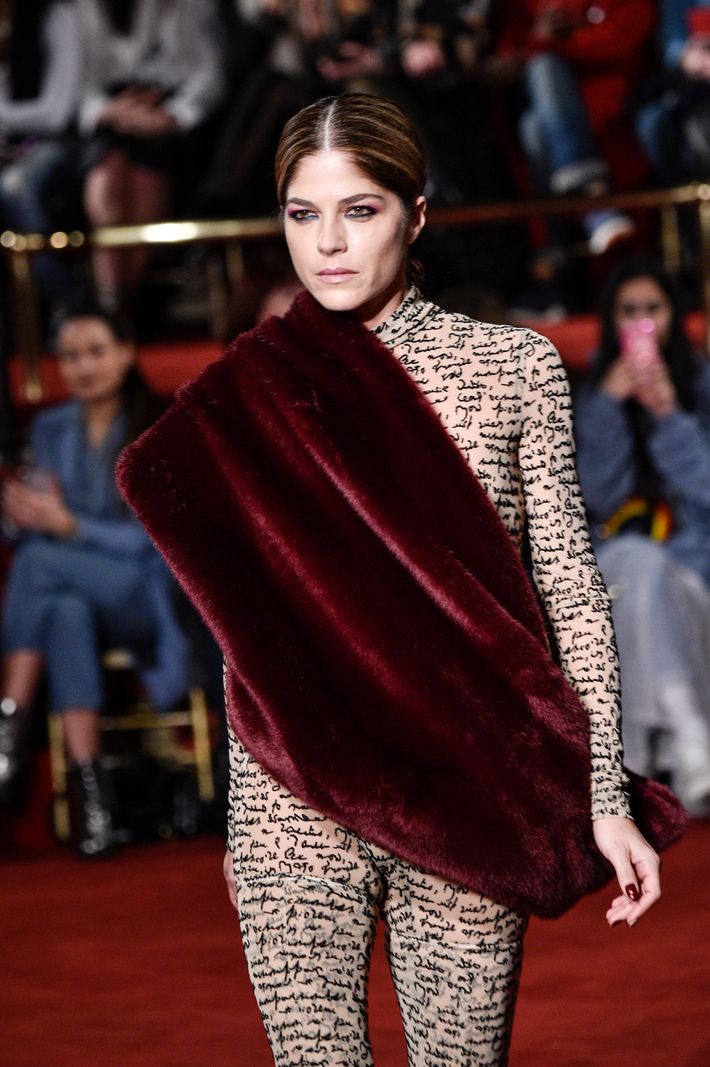 What do you think about the trendiness of the body-positivity movement in fashion?
I don't care that much, I just do my own thing. I think what's very important for people to understand is that adding curvy girls on the runway happened because there were finally plus girls at modeling agencies, and now that there are, we use them. Why wouldn't we? No matter what people say about what we're doing, I think we're changing a lot of women's lives. People who are shopping can see clothes on different body types, and actually envision themselves wearing the clothing and that's all that we're here to do.
How do you think you've been able to sustain success in the fashion world business-wise?
I always say it's easy to get a customer one time, but getting a customer to come back season after season is the challenge. In the beginning when I was judged harshly, even back then I always had the customers. We have a ton of private clients, and do a lot of trunk shows and events, and have such a range of women who are loyal to this brand. Even if every department store closed tomorrow and no longer sold my clothing, I would still have millions of dollars in private-sale clients. At the end of the day, it doesn't matter if you dress 100 actresses on the red carpet — if women aren't shopping and buying clothes, there is no point.
So what's next for the future?
We're opening a new store here in New York, it's going to be a really special shopping experience. There will be other brands involved, and branch out to other cities. But the main goal is just to keep it going. Not every day is easy, but I'm excited for what's to come.
This interview has been edited and condensed.