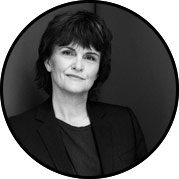 As ever, Marc Jacobs closed NYFW with weird clothes, and, as ever, people were divided over their merits. Leaving the Park Avenue Armory last night, I heard someone say "Beautiful!" and another hiss "Grotesque!"
Really, you could not argue with either reaction. The collection was an exquisite composition of color enhanced by rich fabrics like silk moire, taffeta, and double-faced cashmere. And thanks to flourishes like black wide-brimmed hats and face-framing bows and collars, not to mention sharp haircuts (by Guido Palau), the models this week never looked more beautiful or better groomed. But the scale of the clothes — the linebacker dimensions of the shoulders, the bulk of the many coats, the ampleness of pleated leather pants — also made them grotesque. Those pretty heads looked on the verge of being consumed.
As he has done for the past three seasons, Jacobs presented the collection in the cavernous armory with a stark line of chairs (down the center this time) and no set. The music was a churchly choir, the lighting diffused, almost baroque. That the clothes seemed largely drawn from '80s European fashion — Saint Laurent, Genny when it was designed by Gianni Versace, the illustrations of Antonio Lopez — added to the impression of a sumptuous funeral. Those giant coats and trouser suits, with their telltale YSL palette and haute flourishes, were not so much an outfit as a sarcophagus.
It seems to be Jacobs's obsession and lot to feel the connections to fashion's storied past, much as Tennessee Williams celebrated loss and sorrow. For that reason, I think it's a stretch to see the show as a comment on our oversize culture or bloated politics, or as a rebuke to lock-step commercial branding. In fact, there's a lot of wearable, appealing stuff in this collection — blouses, jersey dresses, many of the coats, a gorgeous strapless evening dress in an icy blue satin floral print with a streak of black velvet extending from bodice to floor. Imagine it on the Oscars red carpet, and the weirdness of the collection dissipates.
I'm touched by Jacobs's impulses, in part because they betray the very human challenges of staying free and open in a business that is rapidly changing. Yet, at the same time, it's a bore to be guessing at his references, always sussing out his possible intentions. This was not one of those transcendent Marc Jacobs shows, like the one a year ago, when the models, dressed in lanky jackets and polished track pants, marched right out the door of the armory and onto the sidewalk for an impromptu public show. Or the Jacobs collection a few years back that featured a giant imitation sun.
No, this one, beautiful or damned, felt under the weight of a burden.
Michael Kors called his fall show, in the sun-filled atrium of the Vivian Beaumont Theater, a "valentine to personal style." It's kind of funny that Kors chose Lincoln Center in which to make this pitch, given the supercasual way people already dress for the theater.
Oh, well. Designers are having a tough time getting attention these days, a point Kors seemed to acknowledge with the soundtrack. It was a crazy, delightful mix of tunes and genres — including Aretha, Petula Clark, Michael Jackson, Beyoncé, Simon & Garfunkel, "My Fair Lady," the theme from Sex and the City, and "My Favorite Things" from Mary Poppins. A colleague said that it was as if Kors had taken a sampling of what every model was listening to on her phone.
The eclectic effect also extended to the styling of the clothes, which included preppy tartans, marigold sweaters, sweet floral georgette dresses, and some terrific leathers and shearlings in distressed textures or juicy colors. Come late summer, when it arrives in shops, the pieces will be nicely sorted out in clear groups. A deft showman, who wittily put up Broadway-style posters of himself in the Beaumont lobby, Kors confirmed what most men and women think about fashion: that it should be a collection of favorite things, perhaps that make sense only to the person wearing them. And that's okay.