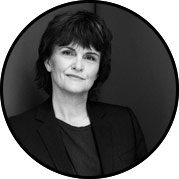 As the senior curator of the Isamu Noguchi Foundation and Garden Museum, Dakin Hart seems an unlikely commentator on The Row, the luxury brand of Mary-Kate and Ashley Olsen. The foundation provided 13 sculptures for their fall show and Hart wrote the text in a small booklet handed out to guests, who also received a pouch containing a crystal — white said to be for "harmony," black for "protection."
If you've read this far, you are probably rolling your eyes. Those fashion people. Oy!
But, as Hart observes, though in different language, Noguchi was something of a fashionista himself. He befriended and collaborated with an extraordinary range of non-conformist women, among them Martha Graham, Berenice Abbott, Elizabeth Hawes, and Florence Knoll. Starting in the '30s, he worked often with Harper's Bazaar on covers and layouts, and he designed a tight, side-zipped kimono for his wife, the actress and politician Shirley Yamaguchi.
Hart goes on to say that "The Row's principles' scorn for the Balkanization of creativity into narrow silos mirrors Noguchi's own." It's not clear what he means, exactly, but one interpretation is that the former child TV stars had to show that they were not mere dabblers in fashion and, further, that they could propose challenging styles.
To me, the Olsens have more than proven themselves with their last three or four collections. One could say that they have moved into the minimalist space once owned by Jil Sander and Hermès, and now that Phoebe Philo is gone from Céline, are ready to lead it by default. But that ignores idiosyncratic qualities like their insistent soberness, their extra-quirky attitude toward modesty, and their fairly nuanced feeling for architectural shapes, as demonstrated with their last resort collection. The sisters are also remarkably good at quietly shifting gears without going off track. For fall, subtle new developments include tailoring, knits, a raincoat in olive shades, and a lovely camel pantsuit with a more sculptural cut to the jacket.
The final rebuke to any thought of "silos" is The Row's idea of evening clothes. They're totally on their own — masterfully strange, I'd say. One black dress came with severely dropped shoulders, with a full-sleeved white shirt worn underneath, and a full, to-the-ankles skirt. My personal favorite was a long black (velvet?) jumper worn with a full-sleeved, ivory silk blouse. Their plainness would have pleased Dorothea Brooke — or a Puritan.
But the severe success of The Row's collection also highlighted the true missing ingredient at NYFW — hotness, as invoked by President Obama at the unveiling of his wife's official portrait. And I don't mean the trashy glam of Tom Ford, though his show was fun, or the ecumenical pasties at Gypsy Sport. I mean, rather, a considered attempt to impart a woman's hotness without being vulgar. Azzedine Alaïa understood this. So did Oscar de la Renta, despite his uptown fanciness. Among current designers at NYFW, perhaps only Narciso Rodriguez really gets it. Why in this country are we good at nuns, monks, and dumb sailors, and not at a full, rich understanding of feminine "hotness"?
Take Derek Lam. I adored his equestrian-themed collection, held in the serenity of the Pool at the Seagram Building. He's a genius at color, offering this season fresh shades of deep emerald and dark teal for suede separates, and warm lilac in a soft wrap coat, and mixing them with coffee and navy tones. Yet, in hindsight, I realized that Lam needs to loosen up the structure and overall polish of his clothes a little in order to let a more natural femininity in. I know he has it in him.
At de la Renta, designers Laura Kim and Fernando Garcia were mindful to update the brand's daywear — adding slim trousers in shocking pink wool, poplin shirts with black scroll embroidery and decorative cuffs, and very feminine sweaters — and connecting it to the evening looks, mainly through embroidery, delicate knit dresses, and color, so that customers can buy into the label at several points. Among their most arresting styles were a pair of floaty off-white silk evening skirts with an "enchanted forest" pattern of animals, worn with either a black velvet bustier or an off-the-shoulder black sweater, followed by princess styles and then an unusual opera coat in layer upon layer of red dip-dyed tulle.
It was sensational. A colleague happened to whisper during the show that these were exactly the kind of clothes Michelle Obama would have loved as First Lady. She didn't say hotness, but surely it was the subconscious wish.
Fashion rolls on. At 8:45 last night, in the lobby of the Museum of Modern Art, Carolina Herrera officially ended a career that began in 1980, taking a bow with her workroom staff. (She will remain with the company as "brand ambassador" while Wes Gordon takes over design duties.) The collection was strong on splashy party clothes, in particular colorful, panel-striped chiffon dresses, but weak on day clothes, which looked fussy. Getting a handle on that will be Gordon's big challenge.