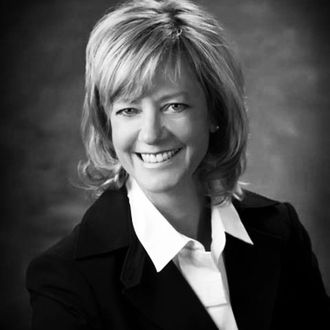 Illinois State representative Jeanne Ives.
Republican representative Jeanne Ives, the social and fiscal conservative who's running to unseat Illinois governor Bruce Rauner, put out a campaign ad so offensive that the chair of the state's Republican Party is demanding that she take it down and apologize, The Hill reports.
Titled "Thank You, Bruce Rauner," the mocking campaign video manages to condense anti-woman, anti-trans, anti-immigrant, and racist sentiments into 60 seconds by referencing progressive bills that Rauner has signed.
"Thank you for making all Illinois families pay for my abortions," says a woman wearing a pink pussy hat, a criticism of Rauner's signature on House Bill 40, which allows for abortions to be publicly funded through state-employee insurance and Medicaid.
An actor portraying a transgender woman mocks House Bill 1785, which makes it easier for transgender people to change the gender listed on their birth certificates: "Thank you for signing legislation that lets me use the girls' bathroom." (To clarify: HB1785 is not a bathroom bill.)
The video also takes jabs at Rauner's signature on a Sanctuary State law and a bipartisan school-funding bill, making it a truly remarkable bigoted ad. While Democrats and fellow Illinoisans have expressed disapproval as expected, the campaign ad was even too much for some GOP leaders.
"There is no place in the Illinois Republican Party for rhetoric that attacks our fellow Illinoisans based on their race, gender or humanity," Tim Schneider, chairman of the Illinois Republican Party, said in a statement. "Rep. Ives' campaign ad does not reflect who we are as the Party of Lincoln and as proud residents of our great and diverse state."
Others took to social media:
Schneider has called on Ives to delete the ad and "immediately apologize to the Illinoisans who were negatively portrayed in a cowardly attempt to stoke political division."