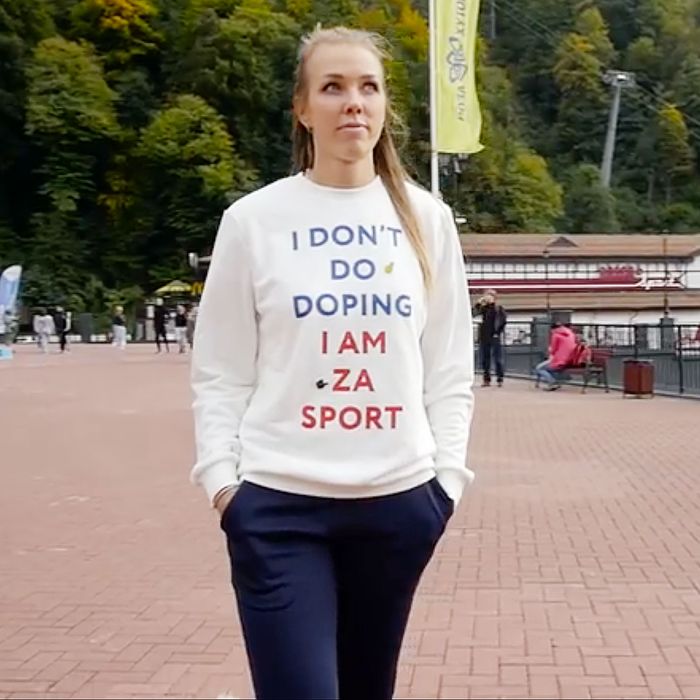 Nadezhda Sergeeva.
Photo: Courtesy of Zasport
Well, this is embarrassing. Shortly after she appeared in an anti-doping YouTube video wearing a sweater that proclaimed "I DON'T DO DOPING", Russian Olympic bobsledder Nadezhda Sergeeva tested positive for the stimulant trimetazidine, a heart medication banned in the Olympics, and for which she does not have a prescription.
Russian Bobsled Federation president Alexander Zubkov announced the news on Friday. Sergeeva had tested negative for any performance enhancing drugs on February 13. A few days later, she and her partner Anastasia Kocherzhova finished 12th in the two-woman bobsled event.
Sergeeva is the second Russian athlete to test positive for banned drugs at this year's Olympics. Alexander Krushelnitzky was stripped of his bronze medal in curling after he tested positive for meldonium.
Back in December the International Olympic Committee suspended the Russian Olympic Committee from the 2018 Winter Olympic Games in Pyeongchang, following allegations of a state-supported doping program. Russian athletes were still allowed to compete, but under the title "Olympic Athlete of Russia," and they could not wear the Russian flag.
Let Sergeeva's story serve as an important reminder that you can't believe everything people wear on their shirts.