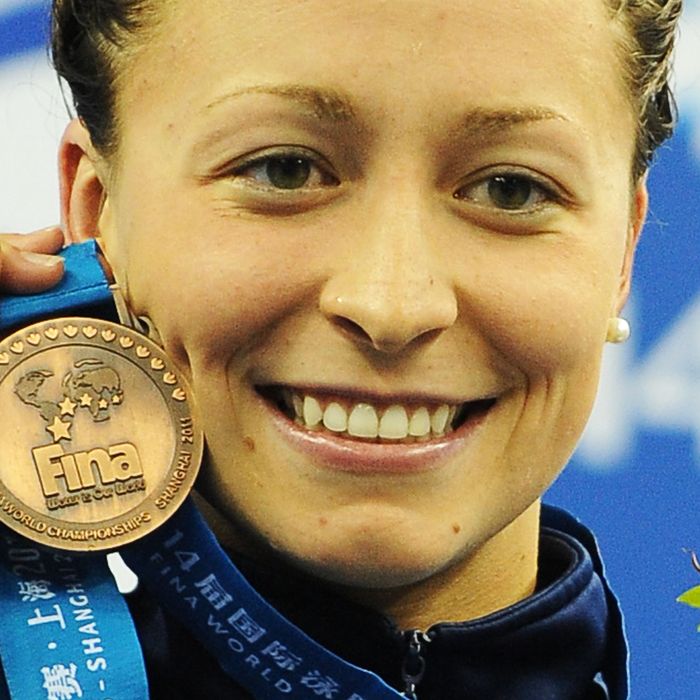 Ariana Kukors.
Photo: MARK RALSTON/AFP/Getty Images
Former Olympic swimmer Ariana Kukors, who earlier this week accused her former coach of sexual abuse, describes years of "pain, trauma, horror, and abuse" in a nearly 4,000-word essay she posted last night.
Last Wednesday, the Orange County Register published Kukors's allegations against Sean Hutchison, whom she claims sexually assaulted her for almost ten years. In her self-published essay titled "My Story," she details the extent of the abuse, which she claims first started when she was 15. Her words:
Sean made his move in the Mt. Rainier Pool parking lot, a hole in the wall complex just outside of Seattle. I was standing by his car talking after practice wearing baggy gray sweatpants with TROJANS, my high school mascot, written down the side in green. I was 15.

 

He asked me if I was wearing underwear.

 

I said no.

 

I'll never forget the look on his face, it was almost mischievous as he was trying to gauge my response.

 

From that point on, everything was different.
She goes on to recount the alleged incidents that "still haunt [her] to this day," saying she doesn't even recognize her younger self. She claims he manipulated her and told her that they were in love, and at one point details his pitch to persuade her to move closer to him.
When the opportunity to move to a training program in California came about, I jumped on it. I needed a fresh start and Sean was telling me we were in love and could be more of a "couple" there, even though he would still be coaching me. We couldn't tell anyone in the swimming community, but we could stay at each other's apartments like a "real couple". This was an enticing thought as I craved some kind of normalcy in the lie I was living. I think back on those times now, tearfully asking why no one helped me … why no one stepped in to save me from this monster.




It's still hard to comprehend, but Sean had perfected the art of grooming; I wasn't even aware I needed saving. And as long as I swam fast, it seemed easy enough for the organizations that have masterfully buried these tragedies for years, to once again brush off the rumors.
While Kukors has repeatedly stated that she was reluctant to come forward with her allegations, she says ultimately decided to share her story after realizing that it was "too important to go unwritten."
"It's time to change the way we talk about sexual abuse, the way we respond to sexual abuse, and the way the system understands and prevents sexual abuse," she writes. "And with all my heart, I hope that each and every abuse victim knows their story matters, it is important, and their voice will be heard whenever and however they choose to use it."
Read the full essay here.