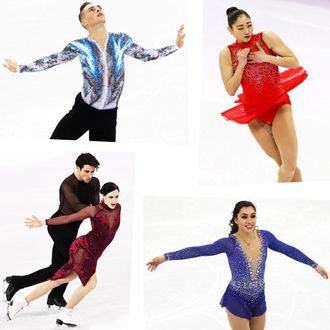 Clockwise from top left: Adam Rippon, Mirai Nagasu, Gabrielle Daleman, and Tessa Virtue and Scott Moir.
Photo: Getty Images
There are two reasons to watch Olympic figure skating: First, to revel in the tension of whether your favorite skater will land a triple axel, and second, for the outfits. There's nothing quite like them. Each costume contains an excessively-impressive array of sequins, spandex, and skin-toned mesh — showing off just enough of the skater's bodies so that we can see what the heck they're doing during all those gravity- (and logic-) defying jumps, without actually being scandalous.
But these costumes also raise a lot of questions … Who designs them? Why do they look the way they look? What's with that skin-toned mesh anyway? And how much do they cost? To answer these questions and more, the Cut consulted with famed skating designers Jan Longmire and Lisa McKinnon. Here are a few things we learned.
A figure-skating costume is often inspired by the routines.
When she takes on a new client, Lisa McKinnon (who worked with many 2018 Olympians, including U.S. pair Alexa Scimeca Knierim and Chris Knierim and German pair Aliona Savchenko and Bruno Massot) first chats with the skaters about what they are looking for, then she listens to their music on repeat. Longmire (who has worked with U.S. stars Adam Rippon, Sasha Cohen, and Ashley Wagner in the past) told the Cut, "I have to sit down at Starbucks or the rink to figure out who the skater is first, because that's going to make a difference in how I interpret the music." And a lot of people are involved in the approval process of a costume: coaches, choreographers, and sometimes the country's skating officials.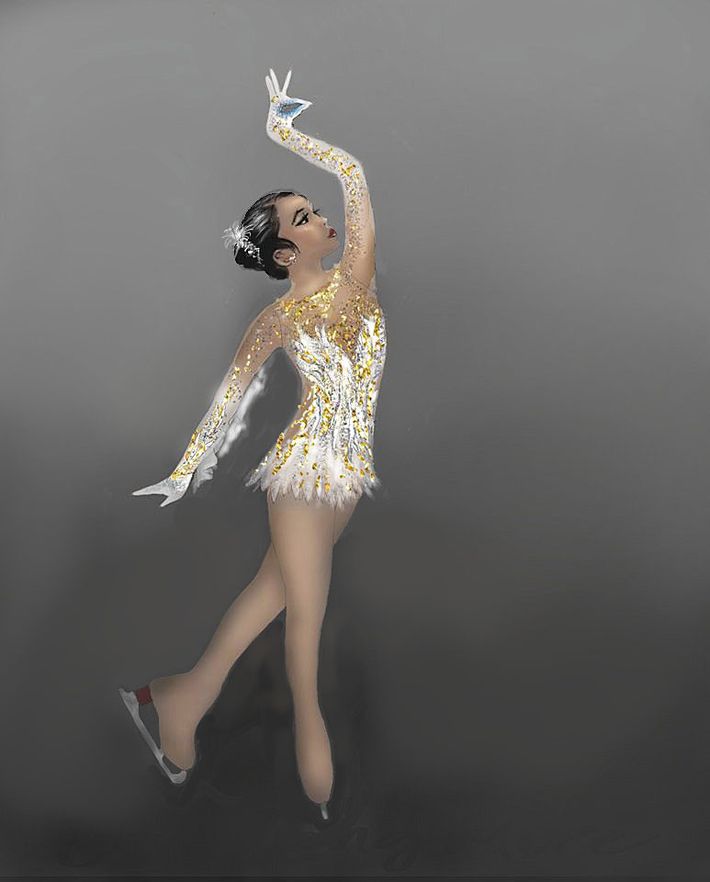 Skaters typically want their costumes to be sparkly.
"Every skater wants to stand out in some way or another, and sometimes the sparkle aspect definitely makes you more eye catching when you step onto the ice," McKinnon said. "The ice is huge and it's very white and you can sort of disappear a little bit."
A skater's body has to be 50 percent covered by their costume.
Even though figure skating costumes may seem revealing, the rules dictate that a figure skater's body has to be half covered at all times by fabric, according to Longmire. The International Skating Union also stipulates that costumes must be "modest, dignified and appropriate for athletic competition." McKinnon told us, "Women's skating costumes are so small because it's just a little bodice and skirt, but there are rules about coverage." Skin-tone mesh fabric can keep a body covered without making a costume look too covered.
Costumes haven't changed that much in the past few decades.
Part of the charm of figure skating, McKinnon explained, is that watching it today isn't that different from watching it when we were kids. McKinnon said that with the rules about coverage and the desire to stand out, there's not really much wiggle-room outside of traditional costume design anyway. But men tend to be a bit more modern lately: there's a trend in men's costumes where they just want it to look like a shirt and pants (check out the outfits of Alexa Scimeca Knierim and Chris Knierim in Pyeongchang for an example of that).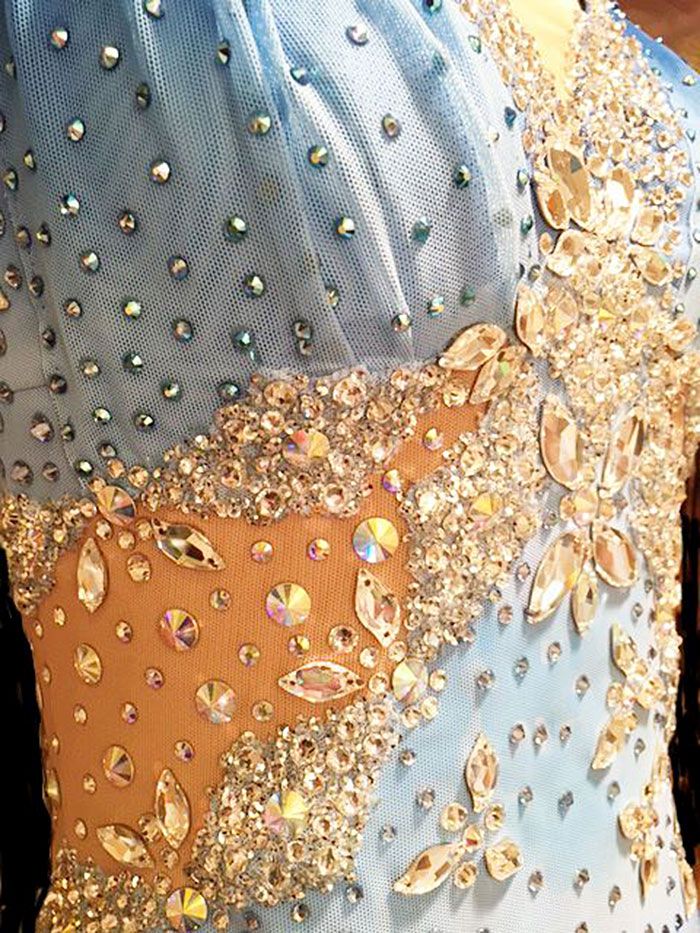 Women don't have to wear skirts anymore.
Even though most of the women skaters we see are wearing bodices with skirts, it's now no longer against the rules for most female skaters to wear a unitard — that rule was changed in 2006. (So that's one reason why we saw French skater Maé-Bérénice Méité wearing a unitard while skating to Beyoncé in Pyeongchang.) However, according to the International Skating Union rules, women who compete in ice dancing are still required to stick with skirts and dresses.
Skaters can lose points if any part of their costume falls off during their routine.
If you see crystals or sequins on a costume, you better believe they're essentially superglued onto the fabric. "Everything has to be sewn or glued on very carefully so that nothing is able to come off during their performance. They can actually get deductions for that," McKinnon said, adding that having loose pieces of fabric on the ice can also be dangerous for the skater or whoever goes on the ice after them.
The costumes are surprisingly comfortable.
Wearing tiny tight clothes covered in stones may sound like hell, but designers work to ensure that figure skating costumes are actually comfortable. And they really need to be — skaters have to feel free to move around the ice to the best of their abilities. They can't be worried about feeling itchy or constrained, the designers told the Cut.
That might be because the costumes use incredibly stretchy material.
Skaters need to be able to bend, jump, glide, generally move around the ice, and do other figure skating-esque things, so they need fabric that will actually allow for that. As a result, McKinnon explained that designers often use spandex, lycra, and stretchy mesh on costumes. But they can also use velvet or lace if they'd like — just as long as the fabric has a four-way stretch. Some designers even go a step further and make their own modifications to the fabric, like dyeing it the colors they want or using airbrushing to create patterns.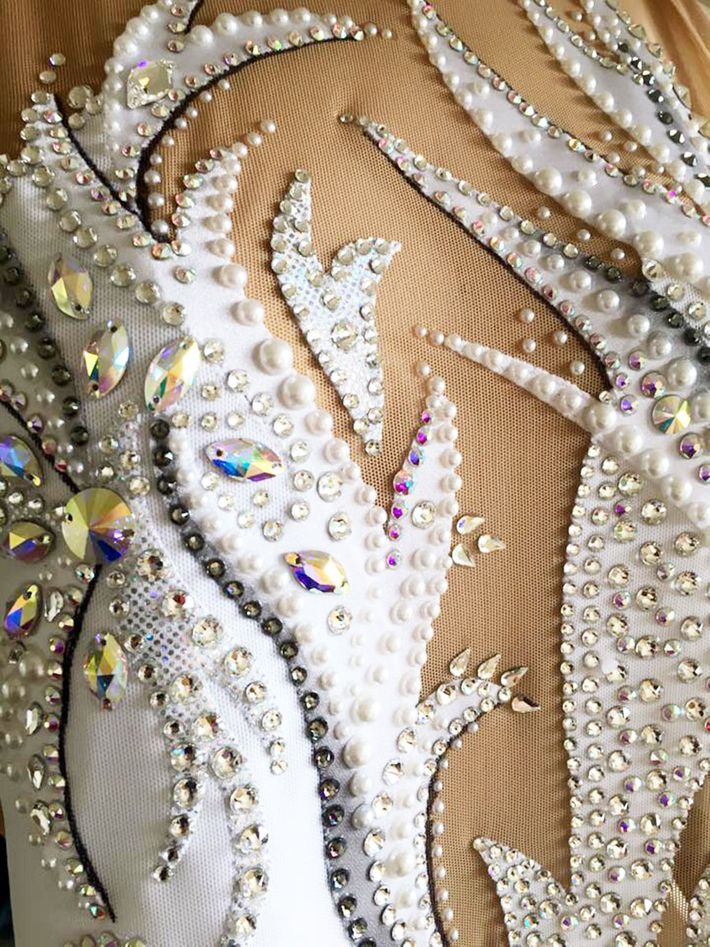 Many women skaters opt for shorter skirts for practical reasons.
The length of a women's skirt not only takes into consideration her personal preferences or the general theme of the routine, but also the intensity of the moves she will be performing. "The skirt cannot be to heavy so it pulls or whips them around when they rotate in the air or do their spins," McKinnon said. She also added that some solo skaters don't want to have a lot of flying pieces of fabric around, in case that distracts them during their routine.
Costumes generally range in price from $1,500 to $5,000. McKinnon told the Cut that designers don't generally talk with each other about money, but that her outfits can cost as low as $1,500 and as high as $5,000. Longmire explained that costumes have gotten more expensive over the past decade because of the influx of crystals, but that hers tend to stay in the $1,500 to $1,800 range.
Well, we can't wait to see the rest of the figure skating outfits as the 2018 Winter Olympics continue …