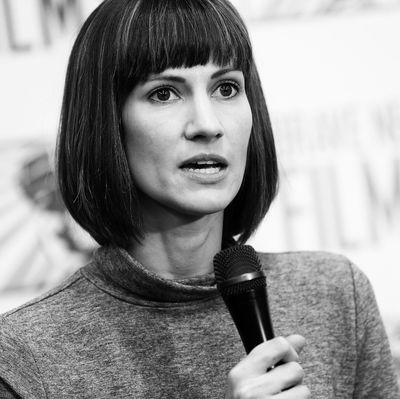 Rachel Crooks.
Photo: Monica Schipper/Getty Images
A record number of women are running for political office in 2018, and Rachel Crooks, a higher-education professional who accused Donald Trump of unwanted sexual advances in October 2016, is one of them.
In a new report from Cosmopolitan, Crooks publicly announced she is running as a Democrat for the State Legislature in Ohio's 88th District. If she wins the Democratic primary in May, she'll be up against incumbent Republican representative Bill Reineke, who has served two terms. According to Cosmo, she's running on a platform of job creation, better access to affordable health care, and stronger public schools.
She also hopes her run will send a message to Trump. Crooks, 35, says that Trump kissed her on the mouth outside her office in Trump Tower when she was just 22 years old, at which time she was working as a receptionist for a real-estate company located within the building. She recounted the alleged incident in the New York Times' incendiary report from October 2016.
"It was so inappropriate," she told the Times. "I was so upset that he thought I was so insignificant that he could do that."
While she acknowledges to Cosmo that some may view her run as opportunistic, given the current #MeToo moment, she hopes to be seen as a "viable candidate."
"Women are uniting. The momentum is now. I want to be part of it," she says.
Read the full story here.