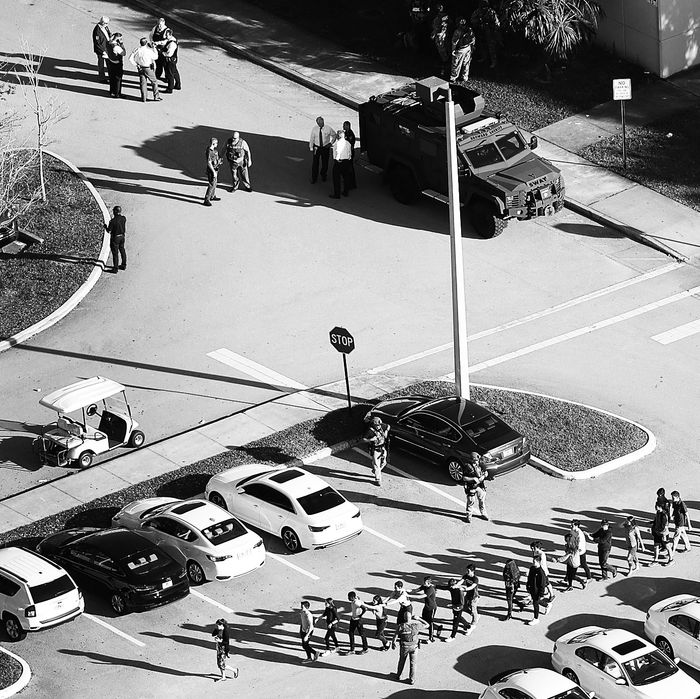 Photo: Joe Raedle/Getty Images
On February 14, at least 17 people were killed during a horrific shooting at Marjory Stoneman Douglas High School in Parkland, Florida. Suspect Nikolas Cruz had allegedly been dropped off by an Uber at his former high school that afternoon, before he proceeded to carry out what is being called one of the deadliest school shootings in American history (using an AR-15 rifle he purchased legally). After the massacre, Cruz allegedly walked out with other students seeking safety, bought a soda at a Subway restaurant, and stopped at a McDonald's in Coral Springs. He was then recognized on security footage and arrested.
As we continue to learn more about the case, here's all our coverage related to the event so far:
"Each features the school's mascot — the flying eagle — and the words, 'In loving memory of the 17 lives lost, from your alumni across the nation' are displayed on the bottom of two signs."
"Laman has already undergone two surgeries to reconstruct the ligaments damaged as a bullet tore through his ankle and foot, the Sun-Sentinel reports, and is dealing with the trauma of gunman Nikolas Cruz allegedly looking him right in the eye before shooting. Borges remains hospitalized as he recovers from being shot five times in his legs and torso."
"In addition to calling out politicians for taking money from the gun lobby, you can also reach out to your elected officials (whether they're affiliated with the NRA or not) to let them know just how important gun-control is to you."
"Of course, there is still much work needed to be done to prevent such attacks from taking place (and, just this week, a teacher in Georgia was arrested for firing a gun at school). But here are some of the small steps toward gun-control that have been taken so far since the Stoneman Douglas shooting."
"You say that your mission as First Lady is to stop cyber bullying, well then, don't you think it would have been smart to have a convo with your stepson … before he liked a post about a false conspiracy theory which in turn put a target on my back."
"Talking to the president, I've never been so unimpressed by a person in my life. He didn't make me feel better in the slightest."
"Kasky and his classmates have been very vocal on Twitter since the shooting, something that has given immediate power to their movement. Being able to hear their voices — angry, hurt, scared, and unvarnished by parents or PR representation — is one of the perks of the social-media era that these kids grew up in. Of course, this also opens them up to attack."
"On Thursday, he called the gun right advocacy group 'Great People and Great American Patriots' who 'love our Country and will do the right thing' in a tweet. He added, 'MAKE AMERICA GREAT AGAIN!'"
"Life is like a roller coaster/ It has some ups and downs / Sometimes you can take it slow or very fast / It maybe hard to breath at times / But you have to push yourself and keep going"
"Diane Wolk Rogers, a Stoneman Douglas history teacher, asked Loesch to explain her definition of a 'well-regulated militia' and, using 'supporting detail', asked her to explain how an '18-year-old with a military rifle' meets this definition."
"For much of the event, the president sat quietly, his hands crossed, as he listened to survivors' stories — a response that may have had to do with his preparations."
"This isn't fair — kids shouldn't have to fight their leaders to demand safety — but it isn't surprising either. Students have been at the forefront of our country's most powerful social movements, including the Civil Rights movement, and the feminist, environmental, and anti-war movements. Nor is it surprising that a young woman with a shaved head and the last name González has become a figurehead for #NeverAgain."
"The demonstration was organized by a group called Teens for Gun Reform, led by 16-year-old high school juniors Whitney Bowen and Eleanor Nuechterlein."
"'Eleventh-grader Cameron Kasky to ABC, 'People keep asking us, what about the Stoneman Douglas shooting is going to be different, because this has happened before and change hasn't come? — This is it.'"
"The guns have changed, but our laws have not," González said. "We certainly do not understand why it should be harder to make plans with friends on weekends than to buy an automatic or semi-automatic weapon."
"He posted pictures of like 15 or more firearms just on his bed, like this was normal, you could even see a hamper in the background. That's how ordinary it was to him."
According to screenshots provided to BuzzFeed, under a now-deleted Instagram account, Cruz messaged Sabadini, "Im going to watch ypu bleed," and, "iam going to shoot you dead."
"I went to lock the doors, and found out that my key didn't work on the very last one. We had to change our plan and barricade to create as many obstacles as we could. We tried to make it seem like it was a special drill so the kids didn't get panicked. We used eye contact and hand gestures, we whispered to each other."
"According to one flyer, the protest aimed to show lawmakers that 'We are angry and we want safety for our children,' and to push for 'extensive background checks,' 'elimination of the gun show loophole,' and to 'stop lobbying from the NRA.'"
"Bulletproof backpacks are not at all a solution, but rather an indicator to me of the depth of this problem," says Sharon Barr Skolnik, a 36-year-old mom of three in Florida.
"Much of being a human being is just bumbling around and maintaining our lives and trying to be happy and feel safe," Figley, says. "When an event like this takes place, we ask ourselves, 'Right now, am I safe? Are my children safe?' And if the answer is yes, then we ignore it, or compartmentalize, or get tunnel vision."
 "On September 6, 1949, Carly Novell's grandfather Charles Cohen hid in a closet in his home in Camden, New Jersey, during what is considered the first mass murder in American history. … Nearly 70 years later, Carly Novell, 17, found herself huddled in a closet during the mass shooting at Marjory Stoneman Douglas High School on Wednesday."
"I just spent the last two hours putting [together] the burial arrangements for my daughter's funeral, who's 14!" Lori Alhadeff said into the camera. "President Trump, please do something! Do something. Action! We need it now! These kids need safety now!" Alhadeff yelled into a microphone as she cried.
"Among the victims of the massacre are several teenage students who had bright futures ahead of them — including a star swimmer who just signed to his college of choice, an avid soccer player, and a member of the school's winter guard dance team."
"We are children. You guys are the adults. Work together, come over your politics, and get something done," student David Hogg said into the CNN camera.
"As with previous school massacres — including the 2012 shooting at an elementary school in Newtown, Connecticut — teachers, coaches, and janitors saved countless students from the violence (even, in certain instances, sacrificing their own lives)."
Suspect Nikolas Cruz, 19, currently faces 17 counts of premeditated murder. Here, everything we know about Cruz so far, from his expulsion from the school to his alleged abusive behavior toward his ex-girlfriend.
"That isn't to say that Republicans has been inactive on gun-related issues. Since President Trump took office, he and other Republicans have launched several efforts to loosen gun-control laws. There are also a handful of GOP lawmakers who expressed interest in fixing the gaps in existing laws that appeared to play a role in recent mass shootings — yet so far, nothing has come of those efforts. Here's what Washington has been up to."
"As more details emerge about the tragedy, it's the students at Marjory Stoneman Douglas High who are providing the most harrowing public accounts of what unfolded. … The messages are upsetting, but they provide an unfiltered perspective of this horrific experience."
"As the nation reels from the horrific Stoneman school shooting in Parkland, Florida, comedian Michael Ian Black took to Twitter and posted a series of tweets on the link between toxic masculinity and gun violence."
A leader of the Florida white nationalist group Republic of Florida claimed Nikolas Cruz had ties to his organization. Leon County law enforcement sources told the Tallahassee Democrat that they could not find any information linking Cruz to the ROF.