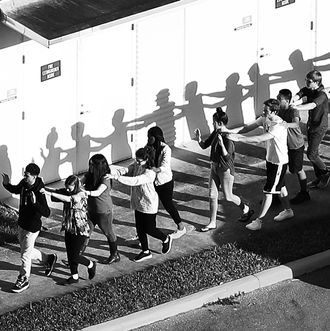 Students evacuating Marjory Stoneman Douglas High School.
Photo: Joe Raedle/Getty Images
On Wednesday, at least 17 people were killed during a shooting at Marjory Stoneman Douglas High School in Parkland, Florida. The attack marked the 18th school shooting so far in 2018 (and it is only February … ). As with previous school massacres — including the 2012 shooting at an elementary school in Newtown, Connecticut — teachers, coaches, and janitors saved countless students from the violence (even, in certain instances, sacrificing their own lives).
Here, some of the heroes of the Parkland shooting.
Student Anthony Borges Was Shot 5 Times While Saving Nearly 20 Classmates
During the shooting, 15-year-old Anthony Borges and a group of his classmates ran into a classroom to hide from the gunman. Borges then used his body as a human shield to protect his fellow students as he tried to lock the door. It was then that he was shot five times. According to a GoFundMe page set up to support his family, Borges was shot in both legs, his upper left thigh bone was shattered, and one bullet went through his back. He is alive and stable in the hospital.
Assistant Football Coach Aaron Feis Died Shielding Students From Bullets
Aaron Feis, 37, worked as an assistant football coach and security guard at the school. Feis threw himself in front of students to shield them from bullets during the Wednesday shooting at his alma mater (he graduated in 1999). He was shot and later died during surgery. Denise Legtio, a spokeswoman for the school, told CNN, "He died the same way he lived — he put himself second. He was a very kind soul, a very nice man. He died a hero." Freshman student Chris McKenna told the Sun-Sentinel that he had told Feis outside of the building that he had seen gunman Nikolas Cruz, and that Feis went inside to assess the situation. "I told him I saw a gun," McKenna said. "He said 'let me go check it out.' Then he drove me to the baseball field, dropped me off, and went back to the school. That's the last I saw of him."
Teacher Scott Beigel Was Killed After Opening His Classroom Door to Let Kids In
Geography teacher Scott Beigel, 35, opened the door of his classroom to let in a group of students, including Kelsey Friend. The teacher then attempted to relock the classroom door as the gunman walked by, and he was shot dead, Friend told Good Morning America. "He unlocked the door and let us in. I thought he was behind me, but he wasn't," she said. "When he opened the door, he had to relock it so that we could stay safe, but he didn't get the chance."
The Janitor Who Stopped Kids From Running Toward the Shooter
An unnamed janitor helped save students who were unknowingly running toward the shooter. Student David Hogg told CNN that he and his classmates began running with other students after the suspected shooter pulled the fire alarm. "Thank god for a janitor that stopped us," Hogg told CNN, adding that she told them to run the other way and then ushered them into a culinary classroom for safety. "She saved my life, and she saved easily 40 others there."
Teacher Ashley Kurth Helped 65 People Hide During the Shooting
Ashley Kurth, a 34-year-old culinary teacher, told the Daily Beast that she heard the shooting from her classroom and went to lock the door, when she saw "a whole mass of children" running out of the freshman building (where the shooter was). "It was surreal, just watching them come out like that. I just started grabbing as many kids as I could. I grabbed two of my fellow colleagues and the kids that were with them," she said. "After about 60 or 90 seconds, I shut the door and I got everybody back in our storage area and in my office. Final count, I think we had like 65 in my room."
Teacher Shanthi Viswanathan Refused to Open Her Classroom Door to the Cops In Case It Was a Trick
Algebra teacher Shanthi Viswanathan — also known as "Mrs. V" — knew something wasn't right when the second fire alarm of the day went off, the Sun-Sentinel reports. So she had her students get on the floor in the corner of the room (rather than evacuate), and covered paper over the classroom door's window so no one could see her. She also refused to open the door to police in case it was a trick. "She said, 'Knock it down or open it with a key. I'm not opening the door,'" a parent whose son was in her class said. One student texted his mom, "Some SWAT guy took out the window and cleared our room."
Teacher Melissa Falkowski Hid 19 Students in a Closet
Stoneman Douglas teacher Melissa Falkowski told CNN's Anderson Cooper that the school had trained its staff extensively for such a horrific scenario. After she heard that there was an active shooter on campus, she jumped into action. "I managed to put 19 kids in the closet with me. This is the worst nightmare that could ever happen to you," she said. They remained in the closet for 30 minutes until SWAT officers secured the room.
The Teachers Who Barricaded Their Classroom Doors
Many teachers barricaded their classrooms to protect their students during the shooting. Math teacher Jim Gard told the Miami Herald that he locked the door, turned out the lights and had his students hide in the back of the room. "I told the kids to hang in there, it may still be a drill," he said.
This post is continually being updated as we learn more information about the shooting.