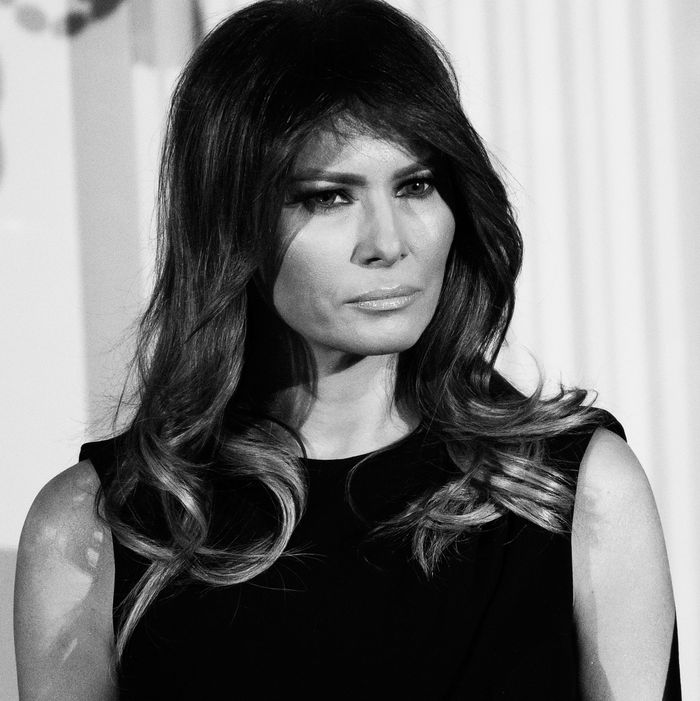 Melania Trump.
Photo: SAUL LOEB/AFP/Getty Images
Some of the young survivors of last week's shooting at Marjory Stoneman Douglas High School in Parkland, Florida, have become outspoken advocates for stricter gun-control laws. But, just like with the Sandy Hook shooting, these students have been labeled as "crisis actors" (people paid to simulate an attack in order to push an agenda) by conspiracy theorists — and Donald Trump Jr. even "liked" a tweet attacking 17-year-old Stoneman senior David Hogg.
Now, Hogg's 14-year-old sister Lauren, who lost four friends during the shooting, is asking anti-cyberbullying advocate Melania Trump to stop her stepson from cyberbullying their family (who have been targeted by conspiracy theorists because of her father's profession as a former FBI agent).
In a pair of Friday tweets, Lauren wrote, "You say that your mission as First Lady is to stop cyber bullying, well then, don't you think it would have been smart to have a convo with your stepson … before he liked a post about a false conspiracy theory which in turn put a target on my back," the first tweet reads.
Lauren continues, "I should never have to deal with any of this and even though I thought it couldn't get worse it has because of your family."