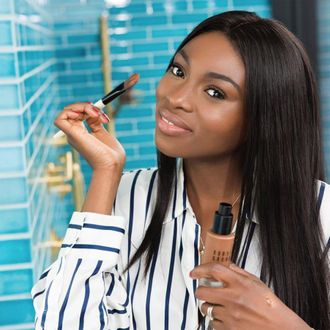 Patricia Bright for Bobbi Brown.
Over 2 million people subscribe to British vlogger Patricia Bright's YouTube channel, where she reviews everything from makeup to, well, her daily life. Her channel even piqued the interest of Bobbi Brown, and now she represents #AllDaySmile — a digital campaign that celebrates New York — and the launch of the brand's Skin Long-Wear Weightless Foundation. The Cut caught up with Bright to talk about how she tackles discrimination in the blogging world, what people don't understand about her job, and how to take amazing selfies.
What's an average day like for you?
The beginning of my day is mom-duty. I wake up and take Grace out to nursery. I then review my emails to make sure I don't have anything pressing. And then I glam up for the day — put my makeup on — because I shoot every day for my YouTube channel and Instagram. I spend a lot of hours just shooting and working on edits — I can start shooting at ten and be done by four for two videos. I have someone in Australia help me with edits, too. And then maybe I'll work out at the gym if I'm being good. I come back to my emails around six or seven and then I do bedtime stuff with my baby. After that I'll plan for the day ahead and then go to bed.
What do you think people don't understand about your job?
That the grind is 24 hours. I'm not complaining, but I am always working. Every day is another opportunity to get another gig, and you always have to be ten steps ahead. A lot of people think that this job is chill, but there is no chill. If you are chill, there will be other 40,000 people proving how they are more engaging than you. The grind never stops.
You review so many products. On average, how many items are sent to you each week?
I receive two or three parcels a day. I also have an office that I visit once a week where a lot more packages are sent daily. The security guy is always like: "Why are there so many parcels?" I try to get most things sent to my office, or my home would be filled with products — if I didn't, there'd be no room to walk.
How many people are on your team?
I have a manager, an assistant, and until recently I had an editor here in England. Regularly I have three people, but I've had up to six.
What title do you identify with? Blogger? Influencer? Something else?
I identify with "content creator." I just make shit that I like, or that my audience likes, or that companies that I work with think my audience will like.
What's your response to the criticism that content creators, through their perfect photos and videos, promote inauthenticity on social media?
I think content creators have elevated social media and created a bit of art. It can be authentic, but Instagram isn't just to show what you are doing; people go there for inspiration, and I hope that they take it with a pinch of salt. Some people do go to great lengths to get the perfect photo. Like they wake up at 2 a.m. to go to places outside to capture the perfect image. I wouldn't personally wake up at 2 a.m. to do something like that, but I appreciate the effort that's gone into the photo.
Speaking of perfect photos, what are some helpful tips on how to take great selfies?
Light is important. If the window is behind you, it's going to make you look a little gray. My favorite apps are Lightroom and Facetune. Don't overdo Facetune, though. It's also just important to find your own style and take photos that feel like you.
The Guardian recently ran a story on Instagram influencers and shared how one black British Instagram star felt that race played a factor in the partnerships she makes with brands. Have you felt discriminated against in your field?
At the end of the day, brands are going to want to work with the biggest names. If you have 30,000 subscribers, you are less likely to book the deal. But if you have 100,000 or 200,000 subscribers, they're more likely to be interested.
Another thing is that a lot of people don't know how to play the game — to reach out to people, network and communicate. I even failed to realize that. One of the white content creators shared with me how much money she was making. Even though we had the same number of subscribers, I wasn't even making a fifth of what she was making. When I asked how she got all of those deals, she told me how she had friends at those brands. It's that kind of access, too, that is a barrier to our success.
What would you be doing if you weren't a content creator? And where do you seen yourself in 20 years?
If this wasn't my full-time job I'd go back to marketing. In 20 years I definitely see myself still creating content. It's just something I enjoy doing and I plan to create until I'm old and gray.
This interview has been edited and condensed.