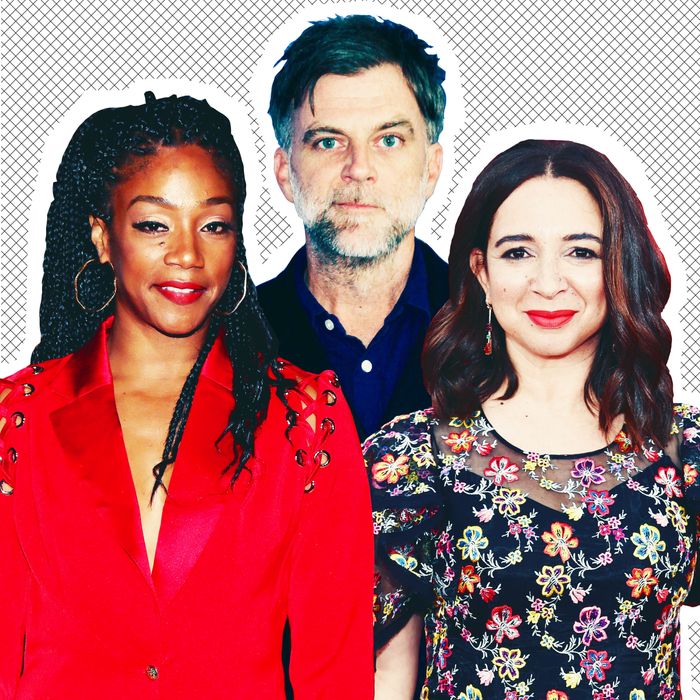 If there was an Oscar for Giving The People What They Want, Phantom Thread director Paul Thomas Anderson's forthcoming team-up with Tiffany Haddish would be an obvious front-runner (second only to that Lupita Nyong'o–Rihanna buddy comedy that Twitter manifested into existence). And now PTA is even closer to fulfilling the internet's wildest dreams: he's hinting that his wife Maya Rudolph might also be part of the mix.
Recently, Haddish told Vulture that she and PTA had been talking on the phone about working together, after the director "cut to the front of the line" to work with her. In an interview with the L.A. Times, Anderson doubled down on the love fest, comparing Haddish to his past muses Adam Sandler and Daniel Day Lewis:
"She's a really thrilling performer. It's the same way I felt when I saw Adam [Sandler] — there's so much there. Don't just be fooled by how funny she is. She just has a fierceness. I think I feel a connection to her because she's such an L.A. kid as well. It feels like I've known her for a long time, which is weird. I've talked to her on the telephone. I've never even met her. But you follow those instincts. They're always good. Yeah … Haddish."
When the interviewer followed up to suggest that Haddish and Rudolph would make a terrific pair in an upcoming project — something we at the Cut have also been advocating for — Anderson responded with enthusiasm.
"Absolutely! That's a combustible combination, the two of them.

That's what you dream of as a director. Because you know if you just get your … together and you're simple and you create a platform, why do you think people look good when they work with Daniel Day-Lewis? Because it's Daniel Day-Lewis! Writing for them, I feel like you could turn on the faucet and that'll come out. That would be a great team."
Will the possibility of co-starring alongside two comedy legends be enough to lure hungry boy Daniel Day-Lewis out of retirement?