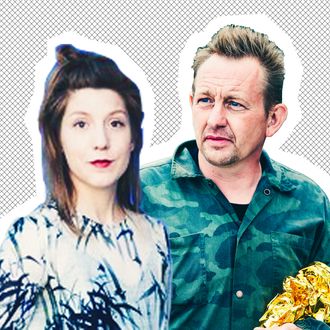 Kim Wall, Peter Madsen.
Photo: Courtesy of Kim-Wall.com; Getty Images
A devastating new story on the Kim Wall murder case from Wired reports that her accused killer, Peter Madsen, texted about a "murder plan" aboard his submarine in the days before her death.
Wall, a Swedish journalist, went missing in August of last year after boarding Madsen's submarine for a story she was writing on the Danish inventor. He initially claimed to have no involvement in her disappearance, then said she died in an accident onboard his submarine and he "buried her at sea." Wall's body was found near the Copenhagen harbor, dismembered and covered in stab wounds; Madsen was charged with her murder in January.
Per Wired, a friend and sexual partner of Madsen's revealed that she'd been texting with the inventor in the days before Wall's murder and "she'd asked Madsen to motivate her with a threat" to help her finish a project:
"He says he has a murder plan ready in the submarine, and I tell him I am not afraid, you have to be more threatening. He talks about the tools he wants to use, and I say, 'Oh it's not threatening.' " The scenario darkened to inviting a friend to the submarine, where they would suddenly change the mood and begin cutting her up. At the time, the woman didn't give the exchange much thought; it was not something she took seriously. After a lull in the back and forth, she responded by sending him a video of horses.
Investigators had previously said that they found "material featuring women being tortured and killed" on Madsen's computer.
The Wired story also spoke to a man named Jens Falkenberg who spent weekend volunteering to help build Madsen's submarine. He described situations in which "Madsen would pretend to be a violent Nazi and would mime hitting" him:
There was also a lot of joking around about Nazis in the workshop. Crewmembers called each other by Nazi-inspired nicknames. Madsen was called Kaleun, for Kapitänleutnant, a nod to the 1981 film Das Boot, about a fictional German U-boat unit during World War II, Falkenberg said.
Read the full Wired story here.