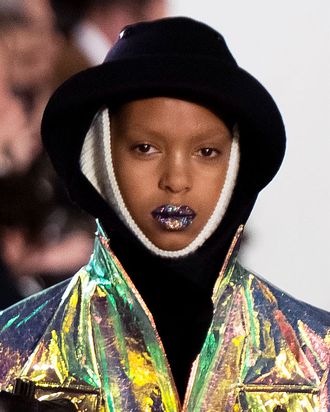 Photo: Francois Durand/Getty Images
Here's a beauty look worthy of your investment in the Kira Kira app. Backstage at the fall 2018 Maison Margiela show, shiny glitter shone over lipstick. Models walked the runway with fully defined lips brimming with tiny particles of mica. Some had a twinkly 3-D silver lip that matched John Galliano's holographic blazers, while others had a multicolored design that effortlessly blended shades of royal purple, silver, and Studio 54 gold into a swirly nebula.
Naturally, the Mother of makeup Pat McGrath, who always takes the opportunity to let her creative flag fly for the Margiela show, designed the look. Perhaps it will serve as inspiration for a follow-up to the DIY red glitter lip kit (Lust 004, unfortunately a limited edition) released in 2016, which she created for her own line, McGrath Labs. It contained a smooth lipstick, sticky lip gloss, and lots of loose glitter that she instructed makeup lovers to gently press onto the lip using their fingertips. You might not be able to do it in seven minutes, and glitter may not be moisturizing, but it's ooh, shiny.