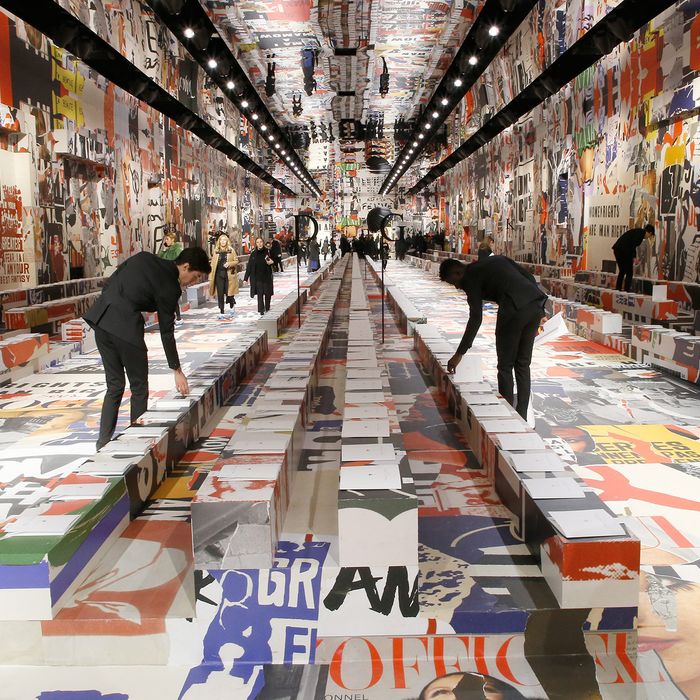 Dior runway at Paris Fashion Week fall 2018.
Photo: Bertrand Rindoff Petroff/Getty Images
Some runways are staged in already beautiful locations — like the Louvre, or a Ralph Lauren's personal garage — and some turn white studios into their own world. This season, Dior chose the latter. The set for their show was covered head-to-toe in archival protest posters, feminist slogans, and tear sheets from magazines from 1968, including Bazaar, Vogue, and L'Officiel.
Why 1968? They're celebrating the 50th anniversary of the sudden and intense student protests that swept across Paris. Maria Grazia Chiuri extrapolated the spirit of the demonstrations to emphasize feminism and self-expression. At any rate, the collaged seats, walls, and floors were visually stunning.
Chiuri adores a manifesto — her past two shows have opened with oft-shared feminist slogan T-shirts. Instead of putting them on the runway, she put them on the stage. When attendees walked in, they were greeted with overlapping messages like "Women's rights are human rights," and "I am a woman." Keeping in line with previous collections, the show opened with a sloganed top. But this time, Chiuri made her own manifesto: C'est non, non, non et non! (Translation: it's no, no, no and no).
In her show notes, Chiuri referenced former Vogue editor Diana Vreeland and the "Youthquake" of the '60s. "Times were changing, as were the bodies, faces, attitudes, and personalities of those who initiated this sartorial revolution — an earthquake that forever changed the way we dressed," she wrote.
The actual collection heavily featured some of these innovations associated with the swinging '60s. Miniskirts with knee-high boots made several appearances, as did ponchos and military wear mixed with knits. Each model also wore a pageboy cap (Dior loves a hat) and many wore colorful sunglasses. One of the standout pieces was a faux-fur patchwork coat. Few designers have explored the '60s this season, but Chiuri did it well — and qualified it with, "changing the world also means changing clothes."