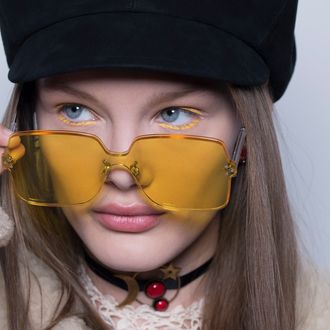 Photo: Vincent Lappartient
It was 1968 backstage today at Dior. Amid some light snow flurries, Dior's creative image director Peter Philips created a beauty look for the fall 2018 show with blunt colorful lines of slightly modish eyeliner. Models like Ruth Bell and Adwoa Aboah walked the runway with bright eyeliner rims of bright fuchsia to yellow to watermelon pink.
Since designer Maria Grazia Chiuri took over the brand in 2016, feminism has been a recurring theme, and today's show was inspired by the May 1968 Paris protests. It was a time when millions of French students and workers stormed the street to protest capitalism, the government, and equal rights for men and women (this protest was a turning point in French gender quality and may even have led to legalized abortion). The male gaze or straight-up beauty itself was not a factor in today's look, with Philips explaining that he purposely designed it to not look "too pretty."
"Pretty" might have been a smoky eye, cat eye, or even having the eyeliner smudged artfully along the lashes — not the open halo design Philips created, which was striking and a bit conceptual. The look signifies that "You can say what you have to say and be taken seriously, but also show that you have fun with [your makeup] and enjoying being a creative woman," he told vogue.com. He explained that by leaving the outer edge of the eyeliner open-ended (done using all different shade of Dior Makeup's On-Stage liners, out later in 2018), it actually opens and extends the eye, rather than closing it.
It might be a stretch to call it "feminist" eyeliner (after all, what makes makeup feminist or not feminist?), but is it a weak statement? As Bell's opening look for the show proclaimed on a graphic sweater, C'est non, non, non, et NON!