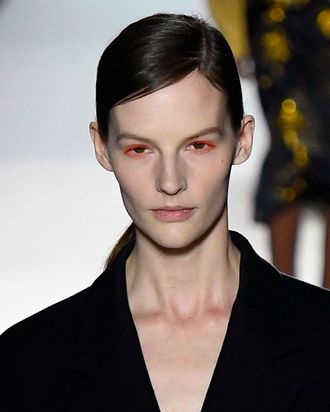 Photo: BERTRAND GUAY/AFP/Getty Images
Hope is a thing with feathers, and so were the hair parts at today's fall 2018 Dries Van Noten show. Inspired by the designer's frequent love for and usage of feathers, in both prints and appliques, hairstylist Sam McKnight created a feather-light hair design.
Each model had their hair divided to the side, and secured into a low ponytail. Then the look went to the birds — slim, colorful feathers, less than a few millimeters thick were glued onto the part. (Don't worry, they used special glue for skin, so no models were harmed in the creation of this look). Some feathers even extended past the hairline, resting on the forehead like a wispy bang. Given that models are generally close to six-feet-tall, it's unlikely that any of the seated showgoers had the vantage point to see the bits of gleamy gold, orange, and purple on the top of their heads, but it was a nice visual detail.
To complement the airiness of the hair look, makeup artist Peter Philips created plumage-inspired makeup. Starting with polished skin and no lip color, he added feathery, colorful lashes by coating them with layers of brightly colored mascara. As the models blinked, they fluttered magenta, pink, orange, and yellow. Thankfully, the feather motif stopped there, and didn't extend into absurdly feather eyebrows. But it turns out you can wing out more than just your cat eye.