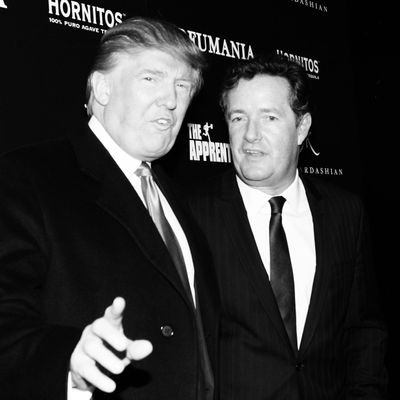 Donald Trump and Piers Morgan, sans butt.
Photo: John W. Ferguson/Getty Images
On Thursday night, BBC2 program The Mash Report dissected Piers Morgan's recent interview with President Donald Trump … and broadcast a cartoon image of Morgan with his face quite literally buried in Trump's butt. Morgan, unsurprisingly, was not pleased about the illustration — and on Friday, he proceeded to play himself by repeatedly posting it on Twitter.
During the segment, comedian Rachel Parris took a look at the "staging" of Morgan's interview with Trump. She used an illustration of the legendary Frost/Nixon interview to demonstrate the positioning of a "typical robust political interview," and contrasted it with an illustration of Morgan's face in Trump's butt like a human centipede. Parris then asked: "Can you see the different style of interrogation there?"
Morgan, in turn, posted the image multiple times, alongside comments like, "The BBC thinks this is OK to broadcast. But if it depicted high profile women, there would be outrage. Why the double standard?" and "If the BBC broadcast an image like this after a female journalist interviewed @theresa_may - all hell would break loose & people would be fired."
Morgan also proceeded to retweet several other people's posts about the image, further playing himself by ensuring that every single person on the internet now has the ass-eating illustration forever etched on their brain. And of course, Twitter was loving it:
We can't wait for Trump to tweet the image as well.