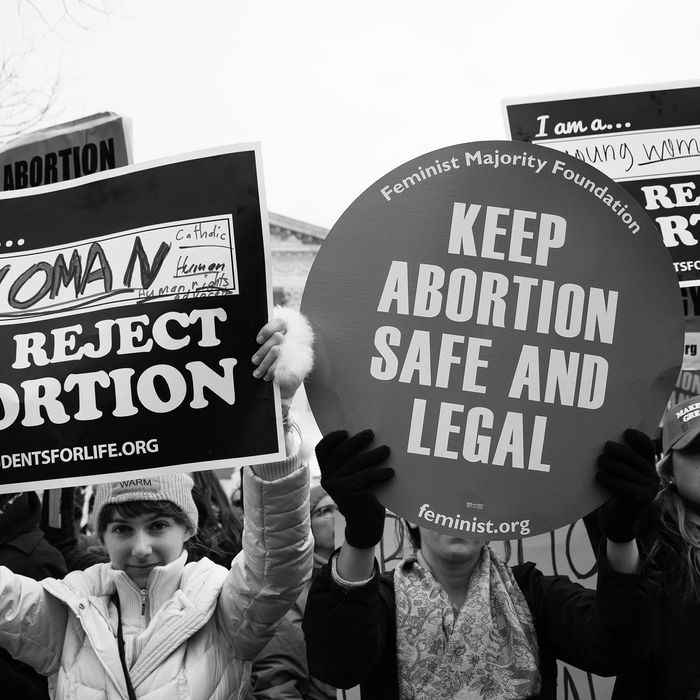 Photo: JIM WATSON/AFP/Getty Images
On Monday, the Trump administration released its proposed budget — a blueprint for the kind of world they want to "build." It included, unsurprisingly, major cuts to programs on which millions of women rely, and continues the year-long attack on women's health.
For over a year, Planned Parenthood supporters and women across the country have been marching and organizing to resist Donald Trump's vision for the world. We've fought for the rights of all people over the privilege of the few. We've flooded the streets, town halls, airports, and Twitter. We've defeated bills that would take away access to care from millions and block patients from going to Planned Parenthood for preventive health care. People across industries have broken their silence about how bosses and co-workers have abused their bodies and their spirits. Trump and Pence's greatest success is uniting all of us to demand equality and justice.
But equality and justice won't be won solely by fighting against Trump's vision — we must fight for the world we want.
A world that is vastly different from the world Trump is proposing.
This week, in partnership with visionary legislators and fierce local grassroots organizations, we're advancing legislation in more than a dozen states and the District of Columbia, with plans to expand to all 50 states. Together, we're fighting for bills to make birth control more accessible — like making sure the women can continue to get birth control without a copay, even if Trump and congressional leaders repeal the Affordable Care Act — and expanding access to safe and legal abortion.
We worked alongside our fellow members of the Oklahoma Coalition for Reproductive Justice and lawmakers in Oklahoma to introduce a reproductive health non-discrimination bill. This would protect employees against action from employers who disagree with their reproductive health choices — whether that's getting an abortion, using birth control, or choosing to be a parent.
In Maine, we're supporting the state attorney general's bill that would allow nurse practitioners to provide the abortion pill for patients. If the bill passes, then safe, legal abortion would be more accessible to patients who face structural barriers — like those who live in rural communities.
In Alaska, where accessing health care can mean long waits and longer journeys, lawmakers introduced a bill to allow women to get 12 full months of birth control at once. Research shows that access to a year's supply of birth control reduces barriers for women to access contraception and increases continued use of birth control.
And the California Assembly has passed a bill to require University of California and California State University campuses to supply the abortion pill at campus health centers — the first bill of its kind in the country.
Planned Parenthood is fighting on all fronts — driving policies, research, and innovation that break down barriers to reproductive health care: Telemedicine to reach rural communities; a texting program to answer a teen's late-night question; an app that connects patients to doctors via video and ships their birth control to their door; and partnerships with websites and apps to get out the information people need, in the spaces where they already spend their time.
Every time we march and rally, we're not just opposing the policies of the Trump-Pence administration. We're taking steps to create a world where all people — no matter where they live, who they love, or how much money they make — have the ability to access the reproductive care they need to live the lives they want.
That's the big idea that's been driving Planned Parenthood for 101 years: that your body is your own, and if it isn't you can't be free and you won't be equal.
The Trump-Pence administration has spent a year systematically working to take away people's ability to control their own bodies and lives.
But as #MeToo founder Tarana Burke said recently, "We don't need to be afraid, we need to let them be afraid. And they should be very afraid."
Dawn Laguens is the executive vice-president of Planned Parenthood Federation of America.