The work above was created by Kruger for New York and the Cut in honor of the 2017 International Women's Day strike.
I met artist Barbara Kruger on the day after Christmas: the fourth-biggest shopping day of 2017 and one of the coldest. "They're returning things already," she said, gesturing toward the bundled figures hustling past an Upper West Side Le Pain Quotidien. Kruger would beat the worst of the cold snap, flying to Los Angeles, where she teaches at UCLA and lives half the year. Her Boxing Day errand was to mail some books to herself there.
Kruger is best known for text and image pieces that prompt you to assess your relationship to consumerism — "I shop therefore I am" and "You want it. You buy it. You forget it." — although her nearly 50-year CV covers many isms across many media. Her background is in magazine design, and perhaps as a result, her work is eye-catching, easily transmitted, and frequently ripped off. It's a phenomenon that both amuses and inspires her. In 2011, she made a wall piece collaging hundreds of Kruger look-alikes that she found on the internet, and in November, she staged her first-ever performance: a flash sale of Barbara Kruger merch modeled after a "drop" from Supreme, the skatewear brand whose logo mimics the white-Futura-on-red text treatment that she layers over black-and-white photographs.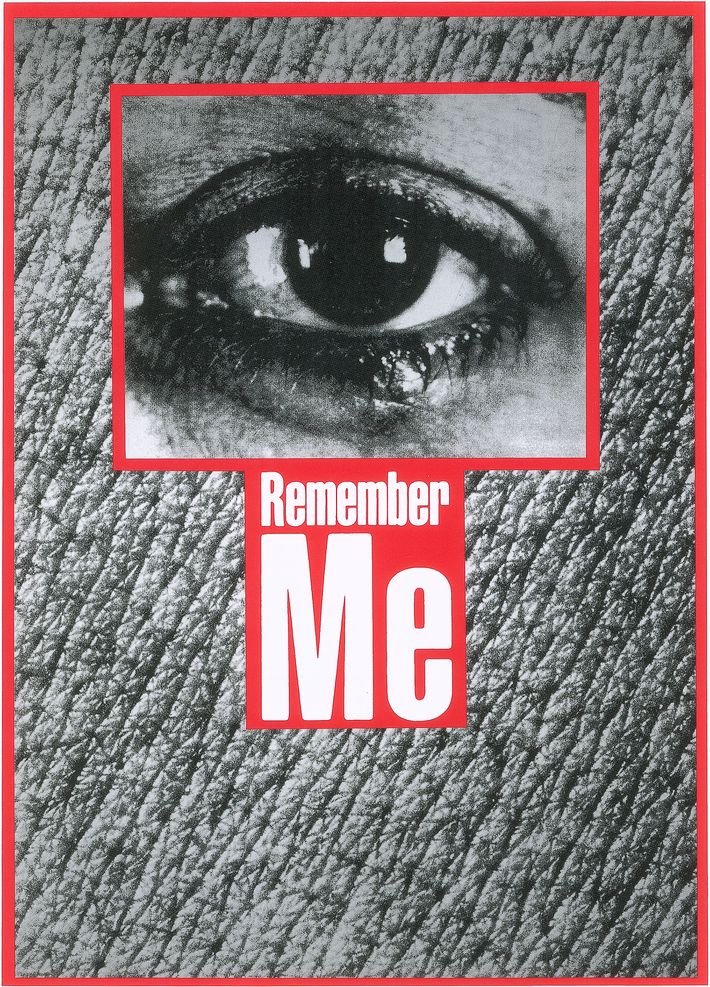 Asked about Supreme, Kruger is blasé. "I don't own a font," she said. Partly, this is a function of her work, which gives an ambivalent voice to the lurking influences of money and power, but doesn't get in the weeds of small-time copyright battles. But, partly, it seems to be a reflection of Kruger's disposition: an affably astute, inveterate city kid (Kruger grew up in Newark) who is too private to properly feud. Kruger dreads public events, marveling at her students' passion for openings. "I love the moments between events," she said. Even the holidays appeal primarily as "an empty square on the calendar." "I don't find it depressing," she added. Kruger doesn't have a social-media presence, and she dislikes being photographed. When gallerist Mary Boone arranged to have Kruger's portrait taken by Annie Leibovitz, Kruger consented only to an image of her image, broadcast via closed-circuit television in an electronics-store display on 14th Street.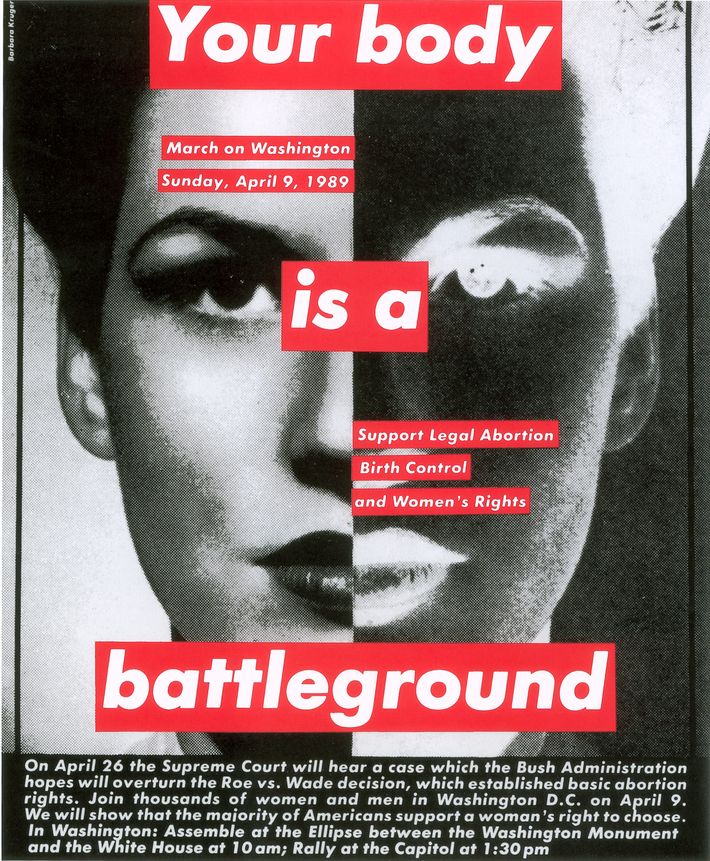 All of this makes Kruger logical catnip for hypebeasts. Who's cooler than the person who doesn't come to the party? But her critical distance also makes her a deeply satisfying observer of media and culture. A self-described news junkie, she isn't on Twitter and Instagram, but she follows Twitter and Instagram, and she is quick to rattle off the brands that her students like (Stussy, Virgil Abloh, and, yes, Supreme). She's thinking about how the reception of her work is changing, observing — "without judgment" — that it will be reproduced in miniature on phones. And, as uncomfortable as she seems with contemporary standards of personal exposure, she is at ease in the realm of the abstract. As in her work, she quickly distills dissertation-worthy topics into stuff you want to put on a sweatshirt. "History is a circle jerk of hurt and damage," she told me at one point. Talking to Kruger makes you think that anecdotes are a crutch.
For the same reason, Kruger is challenging to profile using the conventions of women's media, which generally involves triangulating a personality through taste. She watches Real Housewives "of all locales," but she doesn't like it. Over a two-hour lunch, she doesn't offer up any lifestyle signifiers that might sketch an impressionist portrait of her life beyond work, with one exception.
Kruger loves Ikea. Architecture was her first love, and in her gallery-size installations, she displays an architect's skill for guiding — without dictating — a person's experience. She loves the way people interact with Ikea showrooms as if they were alone at home, drawn through fantasy rooms in search of moments of good design. Ikea, to Kruger, is what shopping is all about. "It's not necessarily about buying," she said. "It's about framing your image of perfection. It's a perpetual cruise. In some cases, it's about problems well-solved." Kruger likes to give people gift cards, so as not to impose her image of perfection on others.
Given the power of Kruger's work to make the political feel personal, I asked if we should stress about our individual contributions (shopping) to bad systems (capitalism).
"Stress?" she said. "There's a difference between vigilance and stress. Stress about your finiteness, maybe."
Kruger had a short attention span before it was cool. She believes it helps her relate to audiences, especially those outside the art world. "The ways in which my work is coded are more available," compared to other forms of art, she said. "But not better." Lately, her attention span also attunes her to the political climate. She's critical of many Democrats because they "misunderstand how meaning is made."
"Their vocal rhetoric is a fail," she said. "It's complete and it's correct, but the meaning and the power of what they're saying isn't coming across." Trump, meanwhile, "talks like a New York deli owner and thinks like a skinhead." Yes, he is disconcertingly repetitive. But "repetition is how Donald Trump sells himself."
Kruger's work isn't repetitive, but it is recognizable, as is its influence on graphic design. This may account for her popularity — still, she calls success of any kind "brutally arbitrary."
"Who is seen and who is not seen is always a result of historical reckoning, social circumstances, and good luck," she said. Kruger doesn't have any degrees and was painfully intimidated by the codes of the art world until her early 30s. "I came to the art world much later than most," Kruger said. "I didn't consider myself an artist in any way that would be meaningful to me." A rented loft on Reade Street introduced her to other artists, including the first graduates of CalArts, a cohort now known as the Pictures Generation. Curator Ann Goldstein, then at the Museum of Contemporary Art in Los Angeles, gave Kruger her first big museum show — a career-changing opportunity to show her work on a large scale.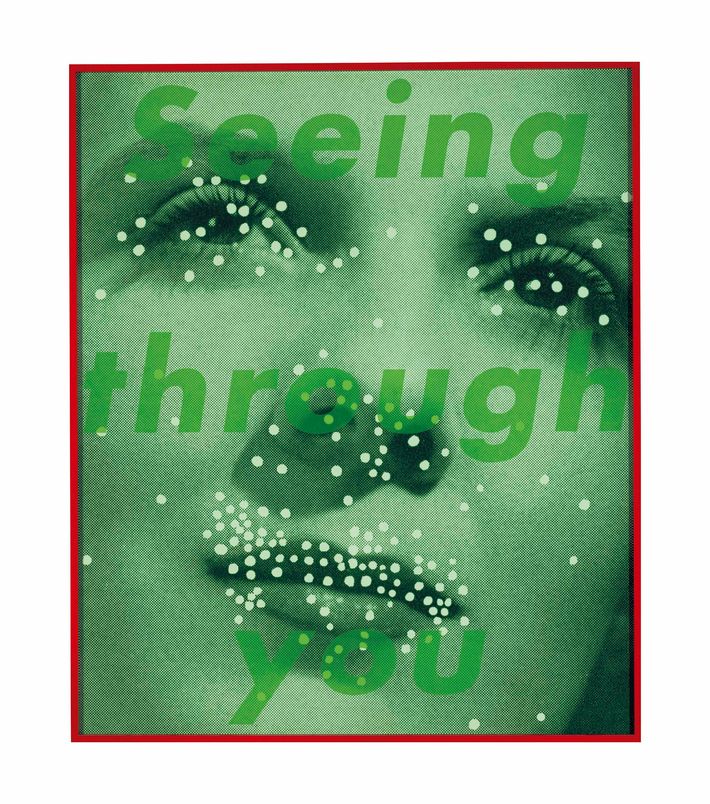 It's not uncommon for women of Kruger's generation to have had a more traditionally female first act — in Kruger's case, that was working among graduates of the Seven Sisters at Mademoiselle. And it's not uncommon for such women to speak about their circuitous routes as professional assets or personal journeys, a source of feminine wisdom that sets them apart. Not Kruger. "I think it would have been nicer to have not felt marginalized and invisible," she said. "Invisibility hurts. It hurts subcultures. It hurts your everyday, material life — whether you can get health care, a job, whether you are held in some degree of respect." Kruger is pleased to have the attention of the art world Establishment — she is currently working on a major museum retrospective — but she wouldn't have minded finding recognition sooner, rather than later.
This, to me, suggests one of the prevailing double-binds of life as a woman: high-definition awareness of how the game is unfair, constant desire to win anyway. Not buying into conventional definitions of success is, after all, as Kruger put it, "a naïveté reserved for people with inheritances." I asked Kruger how she balances her skepticism about the nature of success with her personal ambition. "It's a pleasure to try to puzzle that out," she said, "because I never thought I would be in that position." Besides, equality should probably be measured in baseline lived experience, not the allocation of awards. "I hope we arrive at a place where women and people of color no longer need to be extraordinary to be considered ordinary."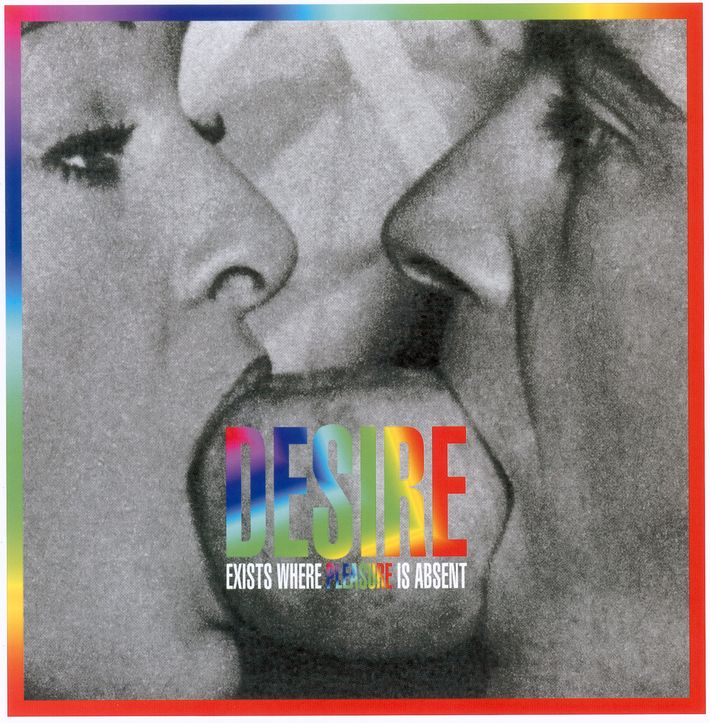 One of Kruger's superpowers is to take the long view on issues while also, simultaneously, understanding them on a human scale. Discussing the workplace-sexual-harassment reckoning underway, she was quick to recognize its place in the larger history of wage labor, and the relative newness of women and dating to the workplace. "The hierarchies of the workplace have been in place for generations," she said. "How power is threaded through that hierarchy is now under crisis." At the same time, Kruger feels, intensely and personally, how harassment degrades women. "I'm finally known. I've become a 'Figure,' not just a 'body,'" she said. "But that marginality still lives in me. I still relate to it and empathize with it. It is still a motor of my work." Meanwhile, a classic Kruger line — "Desire exists where pleasure is absent" — points to why every woman I know just knows the difference between flirting and harassment.
Kruger's proposed solution wasn't so much a solution as it was a mantra, something she has said many times and which, characteristically, gets to the unyielding center of the issues her work is about. "The most important question is the extent to which we comply or resist the stereotypes of our own destruction," she said. "People will need to think very hard about how they are to one another."