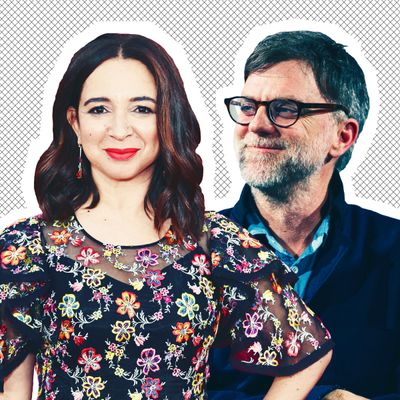 There are a lot of great celebrity couples out there. There are those that make you believe in the power of lasting love to survive the Hollywood star machine (Ted Danson and Mary Steenburgen; Ina Garten and Jeffrey). There are those who — though their flame may have dimmed — made you believe temporarily in the prospect of a cooler and more effortless world (RIP, Kristen Stewart and St. Vincent).
And then there are Paul Thomas Anderson and Maya Rudolph.
To my mind, the best celebrity couples of all are the ones that make you do a double take — where the sheer existence of the relationship makes you appreciate each member of the couple so much more. In this respect, PTA and Maya Rudolph are without equal. At first look, these two would appear to be from different worlds. Maya Rudolph is a comedy icon of the highest order: an SNL multi-hyphenate and comic genius with the soul of a 1950s variety star and a head that can pull off any wig. PTA is a controlling cinematic visionary who inspires more film-boy worship than Christopher Nolan and the Coen Brothers combined. Both are revered, yet for very different bodies of work. He comes across as intense and cerebral, she as goofy and warm. He's a Cancer, she's a Leo. And yet somehow, they fit together perfectly — like Reynolds and Alma from Phantom Thread, or Jodi and Betty from Bronx Beat.
They remind me of another half-SNL couple (and P.T-Dolph pals), Andy Samberg and Joanna Newsom, who complicate and elevate each other in fascinating ways. (I don't know which is more illuminating; the fact that Samberg likes harp music, or that Joanna Newsom likes Popstar: Never Stop Never Stopping.) Did I mention that Maya and PTA have four kids? Whose names are Lucille, Jack, Pearl Minnie, and Minnie Ida? Four! Nobody has more than three kids in 2018 unless their last names are Duggar or Kardashian, and yet somehow Paul and Maya are making it all happen. When someone asked PTA during a Reddit AMA how often Maya makes him "fall over laughing," he responded "every day." Every damn day!
Despite these delightful snippets, the two are intensely private about their relationship, which means that, in 17 years of coupledom, we've rarely gotten a peek inside their home life. Neither of them uses social media. There are almost no paparazzi pics of them, save this, the greatest paparazzi pic of all time:
And here is PTA's amazing response:
Seeing Phantom Thread, one of the wildest relationship movies of all time, only enhanced my curiosity about the pair. PTA claims that he got the idea for the movie when he was sick and Maya was caring for him, and he began to muse about what it would be like to remain in such a state. As he told Rolling Stone: "[S]he is looking at me with such care and tenderness … wouldn't it suit her to keep me sick in this state?" So, like: What kind of weird BDSM stuff are these two into? We know that PTA is clearly a real Reynolds Woodcock (with a dash of Daniel Plainview), but to what extent is Maya an Alma? (Or is she more of a Cyril, as in, Don't pick a fight with me because you will lose, I'll go right through you and you'll end up on the floor?!) What is Maya's tactic for reining Paul in when he gets too deep into the film-boy nerd zone? Does she know her way around a patch of fungi?
In general, I can't help but let my mind run wild when I think about these two. I love imagining them in their quiet moments: their favorite Johnny Greenwood–Prince mix-CD playing in the background as Rudolph fixes Paul a delicious omelette, workshopping funny names for British couturiers. But more than that, I am overwhelmed with questions: Does Paul prefer Maya's Beyoncé impression or her Donatella? Does Maya prefer Magnolia or There Will Be Blood, and does she agree that Inherent Vice was maybe a little long? Who gets to pick what they watch for movie night? When Paul is waxing poetic for the millionth time about the difference between the metric and imperial measurements of 70 mm film, does Maya roll her eyes, or does she listen patiently (while surreptitiously texting an eye roll emoji to her SNL girls' group chat)? Do they ever go out for milkshakes, and Maya has some of Paul's and says "Hey Paul, I drink your milkshake!" and then they both laugh about it?
Now, they just need to team up and give us the PTA-directed, Rudolph-starring big-screen musical comedy — featuring Tiffany Haddish — that we all so sorely crave.