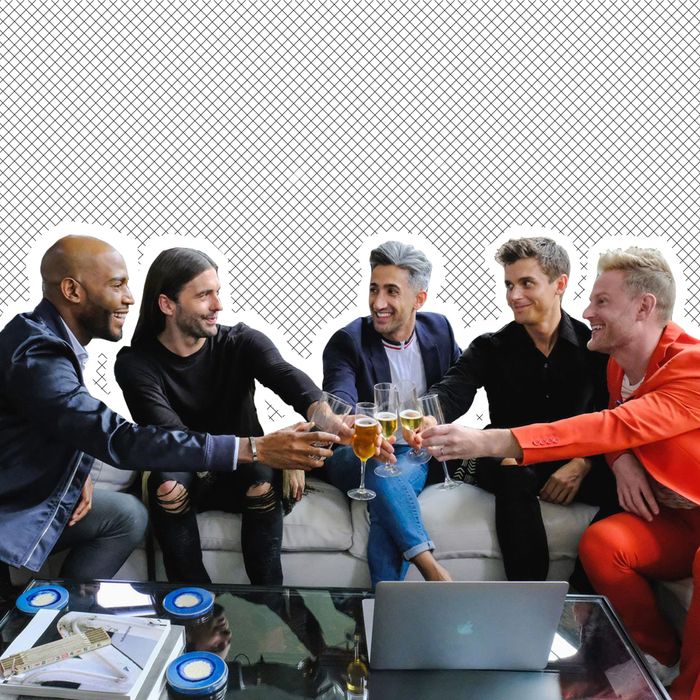 The cast of
Queer Eye
.
Photo: Courtesy of Netflix
What's Good is a weekly column collecting TV, music, movies, and miscellaneous cultural ephemera worthy of your time. Why? Because we like it. Check back Fridays at lunchtime for your guide to what is good.
This week, a number of people — my friends, the woman who cuts my hair, my own mother — have asked me "oh my god, have you watched the new Queer Eye on Netflix?" As of Monday, the answer was no, and also that no, I probably wouldn't, because I am wary of reboots, especially those that are reworked to address the 2018 need for woke as the new Queer Eye purports to do.
The new show follows the model of the early-aughts Bravo version, but there's a new Fab Five, and it takes place in Atlanta, a city that offers a diversity of human experience beyond "upwardly mobile New Yorker." Each episode, Bobby (Design), Tan (Fashion), Karamo (Culture, but really just general life coaching), Jonathon (Grooming) and Antoni (Food and Wine) spend a week with a different helpless straight man and help him fix all aspects of his life.
If the old version aspired to make straight people (specifically straight men) feel comfortable with gay men, then the 2018 version has a much larger goal, as Tan explains in the intro credits: "Our fight is for acceptance." So now each episode has moments where one or all of the Fab Five open up about their own lives and have kind, gentle conversations about social issues with their makeover targets (in addition to shading their wardrobe).
Yet for all my hesitations — mostly, worrying that it would become tiresome to watch the emotional labor necessary for these men to imbue Trump supporters with wokeness and explain the concept of "snatched" — it also sounded sort of great. As long as the show continues to provide scenes in which men undergo the same drastic forms of self-improvement as women do, I'm game.
By the end of episode one — when Tom, a self-described "ugly redneck" with a beard that would make ZZ Top feel inadequate, broke down in tears because he'd never felt beautiful — I was pretty sold and didn't mind the long-winded talks about how to redefine masculinity. By the end of episode two, I was certain that watching beards get lubed and trimmed is the most soothing of all ASMR. Episode three (perhaps the most manipulatively woke) almost lost me. First of all, it's here I discovered that Antoni can't actually cook — but it's also when the lone black member of the Fab Five has a long conversation about black men and policing with his makeover subject: a Trump-supporting police officer. It felt too manipulative. Too forced. Too doggedly attached to proving a point about the power of groomed beards and peaceful conversations. But episode four was the immediate antidote, and everyone should watch it right now.
Episode four focuses on AJ, a smoking hot 32-year-old gay man with a smoking hot boyfriend and a really disgusting kitchen. AJ hasn't come out to his stepmother yet, and never got the chance to come out to his father, who died several years ago. Crying yet? So, AJ gets the standard makeover and Antoni taught him how to make queso (my god, Antoni, are you even trying?), but he also received guidance from the Fab Five about how to come out to his family, and what it was like to live life as an openly gay man. When AJ read his mother the letter he wrote, he broke into chest-heaving sobs because he finally felt seen. Meanwhile, I started crying harder than if I had been watching This is Us while streaming SZA on a Sunday with the Molly comedowns. You've been warned.
And, just to push you over the edge, yesterday AJ announced his engagement to his super hot boyfriend, and thanks, now I'm crying all over again.
Wow! Now That's What I Call Horny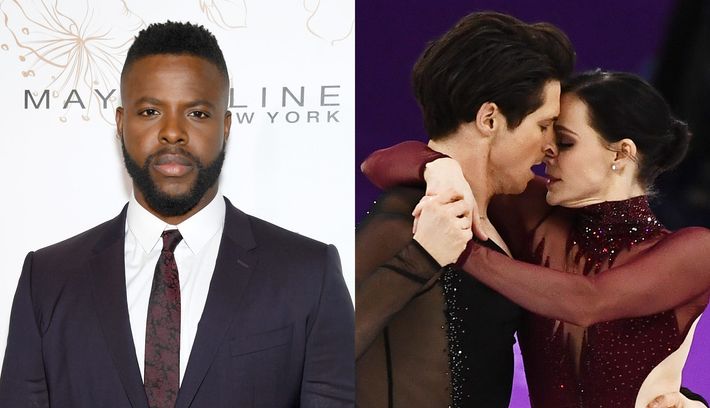 Maybe it's because Rihanna turned 30 this week, or maybe because New York had one warm, horny day to stir the near-extinguished fire in our loins, but dang, were people out there thirsting like crazy! I'd call this perhaps the horniest week of 2018. Young Thug changed his name to Sex. You can't tell me I'm wrong.
First, there was the widespread appreciation for the Black Panther cast was. Everyone was hot, but it seems the internet selected Winston Duke (M'Baku in the movie) as the object of our flourishing were communal lust. The Yale-trained actor is suddenly everywhere, with the main discussion centering on how undeniably attractive he is. Understandably. Just watch this Instagram video of Duke eating fresh cocoa pods. See his lips? How can you see anything else.
I get why everyone is out there trying to M'bang M'baku. I found it most surprising that a duo of Canadian ice dancers who love Moulin Rouge managed to ice-fuck their way to a gold medal and into our loins. But they did. Call it Olympics goggles, but by god, Tessa Virtue and Scott Moir did. As the two competed in their final skates of the Olympics, many questions arose: were they having sex, and if not, when would they have sex, and if never, had they ever had sex in the past? And — a follow-up — if they did have sex, was it also always soundtracked by the smutty song from Moulin Rouge? While the pair denies any romantic involvement, the melting ice tells a different story — one that lends itself to some erotic fan fiction.
But This Was the Best Thirst Trap
Janelle Monáe released a pair of videos yesterday from her forthcoming album Dirty Computer (April 27). "Make Me Feel," an '80s-inspired, Afro-futuristic funk song about fucking, stars Tessa Thompson as a love interest. "Django Jane," an energetic rap about black girl power, features Monáe in a series of knife-sharp suits I need to add to my wardrobe immediately. Both are great, and both basically function as well-produced thirst traps. I know Prince is up there somewhere, so proud of Janelle Monáe. Proud of the way she paid tribute to his signature nasty guitar riffs, the way she pushes boundaries of sexuality by singing openly about gender fluidity, but especially for the way she bravely wore ass-baring pants: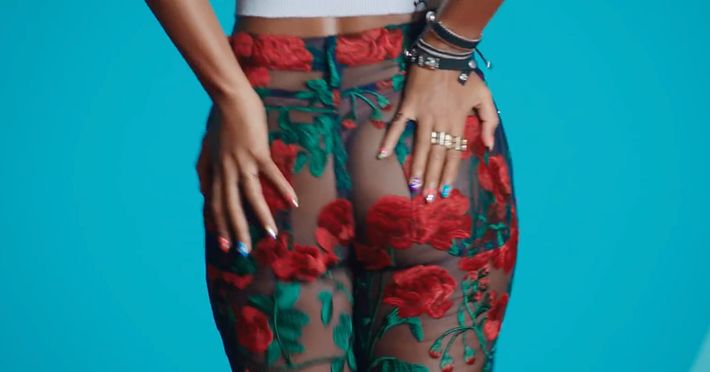 Two country singers I really like released new music. First, Margo Price, an outspoken, pro-gun-control country singer (whose last album was about injustice and sexism in the music industry) released a video for "A Little Pain." She gets stoned in a diner and throws a sexual predator through a glass window. It's extremely satisfying.
And today, Kacey Musgrave — everyone's favorite "not like the other country singers" country singer — released two new songs from her forthcoming album, Golden Hour. My favorite of the two is "Space Cowboy," a torch ballad that I swear is better than the name, and has no relation to N'Sync.