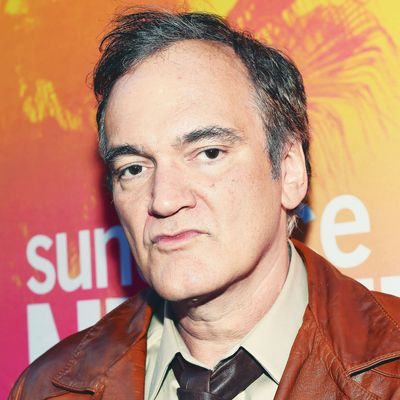 Quentin Tarantino.
Photo: Matt Winkelmeyer/Getty Images For Sundance
In the wake of Uma Thurman's shocking claims against Quentin Tarantino in the New York Times, Tarantino's history of horrible opinions is also coming to light.
Uma Thurman told the New York Times that she was "dehumanized to the point of death" while filming Tarantino's Kill Bill. She said that she was in an avoidable car crash while filming the movie and that Tarantino also stepped in to spit on Thurman and choke her with a chain for two scenes in the movie. Tarantino confirmed these instances.
Tarantino, in an interview with Deadline, offered a mea culpa. He said that the car crash Thurman endured while shooting Kill Bill was "one of the biggest regrets of my life." As for the choking and spitting, he said they were done with the actress's consent and that he "couldn't have respected Uma more during the making of the movie." Thurman blames Harvey Weinstein for the crash, not Tarantino.
However, Tarantino's apology tour was cut short when audio of a 2003 interview with Howard Stern went viral Monday night. In it, Tarantino defends Roman Polanski's rape of a 13-year-old girl, saying that statutory rape isn't really rape and she "wanted to have it." Per Jezebel:
He didn't rape a 13-year-old. It was statutory rape … he had sex with a minor. That's not rape. To me, when you use the word rape, you're talking about violent, throwing them down — it's like one of the most violent crimes in the world. You can't throw the word rape around. It's like throwing the word "racist" around. It doesn't apply to everything people use it for.
Tarantino continued back and forth with Stern's co-host Robin Quivers.
Tarantino: He was guilty of having sex with a minor …

Quivers: That she didn't want to have.

Tarantino: No, that was not the case at all. She wanted to have it and dated the guy and —




Quivers: She was 13!
Howard Stern stepped in to state the obvious, "If you have sex with a 13-year-old girl and you're a grown man, you know that that's wrong."
Listen to the interview below.