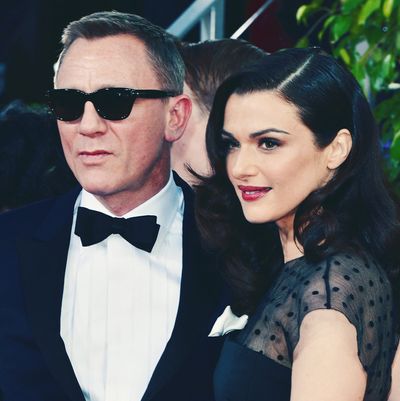 Daniel Craig and Rachel Weisz.
Photo: George Pimentel/WireImage
On May 21, 2016, Gillian Anderson tweeted this fake poster of herself as the next Bond (Jane Bond). Ever since then, all it takes is, like, half a glass of wine for me to launch passionately into why we should absolutely have a female Bond, and why Gillian should play her, and why maybe there could be an X-Files crossover moment, I don't know, we can sort all that out later. But not everyone shares my dream. In an interview with the Telegraph this weekend, Rachel Weisz, actress and wife of current Bond, Daniel Craig, said women should focus on creating their own stories instead of taking traditionally male roles.
"[Author Ian Fleming] devoted an awful lot of time to writing this particular character, who is particularly male and relates in a particular way to women," Weisz said. "Why not create your own story rather than jumping on to the shoulders and being compared to all those other male predecessors? Women are really fascinating and interesting and should get their own stories."
A great point. But, as a counterpoint, look at this poster and just picture Gillian Anderson fighting off criminals in a crisp Armani suit, or sipping a martini and uttering some cool double entendre like, "This is where I get off," *wink* or "Let's have sex in this expensive hotel and then try to kill each other while we're half-clothed." I don't know, we can sort all that out later.