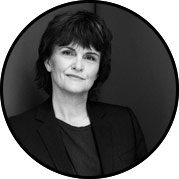 Raf Simons's latest men's show was in every sense a feast. Cast in a cold, Northern European palette of deep blues, reds, and silvery hues, it was both a feast of references — some obvious, like illicit drugs, and others more subtle and personal — and a visual feast. And it was an actual feast — you could literally eat from the table-height runway piled with arrangements of fruits, cheese, wine, sausages, Belgian-style waffles, chocolate, and flowers, as if in a Vermeer still-life.
Well, I'm not sure Vermeer ever had waffles, but you get the idea.
For me, it was a treat to see a Raf Simons show again. He typically shows on the menswear calendar in January (and until recently in Paris), so I haven't been able to see his shows, but this season the U.S. fall men's collections fell in right before the women's. This show completely brought me back into his world as if I'd never left.
The first Simons show I saw was around 2000, and the teenage models were wearing blazers, big overcoats, white shirts buttoned up to the neck, and their bangs were cut like a blade across their foreheads. (I know because I have a Michael Roberts portrait taken backstage.) The show was held in a huge semi-dark space, like a sound stage, and it included a DeLorean slithering from the shadows. More than youthful privilege and decadence were implied. Simons always had a big romance for the obsessions and joys of youthful masculinity — the years roughly between 15 and 20. He tracked it into early manhood when, a few years later, he began offering polished suits. But no matter what he designed, he let you know he was always on the side of youth. It wasn't a temporary fling, as it is with many designers. Simons roots everything in the same story he began in the mid-'90s.
Some of the guys in last night's show had Dutch-boy bangs, and instead of the big, slightly raggedy sweaters and dress shirts that Simons has lately shown, they had on wool coats whose shapes nodded to '60s couture — almost like Balenciaga's barrel-shaped coat. They came in gorgeous shades of cadet blue and mulberry, and in classic checks; and they were generally shown with slim trousers in duchesse satin that had knee patches or a cargo pocket. Knits were now abbreviated to a shape that was half dickie, half scarf, which sort of spilled over the front of a coat, like a pullover sweater hastily tied on for warmth.
"I was very interested in the Northern European way of putting things together in a different way," Simons said after the show. That also included shiny, white rubber combat boots that slightly suggested violence.
I've saved the drug references for last — not because they're tricky to deal with but rather because, for me, they remained on the surface. Words like DRUGS and XTC appeared on the front of sweatshirts or on patches on some of the knits. They relate to the 1981 film Christiane F., which was based on the book Wir Kinder vom Bahnhof Zoo, about a German teenage girl's drug addiction. The film was widely seen in Europe — the notes for Simons's show said it was discussed as part of his high-school curriculum, as a cautionary tale — but if the film made it to the States at all, it was in limited release.
So the Christiane references, which included photographic images of her as a girl, may be more meaningful to Europeans of Simons's generation. The words were not intended to promote drug use, he said, but to counter the sense that things can't be openly and frankly discussed. "It's important to say what you need to say," Simons said.
Nobody could conceivably argue with that today, and if someone thinks Simons is promoting drugs, they're not looking at these objects reasonably or in context. But it's also true that in the clutter of signs, images, and logos today, we barely register the meaning of words like drugs, sex, or fuck when used in a public or graphic way. Actually, they have less and less meaning or consequence, which might be the problem. Either way, I'm pretty sure the youth will get what Simons means.