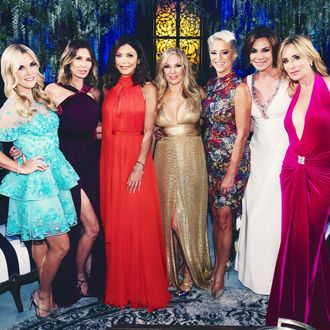 The
Real Housewives of New York
.
Photo: Bravo/NBCU Photo Bank via Getty Images
Reality television's success can be owed to the fact that hell is indeed other people. In the specific case of the Real Housewives franchise, hell is a slew of other women pumped up with lip fillers and white wine and a preternatural sense of shamelessness. And while it's entertaining to watch them deal with each other on dry land, it sounds like even more of a trip on the high seas.
Case in point: "Page Six" reports that cast members of the Real Housewives of New York were recently on a disastrous cruise off the coast of Cartagena, Colombia. They apparently thought they'd be on a luxury liner but ended up on an "old, decrepit vessel."
Per a source, the anchor got stuck and had to be sawed off, then the engine caught fire:
"When they got out to sea, the engine caught fire. It was a huge blaze and the crew was fighting to put it out. They didn't have a fire extinguisher nor did they speak English," we're told.
And then the journey got worse:
Adding to their watery woes, we're told the sea was so rough that "the seats and other things on board that weren't nailed down started flying about." The boat was taking on water, "and there were only two or three life jackets for everyone on board," including the film crew.
So how did everyone react? Well, reportedly exactly like you'd expect:
"They all thought they were going to die and they were hysterical," we're told. "Bethenny [Frankel], Ramona [Singer] and Dorinda [Medley] were soaked and screaming hysterically, Carole [Radziwill] and Tinsley [Mortimer] were literally throwing up from seasickness. They were far out to sea and they thought they were going down like the Titanic."
Which leaves me with one question: where was Countess Luann de Lesseps during all this? Staying so calm onboard that it wasn't worth mentioning? Or orchestrating a diabolic cruise ship switcheroo for her cast-mates?