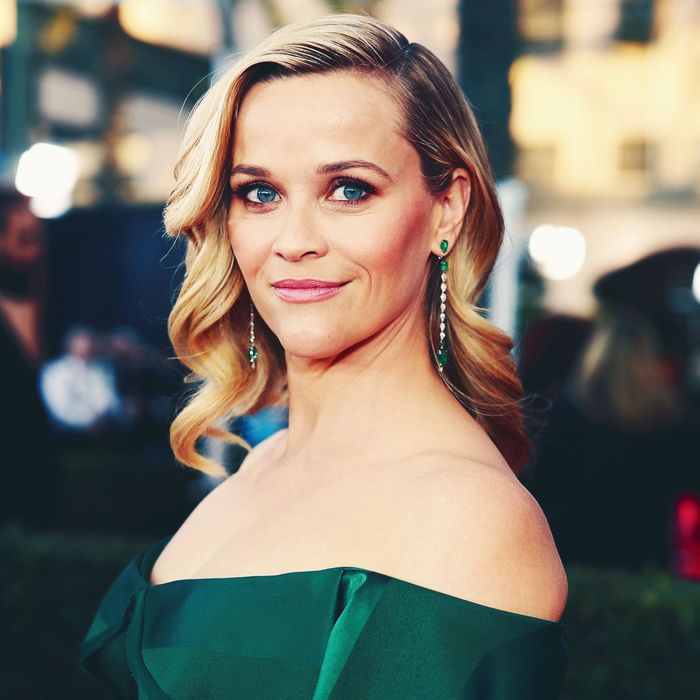 Reese Witherspoon.
Photo: Christopher Polk/Getty Images for Turner
In a conversation with Oprah to promote their forthcoming film A Wrinkle in Time, Reese Witherspoon revealed that she left an abusive relationship when she was "really young." She said the abuse was "psychological" and "verbal" and that deciding to leave changed her on "a cellular level."
"A line got drawn in the sand, and it got crossed, and my brain just switched, and I knew it was going to be very difficult, but I just couldn't go any further," Witherspoon said of her decision to leave. "But it was profound, and I was young. Really young. … I was a different person too. It changed who I was on a cellular level, the fact that I stood up for myself. … Leaving those situations [isn't] easy because it's wrought with self-doubt, particularly if someone damages your self-esteem. … I didn't have self-esteem, you know? And I'm a different person now." You can watch video of the conversation here.
Witherspoon didn't name her abuser. She is currently married to CAA agent Jim Toth, and she was previously married to Ryan Phillippe. Phillippe and Witherspoon started dating in 1997, when Witherspoon was 21, and they married in 1999. They had two children together and divorced in 2006.
Witherspoon could have been talking about any number of relationships she had before or after she met Phillippe, but it's worth noting that Phillippe was accused of domestic violence last fall. His 21-year-old ex-girlfriend Elsie Hewitt sued Phillippe in September, claiming that he kicked her, punched her, and threw her down a flight of stairs during an argument over the Fourth of July. Phillippe denied the accusations and filed a response claiming Hewitt was attempting to extort him.
After Hewitt filed suit, TMZ discovered that Phillippe's ex-fiancée Paulina Slagter accused Phillippe of harassment in March of 2017. She filed a report with the Los Angeles Police Department claiming that Phillippe sent her several "aggressive," "extremely angry" texts after they ended their engagement, including one in which he called her a "whore." Slagter dropped the case shortly after filing her report to avoid publicity, per TMZ. But when Hewitt filed suit, she tweeted this:

Phillippe has never publicly commented on Slagter's allegations. We reached out to his rep for comment on both cases and will update this post if we hear back.