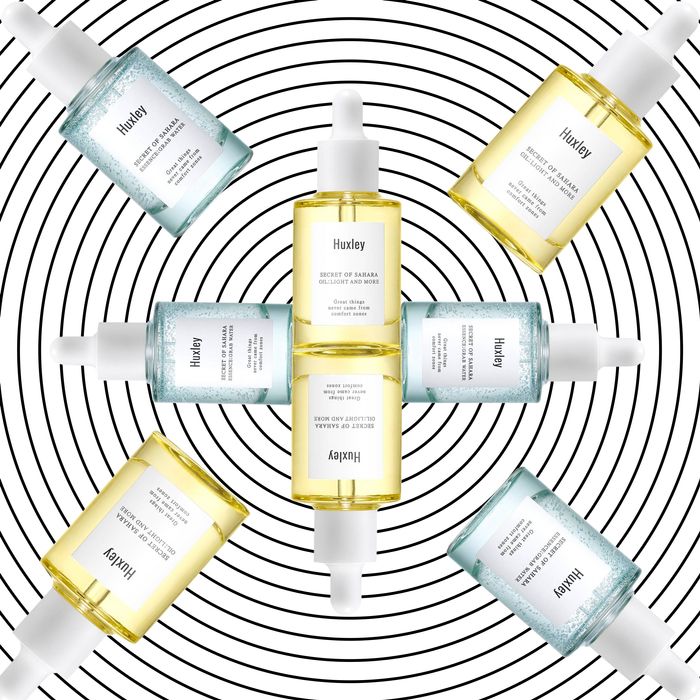 When Korean skin-care brand Huxley launched online in America last year, it was so popular that its first American e-tailer, Glow Recipe, couldn't keep the products in stock. Huxley, which is now available offline at Nordstrom, is named after author Aldous Huxley (the founder is a big fan of Brave New World), and I think it's worth the hype.
At the center of Huxley is a millennial staple: succulents. Prickly pear — a succulent that yields green, orange, and raspberry-colored fruit — is emerging as a promising skin-care ingredient. Recent studies support what many parts of the world have known for a while: that oil extracted from its seeds and stems are rich in vitamin E, an anti-inflammatory antioxidant. Prickly pear also helps heal wounds (broken skin from a popped pimple, for example) faster, it reduces redness, and when paired with ceramides (a moisturizing lotion ingredient), it also slows the breakdown of collagen.
Huxley is also the skin-care brand of choice among Korean flight attendants. Can you blame them? Sahara-sourced prickly pear is the most plentiful ingredient in each product and the non-fussy packaging is incredibly chic and travel-friendly. So which products should you try first? Below, the five most exciting items.
The Coolest Sheet Mask Ever
This is one of the best sheet masks I have ever tried (and I have tried a lot). To use, you first have to squeeze the bottom third of the mask's plastic packaging to release an inner pocket filled with prickly pear seed oil (here's a helpful video). The oil will completely coat the mask, but not so much that the oil will annoyingly slide down your face. After sitting with the mask for 15 to 20 minutes, you'll have the softest, most hydrated skin of your life.
The cream looks heavy in the jar, but don't be fooled! It applies lightly and won't smother your skin. There are several antioxidants at play to boost skin radiance, and in addition to the prickly pear, squalene and aloe moisturize to relieve a dry, irritated face.
An Oil That's Perfect for Both Oily and Dry Skin
This is an extremely light oil that even I, a life-long shiny person, can use. As the final step in a routine it "locks in" in all of the moisturizing properties in the creams and serums that came before. But trust me, you won't look greasy.
The Crowd-Pleaser Essence
Even if you're not big on essences, you'll like this one because it's as refreshing as a spa. I noticed that my skin appeared more "glowy," despite the current weather situation (it's January in New York), but ultimately this is a very light moisturizer. Pat a teaspoon of it on your face post-cleansing to prep your skin for the serum and moisturizer to come.
The Super-Charged Essence That Keeps Selling Out
Huxley calls this an "oil essence," but let's cut the crap; it's a serum. You can use it to replace your lightweight essence, or you can choose to pile it on top, for maximum moisturizing effects.
If you buy something through our links, New York may earn an affiliate commission.