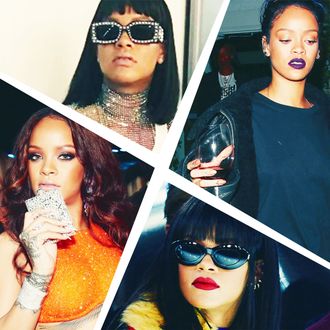 Our good-time having savior, Rihanna.
Photo: Courtesy of Instagram/badgalriri; Backgrid; Getty Images
On February 20, our modern flask-toting, beauty mogul deity Rihanna turns 30. How time flies! It feels like only yesterday she transformed our umbrellas into vehicles of empowerment, proved that wineglasses make the best accessories, and posed with a headless statue of herself. Here, we celebrate her three incredible decades with a look back at 30 of the greatest moments in the life of Rihanna.
When Anti hit No. 1 on Billboard twice … two months apart.
Rihanna's Anti album, one of the greatest albums of all time (I will fight you on this), reached the top of Billboard's charts when it came out — and then, eight weeks after its release, it was at the No. 1 spot again, as it should always be (go buy it now, please).
When she became a beauty mogul (and outsold kosmetics queen Kylie Jenner).
In 2017, Rihanna emerged as the queen of beauty when her Fenty Beauty line had sales that were five times higher than Kylie Cosmetics in its first month, and 34 percent higher in its second month. Sure seems like Fenty is poised to take over the Kardashian Kosmetics empire.
When she finally became the world leader we always knew she was.
Over the past year, Rihanna has met with French president Emmanuel Macron at least two times to discuss her work on helping to spread and fund global education. It's nice to finally see the GOAT recognized as a worldwide superpower.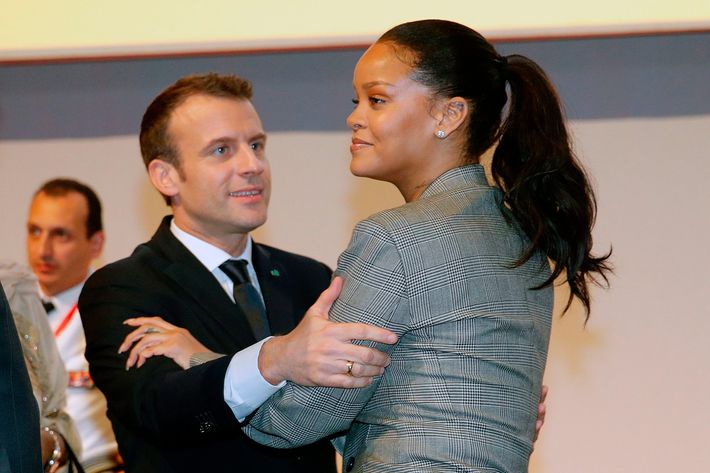 Her Vogue Paris covers officially made bath-leisure a thing.
Rihanna recently appeared on not one but three covers of Vogue Paris — wearing a towel, which finally solidified "bath-leisure" as (our favorite) important fashion trend.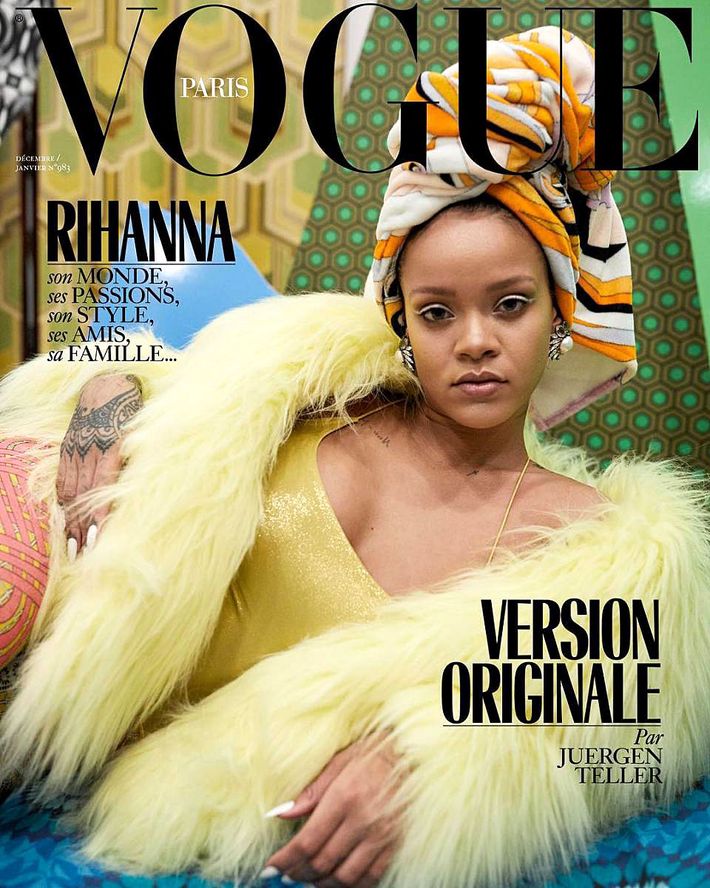 That time she stole the show during the Ocean's 8 trailer. (Sandra Bullock, who?)
While Ocean's 8 may be a starring vehicle for big name actresses like Sandra Bullock, Cate Blanchett, Mindy Kaling, and basically everyone else on Earth, the only person we could focus on during the trailer is Rihanna, who plays a hacker in the upcoming heist flick.
When she had a literal street named after her in Barbados.
As a native of the country, Rihanna is, of course, the unofficial queen of Barbados. So it should come as no surprise that her home country's Ministry of Tourism decided to officially put her on the map — by changing the name of Westbury New Road in St. Michael to Rihanna Drive. Here she is at the opening of the street:
That time she closed out her fashion show on a motocross bike.
Ever the daredevil, Rihanna officially had the coolest exit of Fashion Week last September when she finished out her Fenty x Puma show on the back of a motocross bike.
Remember how she made socks cool again?
Rihanna, somehow, showed us that socks are much more than just the gift we always get from our mom over the holidays. In August, she dropped Iconic Looks, from her Fenty for Stance sock collection, which features four of her most iconic looks … on socks. Even Drake (well, of course Drake) was into her socks.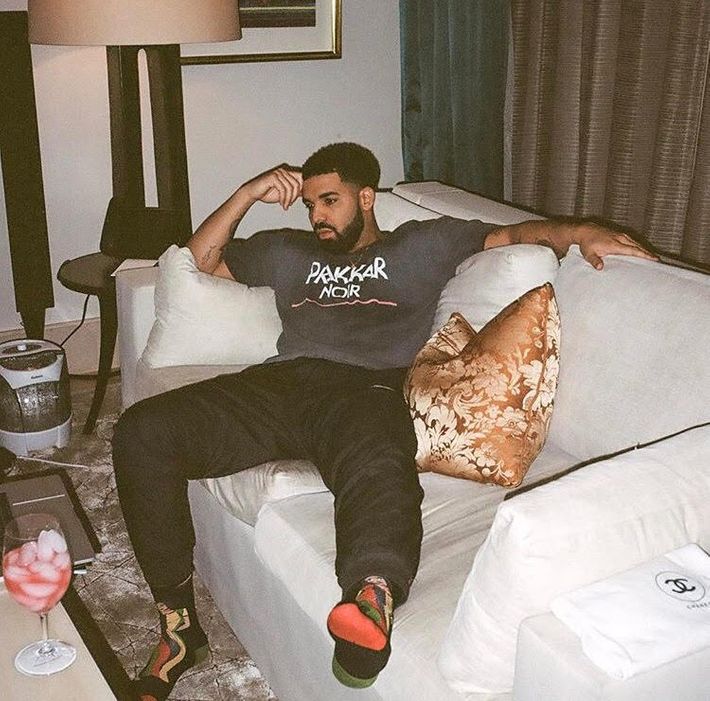 When she turned her song "Umbrella" into a real-life press-evasion tactic.
Rihanna famously sang about letting someone stand under her "umbrella-ella-ella," and she took that lyric quite literally when it came to trying to hide her new hot boyfriend Hassan Jameel from the paparazzi in London. You can see the pic here, and reminisce with the song's music video below:
When she gave Diplo the best (and most brutal) burn.
In an interview with GQ, Diplo admitted that he once begged Rihanna to appear on Major Lazer's "Lean On," only to have her reply, "I don't do house music." She then later told him that one of his songs "sounds like a reggae song at an airport."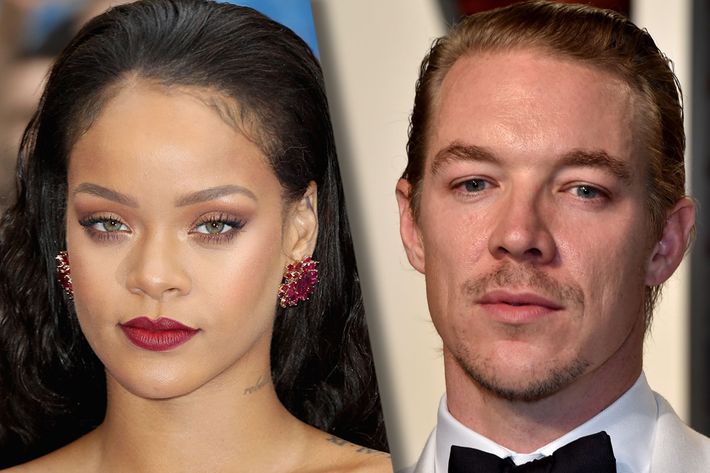 She wore the most epic outfit we've ever seen to the Barbados Crop Over festival.
Rihanna happily posed in an outfit made basically just out of feathers and crystals at the 2017 Crop Over festival in Barbados, where she was spotted riding in a truck on a parade route and drinking from a to-go cup, clearly having the best time.
That time Rihanna was the world's therapist.
In June 2017, Rihanna gave a fan the breakup advice we've all needed to hear at some point. The fan sent Rihanna a DM on Twitter about getting over their heartbreak, and she wrote in response: "Just believe that the heartbreak was a gift in itself! Cry if you have to, but it won't be forever! You will find love again, and it will be even more beautiful! In the meantime enjoy all that YOU are!!!"
Don't forget her basketball feud with Kevin Durant.
Golden State Warriors player Kevin Durant recently experienced all of our worst nightmares: He was heckled by Rihanna during a game. The feud was perfect and dramatic, with Rihanna shouting "BRICK" as he made a shot (and then stared her down afterwards). We love sports!
When a pic of Rihanna and Lupita Nyong'o went viral — and a movie came of it.
Last May, Rihanna and Lupita Nyong'o were seated next to each other at a fashion show — and a meme of the image went viral, after Twitter user @1800SADGAL pointed out that it looked like a still from the world's greatest buddy flick. Now that meme is apparently becoming reality, as Issa Rae is reportedly writing the script and Ava DuVernay will be directing.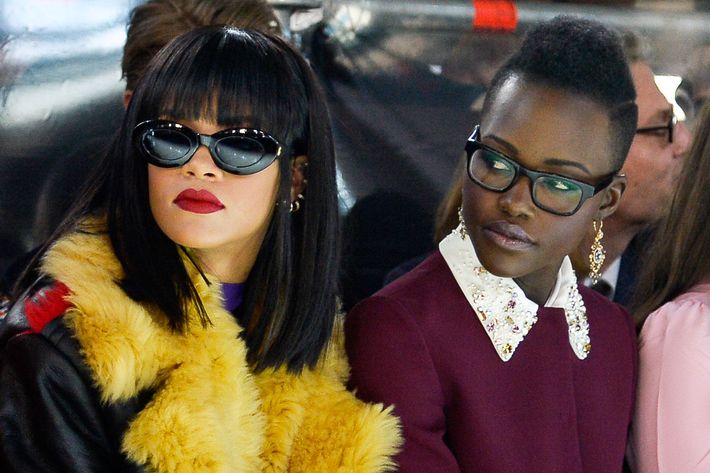 Who could forget when Rihanna wore the greatest Coachella outfit of all time?
For an appearance at the Coachella music festival last year, Rihanna paired cutoffs and a tank top … with a full-body turtleneck sparkly bodysuit. No one else in the world could pull off that look.
When she shined bright in diamonds she literally designed.
Rihanna may have sung "shine bright like a diamond" … but she also actually did that in real life, when she inked a deal to design a jewelry line for Chopard.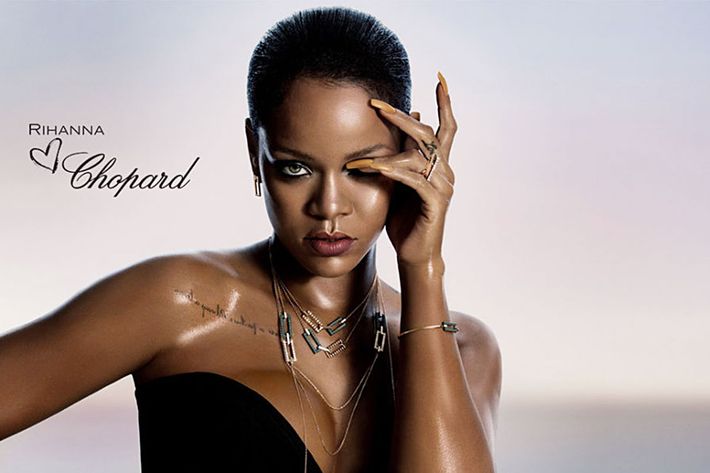 That time she reminded us that all the world's a runway (including your local bodega).
Famed bodega patron Rihanna took over the Alphabet City Deli & Grill on Avenue C in New York City for a cover shoot for Paper magazine, reminding us all that fashion happens everywhere.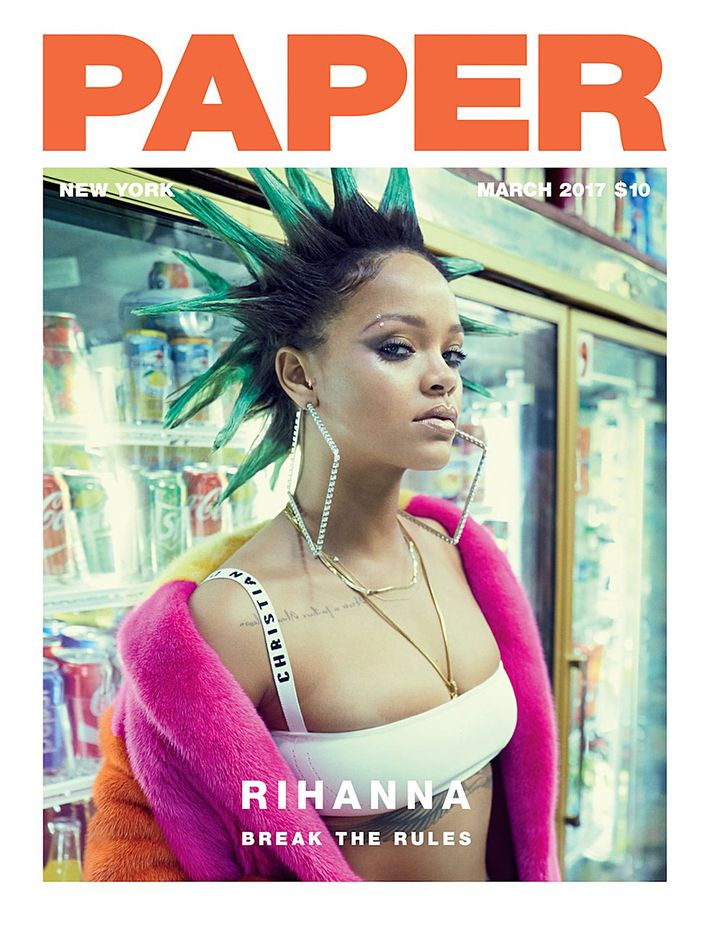 When she was (rightfully) named Harvard's Humanitarian of the Year.
The folks at Harvard University finally proved their intelligence when they named Rihanna as their Humanitarian of the Year last February. Rihanna, it should be noted, has fought hard for girls' rights and education worldwide. Accepting her honor, Rihanna flipped her hair and said, "So, I made it to Harvard!"
Rihanna and her flask had a better time at the Grammys than we've had in our lives.
Remember when Rihanna brought her flask to the 2017 Grammy awards? Of course you do! It was iconic and unforgettable. Anyway, our GOAT and her flask proceeded to have the best time at the awards show, even though she was shut out of all the eight categories she was nominated in (how rude of the Grammys).
That time she (should've) won the 2016 presidential election by wearing a shirt of herself wearing a shirt of Hillary Clinton.
Shortly before the 2016 presidential election, paparazzi took pictures of Rihanna wearing a shirt of Hillary Clinton in a Yankees cap. And later, RiRi was then spotted wearing a sweatshirt featuring herself wearing a T-shirt of Hillary Clinton in a Yankees hat, which we can all agree is the best thing to come out of that election.
Every time Drake publicly humiliated himself in an attempt to woo Rihanna.
Drake, like many of us, has apparently spent much of his adult life completely in love with Rihanna. As a result, he's publicly embarrassed himself in failed attempts to court her — repeatedly. Each incident, it should be noted, is a true delight, full of charm and love and humiliation, and makes us adore both of them all the more. There's, of course, the time he rented a billboard to congratulate her (thirsty much?), his profession of love at the VMAs, and his awkward attempt at an onstage kiss, to name a few. Cute!
When she took over the shoe industry.
Back in 2016, Rihanna scooped up Footwear News' award for Shoe of the Year for her much talked-about creepers from the Fenty x Puma line. "In my wildest dreams, I never would have imagined an honor like 'shoe of the year,'" Rih said in a press release. "It means so much to me to make a mark like this in the shoe and sneaker industry and to have so many people share my love for the creeper."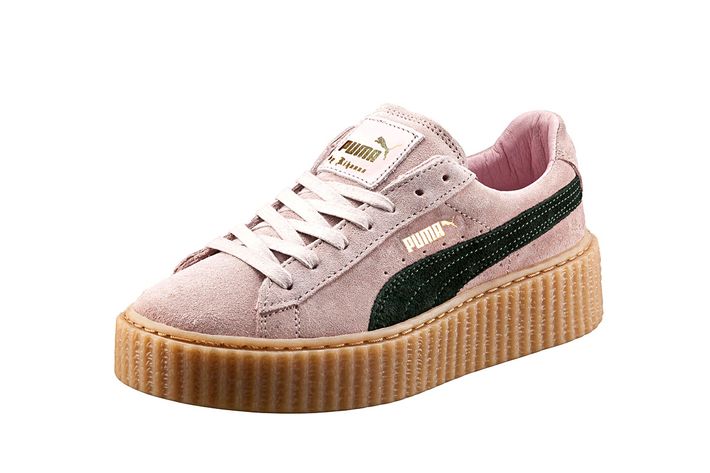 That moment she blessed a headless statue of herself by taking a picture with it.
Like a true deity, Rihanna took a selfie posing in front of a giant headless statue of herself in Berlin.
Her iconic wine glass (and occasional red Solo cup) accessorizing moments.
As true fashion nobility, Rihanna single-handedly showed the world that carrying a glass of wine (half-filled with red, thanks) is the best way to accessorize. She's constantly been photographed accessorizing with wine glasses, and even the occasional Solo cup — the ultimate in beverage chic.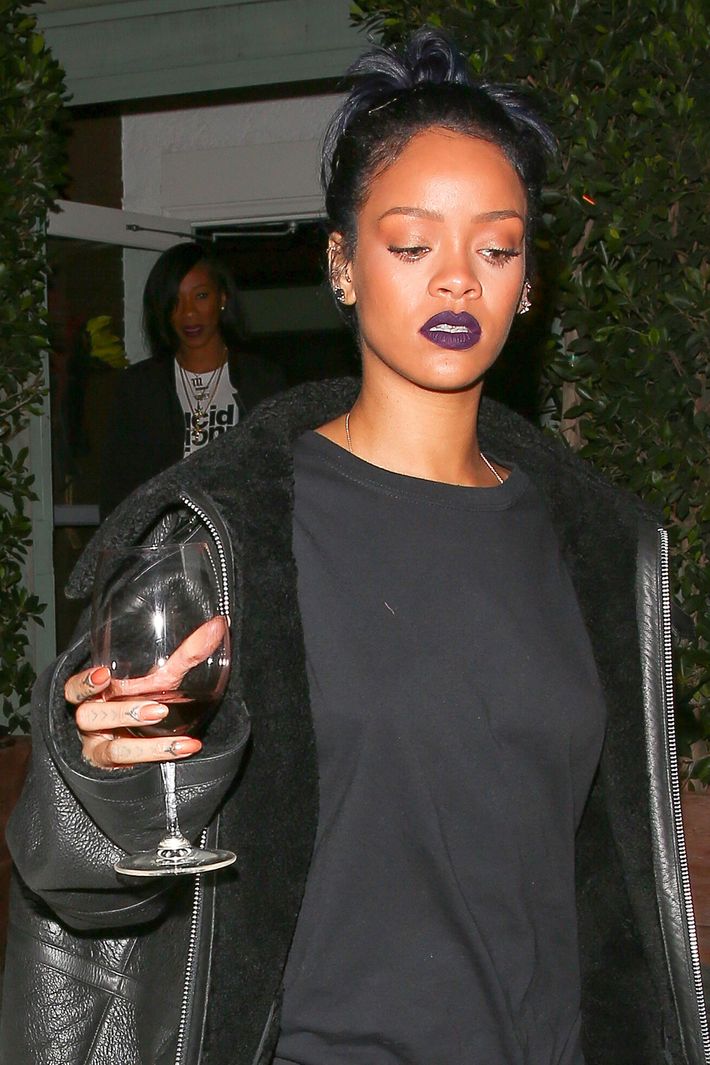 Her epic Met Gala dress spawned incredible memes.
At the 2015 Met Gala, Rihanna wore a stunning canary-yellow dress by Guo Pei — that came with a magnificently long train that spawned what felt like hundreds of memes, from omelettes to pizza and even SpongeBob?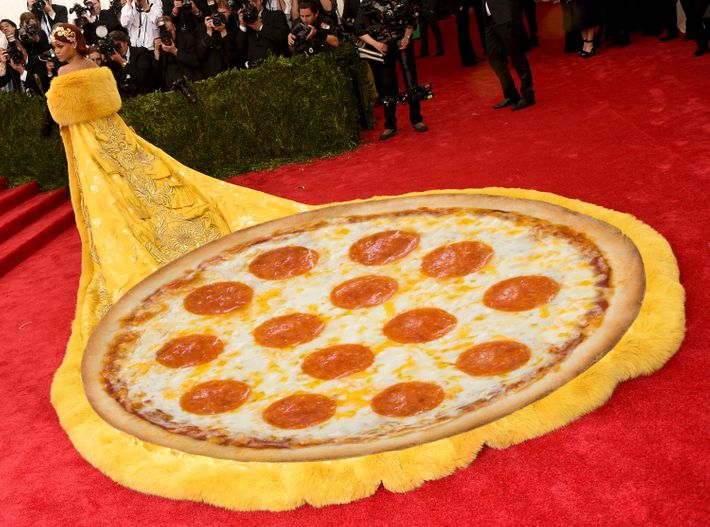 When she heroically included Cheetos in her tour rider.
In life, we have to look out for ourselves and advocate for the things that matter to us. That's why it's so inspiring that RiRi heroically chose to require that concert venues include two different types of Cheetos when she performs. And why two? "I just like to be prepared," Rihanna explained to Ellen DeGeneres. "You never know what mood you're gonna be in."
When she hung out with a scrawny baby monkey.
Rihanna not only has a better time than the rest of us in her day-to-day life, but also when she's on vacation, as was the case in 2015 when she posted a picture of herself hanging out with a tiny MONKEY while on holiday in Barbados. Good grief. Look at that thing. It's so tiny! We love it.
Who could forget when she went to the club … and came home with a puppy?
Most of us don't even go to clubs (too loud!) but if we did, we'd certainly return home with an impending hangover and ringing in our ears. But not RiRi. In 2015, one of her friends reported that Rihanna went to the club and "came back with a cage, wee-wee pads, food — and a fucking dog!" Legend!
When she survived horror's most notorious (fictional!) murder scene.
Rihanna had a two-episode stint as Marion Crane (the role played by Janet Leigh in the original Psycho) on A&E's Bates Motel — and instead of being stabbed in the shower, she flees her cheating boyfriend (with the $400,000 cash she had stolen) and leaves him to be killed in her place. Only she could survive this.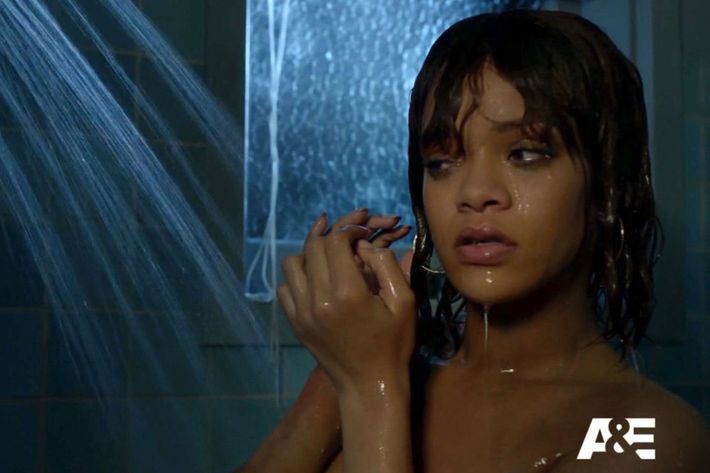 The moment she celebrated her CFDA win with a triumphant twerk.
In 2014, Rihanna was presented with the CFDA Fashion Icon Award by Anna Wintour. During her speech, RiRi said, "Fashion has been an outlet for me to express myself, to speak up, to say who I am and to be very loud about it at times, and I just like to have fun with it." But then she celebrated in a different way: by twerking.