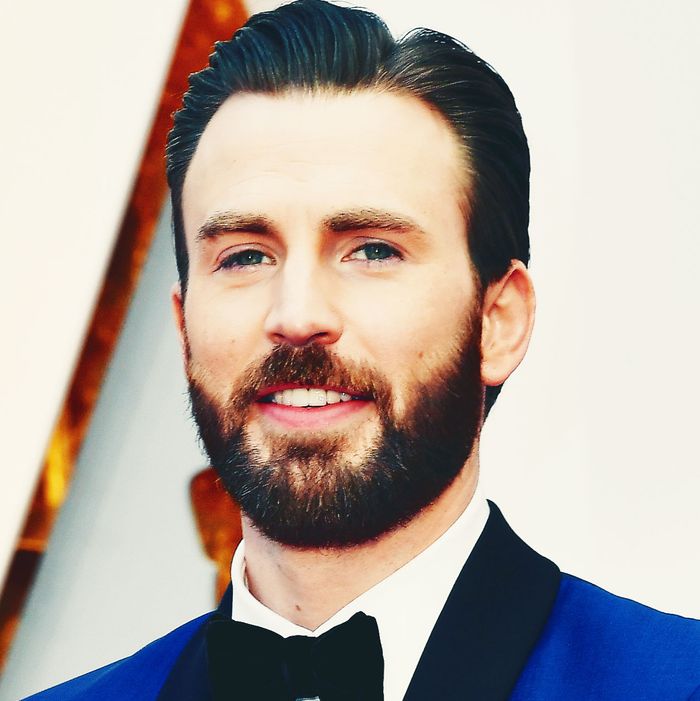 A dork.
Photo: Frazer Harrison/Getty Images
Sure, on the outside Chris Evans may look like a rippling mass of muscles with deep, blue eyes you feel like you could drown in, and a jawline that could cut glass, but on the inside he's just a big old dork. So says Chris Evans. In an interview for the Thirst Aid Kit podcast, the Captain America star was asked when he first realized he was hot, and answered:
"Oh, man! Goodness … I still feel like I'm just trying to pull a fast one over on people. You don't know what I look like first thing in the morning! It's rough!"
While listeners probably became overwhelmed by the image of Chris Evans in the morning, sipping a cup of coffee and laughing warmly while Jenny Slate does a goofy and surprisingly raunchy impression of the kettle, Evans continued:
"If you look back on some of my photos from childhood, it was not kind. I had a really bumpy road, and I think like most of us, we still feel like that — no matter what," Evans explained. "No matter what happens, we kind of connect to that chapter in life when you first start exploring the feelings of comparison. It's usually connected to when you start noticing the people you're attracted to — somewhere around 9, 10, 11 — when you first start coming into your own sexuality and start seeing how you stack up. That was probably one of the roughest chapters of my life! And so I think — for most people — you kind of stay in that suspended state."
Curious to see just how awkward Thoughtful-Bro-Hunk Chris was as a child, I launched a wide-ranging investigation (I googled "Chris Evans young") and found this cute picture of him holding a bulldog puppy, and this picture from a post called "8 Hollywood Hunks in their young days. How surprisingly unrecognizable they look!!"
I wouldn't say a young Evans looks "surprisingly unrecognizable" with two exclamation marks, but he does look like a normal, cute, human child instead of a finely sculpted demi-god.
Looks aside, we can all agree what really matters is that Evans is supportive of all of Jenny Slate's online shopping and sartorial endeavors.