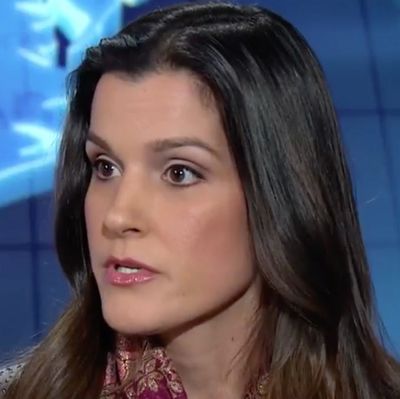 Former White House staff secretary and current Hope Hicks love interest Rob Porter resigned Wednesday following accusations of physical abuse from two of his ex-wives. Although, reports suggest White House officials knew about the claims against Porter for months.
On Monday, the Daily Mail published an interview with Porter's ex-wife Jennie Willoughby in which she alleged Porter physically and emotionally abused her. (Porter has called all of the allegations false.)
Tonight, Willoughby spoke to CNN's Anderson Cooper about her experience. "It was a low-grade, constant terror of not knowing what I might do to set something off," she said, describing her marriage.
Willoughby also told CNN that two weeks ago Porter called her and asked her to remove a blog post in which she mentioned her marriage and the abuse she experienced.
"I think in anticipation of me being asked about it," Willoughby explained.
Then several days ago, Willoughby says Porter asked her to release a statement saying that she had "taken some liberties" with her original blog post.
"He was asking me to downplay it, and he was asking me to emphasize more of the relationship that he and I have now as opposed to what I experienced in our marriage," Willoughby said.
But she resisted and told Porter she wasn't comfortable with the statement. Instead, she went on Anderson Cooper.
Watch Jennie Willoughby's CNN interview below: