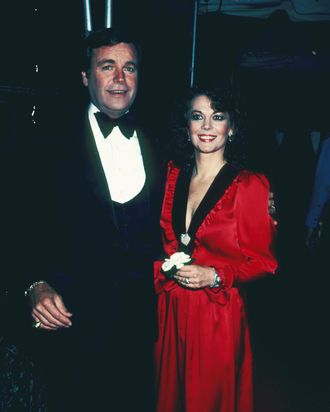 Robert Wagner and Natalie Wood in April, 1981.
Photo: Ron Galella/WireImage
In November 1981, actress Natalie Wood tragically drowned off the coast of Santa Catalina Island, California. She had gone missing from her yacht, Splendour — where she had been sailing with husband Robert Wagner, actor Christopher Walken, and captain Dennis Davern — and was found dead the next day, near an inflatable dinghy. Although the circumstances of her death have always been mysterious, it was ruled an accident at the time. Then, in 2011, the case was reopened — and now, some new leads have come to light in a 48 Hours special called "Natalie Wood: Death in Dark Water" that's airing on February 3.
Here's what to know about the developments so far.
What happened when the case was reopened?
In 2012, the year after the case was reopened, the Los Angeles Coroner's Office changed the cause of death on her death certificate from accidental drowning to "drowning and other undetermined factors."
An autopsy report report also indicated that Wood was covered in bruises. "She looked like the victim of an assault," said homicide detective Ralph Hernandez.
What's the biggest bombshell from this new development?
Although many have long suspected that Wagner, now 87, had something to do with his wife's death, this is the first time he's officially being named a "person of interest."
What makes Wagner a person of interest?
Davern has said before that he lied in his initial police report way back when and has repeatedly claimed since that Wagner and Wood had a fight the night of her death. In 2011, Davern also said that once Wood went missing, Wagner told him, "we're not going to look too hard, we're not going to turn on the searchlight, we're not going to notify anybody right at the moment." In his 2008 memoir, Wagner wrote that he had been in a fight with Walken went to bed and maintained that by the time he got to bed, she was no longer there.
But now, investigators have two new witnesses from a neighboring boat who have come forward to claim that they heard a fight between Wagner and Wood. One witness, who says she saw the fight too, says she saw Wood slip and fall on her knee during — which matches up with the bruise on her knee found on the autopsy.
"His version of events just don't add up to the evidence or the witnesses we've found," Los Angeles County Sheriff's Department Lieutenant John Corina told 48 Hours. "We know now that he was the last person to be with Natalie before she disappeared."
"I don't think she got into the water herself," he also said. "I don't think she fell into the water."
What's the difference between a suspect and a person of interest?
Wagner is still not technically a suspect, but police are looking at his potential involvement. As Cynthia Hujar Orr, the president of the National Association of Criminal Defense Lawyers, told CNN in 2009. "they are suspicious of that person, but the police don't have the evidence they need." There is no legal definition of the term, but a person of interest can become a suspect.
What has Wagner said about all this?
Per CBS, he's refused to speak with investigators.