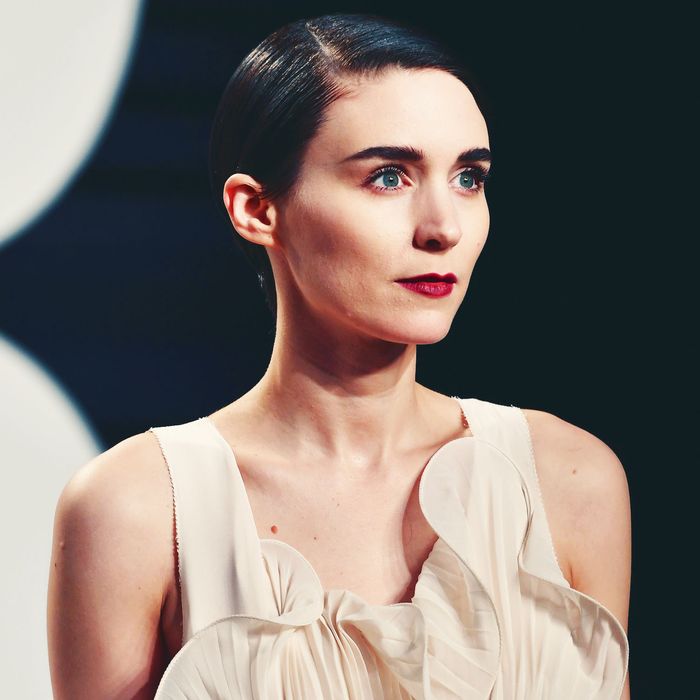 Rooney Mara.
Photo: Pascal Le Segretain/Getty Images
Rooney Mara, Oscar-nominated actress, pie-hater, and colon cleansing enthusiast, is now a fashion designer as well. On Friday, she announced the launch of her new brand, Hiraeth, which she created with her best friend, Sara Schloat.
Like Mara herself, the Hiraeth is both very vegan and very moody. The ready-to-wear and footwear collection doesn't use any material that involves an animal, so no leather, wool, silk, or cashmere. As far as we can tell (the lookbook is so dark and moody that we have to squint to see the clothes), pieces include faux-leather pants, a harness, and some turtlenecks, which feels right.
Hiraeth is a Welsh word that translates to homesickness, or a "longing for a home you can't return to, or a home that never was," Mara explains in a Vogue interview. "When I came across that word, the meaning really resonated with me," she continued. "We've grown so disconnected from everything, and I think it creates that feeling of wanting to return to someplace that maybe we've never even been before, but deep down, we know we're missing something."
As for how this relates to fashion: "With clothing, [no one knows] who made their clothes, or where were they made, or what they're made out of," Mara explains. "People are not at all aware of those things."
Mara, who said she designed the collection to satisfy her own wants and needs, hopes to give customers the opposite of fast fashion — or clothing and accessories that will stand the test of time. "Something I really struggled with," she says, "was this question of, Do people really need more crap?"
Damn, Rooney Mara. You just messed us up.