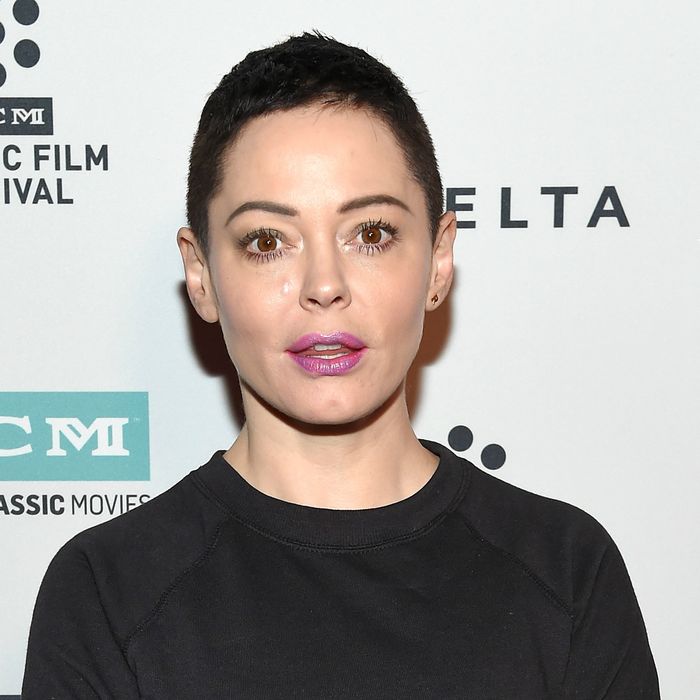 Photo: Matt Winkelmeyer/Getty Images for TCM
Before Rose McGowan made her notable appearance on The Late Show With Stephen Colbert last night, she attended a reading event for her new memoir that took a very hostile turn, according to Variety. Wearing the same orange hoodie that she did during her Colbert interview, McGowan was at the Barnes & Noble in Union Square promoting her new memoir, Brave. The evening started off typically enough, with McGowan answering pre-submitted questions from audience members, but the intensity dialed up fast when a trans woman interjected to see if the actress and activist had any comment on controversial remarks she's made about trans women in the past.
"I have a suggestion. Talk about what you said on RuPaul. Trans women are dying and you said that we, as trans women, are not like regular women. We get raped more often. We go through domestic violence more often. There was a trans woman killed here a few blocks [away]. I have been followed home –."
McGowan cut her off and responded:
"Hold on. So am I. We are the same. My point was, we are the same. There's an entire show called ID channel, a network, dedicated to women getting abused, murdered, sexualized, violated, and you're a part of that, too, sister. It's the same," McGowan retorted.
To which the trans woman asked:
"You do nothing for them. Trans women are in men's prisons. And what have you done for them?"
It then apparently devolved into cross-shouting, with the trans woman being escorted out by security while chanting "white cis feminism," and McGowan breaking into a monologue. "Don't label me, sister," she reportedly said. "Don't put your labels on me. Don't you fucking do that. Do not put your labels on me. I don't come from your planet. Leave me alone. I do not subscribe to your rules. I do not subscribe to your language. You will not put labels on me or anybody. Step the fuck back. What I do for the fucking world and you should be fucking grateful. Shut the fuck up. Get off my back. What have you done? I know what I've done, Goddammit."
People in attendance for the event started saying things like "We love you Rose" to settle her down, but McGowan wasn't done. "I'm not crying I'm fucking mad with the lies," she said. "I'm mad that you put shit on me because I have a fucking vagina and I'm white or I'm black or I'm yellow or I'm purple. Fuck off. All of us want to say it. I just do."
And then she yelled about the truth:
"And you can label this thing as a breakdown. That, motherfuckers, is a breakdown. Maybe not for me, but for you. I might have information you want. I might know shit that you don't. So fucking shut up. Please systemically. For once. In the world. You know what I'm talking about. Just tell the God damned truth. Stop boxing everybody into shit. I didn't agree to your cis fucking world. Ok? Fuck off."
And then she yelled about some other topics:
"Trans women are women and what I've been trying to say is that it's the same. The stats are not that dissimilar. When you break it down, it is a much smaller population. There's not a network here devoted to your fucking death. There's not advertisers advertising tampons with a camera lovingly going up a girl's body as she's being lovingly raped and strangled. Piss off. And until you can collect that fucking check, back up. My name is Rose McGowan and I am obviously fucking brave."
Recognizing no differentiation between the experiences of cis women and trans women — or maybe even implying that trans women have it easier — feels like a wide-open invitation for more confrontations like this in the future, and this book press tour is just getting started.
Update, 2 p.m.: During McGowan's talk with Ronan Farrow at 92Y Thursday, the actress seemed to address the incident at the reading. After saying she was afraid of Harvey Weinstein having her assassinated, a few audience members giggled. "I know my life, and I know my reality," McGowan said. "I know that people like me get killed. [Weinstein has] been after me for a lot longer. There was a plant last night. I had my first book reading, something I'd only seen in movies, by the way. There was definitely a paid plant that started screaming at me, yelling at me." When Farrow asked how she could be certain of the plant, McGowan answered, "Because I saw — I had people watching the exchange, how it handed off."
Update, 2:30 p.m.: McGowan announced on Twitter Friday, the day after her engagement at the 92Y, that she will be canceling all further appearances for the time being.