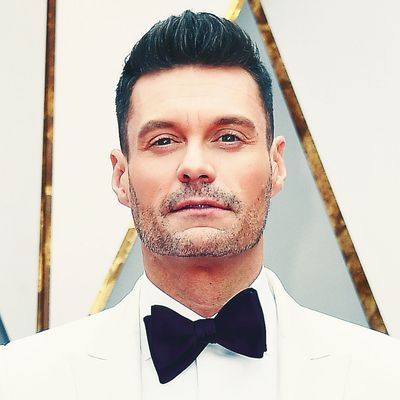 Ryan Seacrest.
Photo: Frazer Harrison/Getty Images
After Variety published a detailed report of sexual-assault allegations against Ryan Seacrest by his former wardrobe stylist, E! confirmed on Monday that the multi-hyphenate would still be hosting the network's red carpet preshow at the Oscars this weekend. But now, some top publicists have told "Page Six" that they plan on steering their clients away from Seacrest on the red carpet.
Seacrest has denied allegations that he subjected his personal stylist to "years of unwanted sexual aggression," and in February E! said that parent company NBCUniversal's independent counsel had closed a two-month investigation into the accusations because of "insufficient evidence." However, given the recent surge of sexual-abuse claims in Hollywood, unnamed publicists said they'd rather their clients stay away from Seacrest during the Oscars's preshow. Per "Page Six":
Given the white-hot emotions and politics surrounding Hollywood abuse — and the seriousness of the allegations made against Seacrest — the flacks said they would instead direct their clients to Seacrest's co-host, Giuliana Rancic, or skip E! altogether. "Usually Ryan is the one you want . . . but there are so many outlets on that carpet, why risk it? There's plenty of other places for clients to get the exposure," one PR powerhouse told us.
Another publicist told the gossip column that the decision to have their client speak with Seacrest would really come down to the celebrities themselves. "If it was a [client who had been involved in the #MeToo movement], I would never put them in that position. I don't think any smart person would," the publicist said.
In the Variety report, Seacrest was accused of "grinding his erect penis against [his stylist] while clad only in his underwear, groping her vagina, and at one point slapping her buttock so hard that it left a large welt still visible hours later." In a Tuesday statement, Seacrest said, "Ultimately, my name was cleared," and that "I have no choice but to again deny the claims against me."