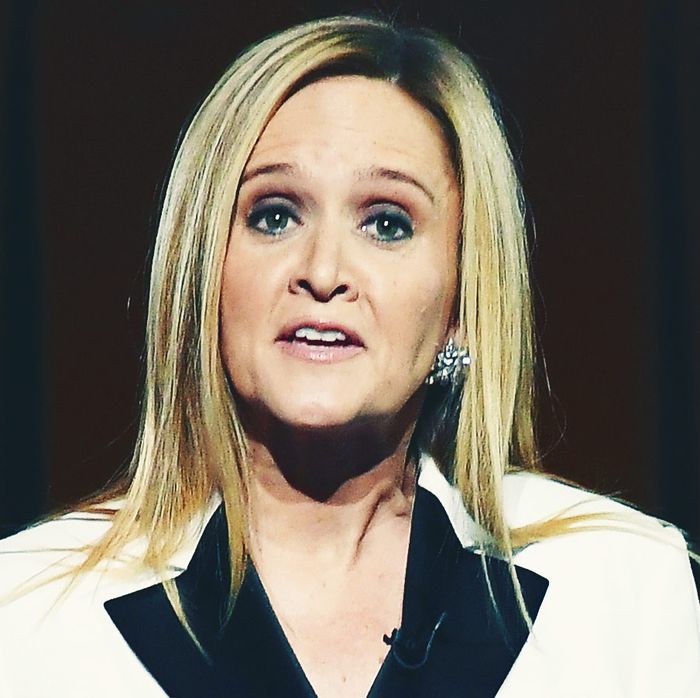 Samantha Bee.
Photo: Dimitrios Kambouris/Getty Images for TBS
After the Harvey Weinstein scandal broke just a few months ago, Samantha Bee was the only late-night TV host to immediately confront the disgraced media mogul's accusations in a way that left viewers feeling satisfied, and in the months following, she hasn't shied away from tackling sexual misconduct in the #MeToo moment. On last night's Full Frontal, Bee invited Gretchen Carlson, the former Fox News host who sued former Fox CEO Roger Ailes for sexual harassment in 2016, to join her on the show.
The two discussed mandatory arbitration clauses, which frequently appear in work contracts — sometimes, not even to the employee's knowledge — and demand that employees settle disputes in front of a third-party "arbiter," allowing companies to bypass the court system. Carlson, who skirted the arbitration clause in her Fox contract by directly suing Ailes, has been vocal about the damaging nature of forced arbitration clauses and has pushed Congress to pass legislation that would make it illegal for employers to write them into contracts.
While Carlson couldn't legally discuss her case against Roger Ailes on Full Frontal, she did speak to Bee about how these clause have historically silenced women.
"We've been fooling our culture into thinking we had solved this problem since Anita Hill because we don't hear about these stories, but the reason we don't hear about these stories is because they're going to one of two secret chambers," she said, the two "chambers" being forced arbitration and secret settlements.
Carlson went on to urge people to fight arbitration laws at the local and state level, as well as to speak to those in their workplace about whether their contracts contained these clauses. And if they do, she told viewers to approach HR together.
"Collectively, our voice is so much stronger than just one person," she said.
Watch the full clip below.