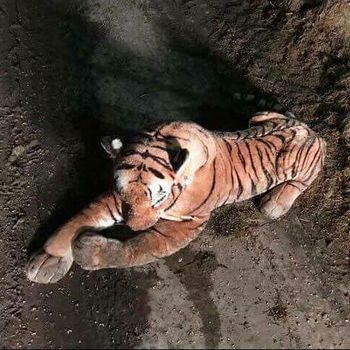 The fearsome creature.
Photo: Courtesy of Facebook/UKCopHumour
Professional mishaps happen all the time — you send an embarrassing "Reply All" email, you rip your pants at a particularly inopportune moment, and sometimes, you sit in your car for 45 minutes trying to figure out how to get a dangerous tiger out of a cowshed, only to realize it is not a dangerous tiger at all, it's a fake, stuffed tiger. That's what happened to police in Scotland, who were called to a farm on Saturday night after the owner said he saw a tiger sitting in his barn.
"I had absolutely no doubt it was real — I got a hell of a scare. I was worried it was going to eat all my cows before police managed to shoot it," said the farmer, Bruce Grubb, who was hosting a housewarming party at the time.
"I was stone cold sober, drink had nothing to do with me thinking it was real," he added.
When the police arrived, they sat in their cars for almost an hour trying to figure out how to deal with the animal. After 45 minutes, though, Grubb realized the tiger had remained suspiciously still throughout the standoff. He approached it with his truck, and realized it had just been a toy all along.
In a statement, Police Inspector George Cordiner said: "Unusual as it may have seemed, any call reporting a potential danger to the public has to be taken seriously. […] We appreciate it was a false call made with good intent."
No one knows who put the fake tiger in the barn yet, probably because once your friend has called the authorities, it's awkward to be like "Yeah, uh, that was me."
Still, it sounds like an exciting housewarming party.