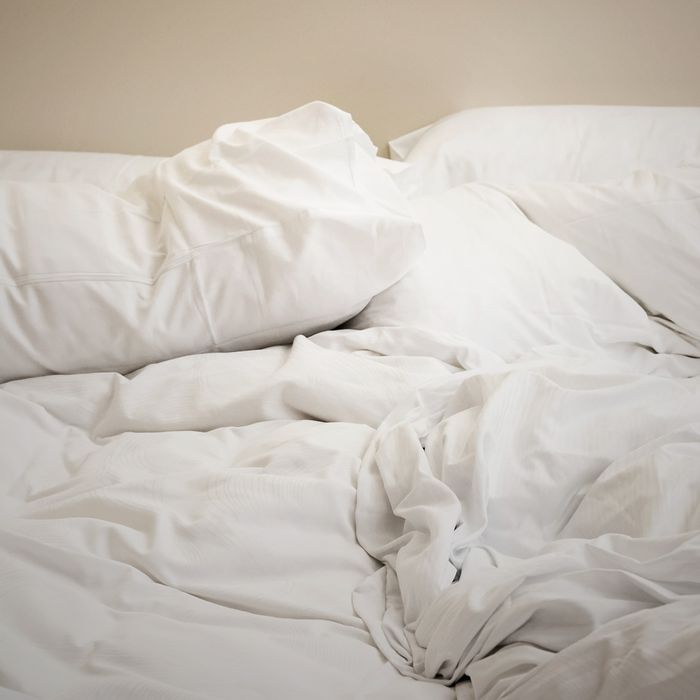 New York's Sex Diaries series asks anonymous city dwellers to record a week in their sex lives — with comic, tragic, often sexy, and always revealing results. This week, a 25-year-old stay-at-home mom who just relocated to Poland for her husband's Ph.D. program: 25, bisexual, married.
DAY ONE
4:30 a.m. I'm awake and breastfeeding Baby L. He falls back asleep easily this time, so I lay him down and climb back in bed, where my husband, Peter, is still sleeping.
6 a.m. I'm dreaming about hooking up with a cute, shy chick … then Baby L wakes me. I groan and ask Peter if he'll change L. Peter obliges immediately — I have a great husband. He lies in bed with me, holding my hand while the baby feeds. Once I lay L down, Peter starts rubbing my back. I'm still kinda aroused from my dream. I spoon Peter and start touching him but am met with a soft "no" of rejection. It doesn't faze me; sometimes, one of us is just too tired for sex.
8 a.m. I'm still awake, feeding Baby again. I have a headache and wish I could stay in bed, but I get up with L and start making tea. Peter surprises me by joining me in the kitchen. He greets me with a long kiss. Maybe today can still be a good day.
10:30 a.m. Peter leaves to buy nicotine lozenges. He quit smoking four years ago, back in college when we were just friends, but he can't quit using these. He's irritable without them, and he's definitely stressing now. Lots of homework.
We just moved to Poland last week for his Ph.D. program. Warsaw made sense because of Peter's heritage: both his parents were Polish immigrants. I'm realizing how far away home really is. Peter worked in marketing, but double-majored in philosophy and wants to pursue that. He's 31 and a Ph.D. felt like a "now or never" deal for him. So I supported his decision — we quit our jobs, and just five days after our son's birth, he flew off to start classes. I don't resent him, but three months alone with a newborn was tough. Now that we're together again … it's still tough.
11:20 a.m. Baby is back asleep. I'm tidying up and Peter's studying. It's a quiet start to our weekend. I see a tourist group with a Brit flag below our flag … if I were with them at least I'd have people to talk to. Only Peter knows the language here.
1 p.m. Peter's getting ready for a shower and I'm blatantly eyeing his junk. He notices and gets on top of me, saying he'd love a "break" with me after he washes up.
1:10 p.m. He's already out of the shower and asks me how I'd like to "play" today. I say I want him to teach me how to put his toy in his ass. He suggests using one on me instead. Yes, please! I put him in my mouth and between my breasts before he grabs our toy box.
1:30 p.m. I'm on top with him inside me and a toy in my ass when he lets me use his toy on him after all. This is delightfully hot. I love it. And yay! Just before the baby wakes up.
3:30 p.m. We finally go out together as a family! Attractive people catch my eye around the city. I like both men and women, older and younger … I don't really have a type. I'm devoted to Peter, but I do notice people.
8 p.m. Back home and cozy! We snuggle a bit while L sleeps, but Peter needs to start work again. He tells me to save some energy for later, though … Oh how I love this man.
9 p.m. I'm playing with L. He smiles and giggles so much. This makes being a parent easy. Peter wants more kids, but I feel so fulfilled already with L. Why put ourselves through more stress? But I guess that's a conversation for later …
1:45 a.m. We are totally burnt out after finally getting L to go down for the night. No sex tonight. We need some fucking sleep.
DAY TWO
10:30 a.m. I feel sick but find the energy to get up and play with L. Peter's being sweet and helpful again. He really is my one true love. Falling for each other was easy; we'd been friends for so long that there were no secrets. Our ease with communicating made the sex mind-blowing. Still does.
11:50 a.m. Peter is caring for L in the other room and I'm in bed thinking about masturbating, but I barely touch myself before passing out again.
1:30 p.m. Peter comes in and starts spooning me. I can tell he's hard. He says that taking care of me when I'm weak turns him on. I lay our sleeping baby in the bassinet and hop back in bed. Peter is grinding against my ass and says he wants me …
2:05 p.m. While he's still inside me, Peter tells me I'm beautiful and perfect. I tell him he's the one that's perfect.
2:55 p.m. Peter's sister is FaceTiming us from the States. She just gave birth to a healthy baby boy — her sixth (!) child. Her baby makes sounds and I coo at the cuteness. Peter asks if this makes me want another baby. I say no easily. He ignores this and tells his sister I want another baby now. Holy shit, slow down!
7:45 p.m. I'm bathing L. I think he's getting a little sick, too. Poor sneezy, coughy baby.
10 p.m. Yup, L definitely has a cold but luckily no fever. Peter promises more quality time later, so I'm happy to take care of L while Peter does some work.
12:10 a.m. Hooray! I think I finally got L to stay asleep. I sit with Peter in the kitchen, feeling good. I'm surprised when Peter gets irritated and says he can't deal with distraction right now. Ouch. I thought he wanted to spend time together. I go to the bedroom without another word.
12:40 a.m. Peter comes in and apologizes. I say nothing. We've always agreed that apologies are only complete with physical affection. He hasn't done this, so I leave to take a shower.
1:10 a.m. I'm back in bed. Peter holds me tight and all is forgiven.
DAY THREE
10:30 a.m. We're all together. Peter is playing with L and making him laugh. My husband's an amazing father. Peter's hugging me and giving me tons of little kisses this morning.
12:45 p.m. Peter's gone to class and L is taking a nap. I lie down and masturbate thinking of Peter. Yes, really — Peter's all I need to come. I'm relaxed now and decide to nap too.
2:50 p.m. Peter surprises me by coming home for a bite between classes. We eat soup together and he asks to cuddle me while we give L attention.
3:45 p.m. Baby just fell asleep and Peter's touching me. He tells me to take my clothes off — so hot! He ends up on top of me.
4:30 p.m. Peter needs to head back to the university. We kiss a long good-bye.
7 p.m. Peter comes home and I give him a long hug and kiss hello. He smiles and offers to make dinner. I ask him what his favorite part of the day was. He says, "Coming home to you."
11:30 p.m. Nothing is helping L with his cough/congestion, and I'm feeling worthless. I never felt like this before the move; before L, I had a great job in sales management. I felt confident and successful. I never expected to be an at-home parent. Peter wants me to be here for L, but I need the satisfaction of my career again. Peter asks if he's trapped me in this life, and I don't know how to answer … He promises we'll address these feelings within the next few weeks.
1 a.m. We are at last successful at getting Baby L to sleep.
1:45 a.m. I'm about to pass out when Peter asks if I'm asleep yet …
2:30 a.m. We're in postcoital bliss, saying what we each liked best about our sex session. I want to try more dom-sub together. Peter seems excited and says he thinks he's ready. I fall asleep with new excitement for our sex life.
DAY FOUR
4:30 a.m. Fuck me, I need to get to bed earlier. Gotta feed the baby and then catch more sleep.
9 a.m. My husband's alarm wakes L and me, but Peter's snoozing. I grumpily tell Peter he should be on baby duty if he disturbs L's sleep.
6 p.m. I'm so exhausted I can't think. L is just so upset from his cold. Peter is home now and just as tired. We go straight to bed after dinner because L finally closes his eyes.
6:45 p.m. We got in bed just five minutes ago, but L is wailing again. Does anyone decide to have kids knowing it's this hard?
7:50 p.m. Peter leaves to buy a humidifier for L. In the meantime, I let L suckle my breast for comfort.
9:40 p.m. Peter's back and the humidifier works great. I'm glad my sore nipples get a break from L's gnawing.
11 p.m. L is sleeping peacefully, but we're awake, budgeting and talking about our roles in this relationship.
1:05 a.m. We're feeling better after talking. Peter wants some sleep before getting up again to study. He holds me and kisses me tenderly. I massage his back before we adjourn to our respective sides of the bed. No fooling around today.
DAY FIVE
5 a.m. Haven't slept. Neighbors are keeping L and me up with karaoke. I feel like I'm going crazy.
6:30 a.m. I feed L back to sleep and Peter sends me back to bed. He massages me until I can relax and finally pass out.
1:35 p.m. After getting up late with L, I take him on a long walk and come home to do yoga. I'm determined to get my body back. I've already lost the pregnancy weight but need more toning.
7:55 p.m. What a long day. Peter tells me to go nap. I lie down, masturbate, and drift off to sleep easily.
10 p.m. I'm awakened by Peter's laughter as he exclaims over the incredible mess L's made. L's giggling, too. I smile and say this is my new favorite part of the day.
10:45 p.m. L's miraculously asleep already. Peter gestures for me to sit on his lap and holds me for a long while. He says he's been waiting all day for this.
12:10 a.m. I want sex and Peter knows it. He lubes me up and fucks my ass while I'm on my stomach. This is my favorite kind of sex and my favorite position; easiest for me to come this way. It's not long before I'm close and he tells me to come with him. I have a gloriously long and intense orgasm.
1:20 a.m. We go back to bed, satisfied and content.
DAY SIX
1:45 p.m. L is feeling a bit better today! I'm able to get things done.
8:05 p.m. I meet up with Peter after his long day of classes to shop together. I'm glad to have his help making transactions with baby in tow.
11:45 p.m. L goes down for the night, but Peter wants to stay up talking. We joke and laugh, enjoying each other's company. Peter tells me he likes that we can be silly together. I feel the same.
2:05 a.m. We're both too tired to get frisky tonight. We drift to sleep while holding hands.
DAY SEVEN
11:50 a.m. It's been a long morning of feedings but Peter's just waking up.
12:30 p.m. I just got out of the shower and Peter hugs me in the hallway while I'm still naked. It's arousing, but there's no time for sex before he has to leave. He tells me he looks forward to seeing me tonight.
8 p.m. L's been fussy again, but it's not getting us down. It's Friday night! Peter makes himself a drink and we cook sinful chocolate pudding together.
1:05 a.m. Baby is fast asleep, so we get in bed. We're cute and cuddly, naked under the sheets. Peter says I'm beautiful and starts touching me. He says he wants to make me come with his hands. He works me until I'm ready and tells me when to release. I'm gushing over and over for him. Finally he enters me, bringing me to climax one last time before giving me his.
2:35 a.m. As I fall asleep in Peter's arms, I promise myself that I'll keep communicating with him. That way, we can always make each other this happy.
Get Sex Diaries delivered.
Want to submit a sex diary? Email sexdiaries@nymag.com and tell us a little about yourself.