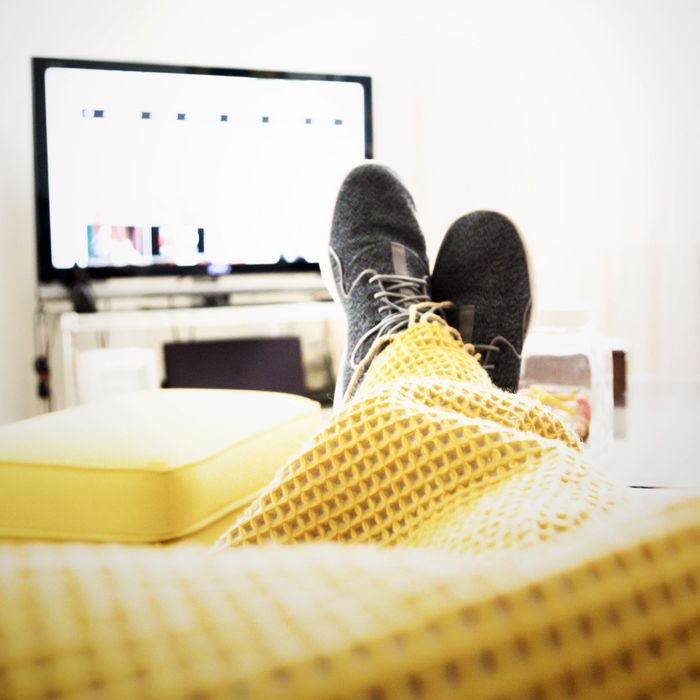 New York's Sex Diaries series asks anonymous city dwellers to record a week in their sex lives — with comic, tragic, often sexy, and always revealing results. This week, a woman browsing both jobs and Seeking Arrangement: 39, straight, single, downtown New York.
DAY ONE
8 a.m. I open my eyes and am a bit annoyed I'm not still sleeping. I was laid off six months ago, and where I once kept a schedule, I now change from my night PJs to my day PJs and throw myself a parade if I move from the bed to the couch before 10 a.m.
8:10 a.m. I check Tinder, Bumble, and Seeking Arrangement to see if I've landed someone hot or rich. I joined SA thinking that since I often bang crumbs for free, maybe there's an opportunity to pocket a few dollars while I validate myself with sex and charge glasses of Prosecco to someone else's tab.
11 a.m. A text from E, who I met on SA. Though we've exchanged many a sext, we've yet to meet IRL. He told me I intimidate him, which is funny, because if he saw me eat grated Parmesan straight from the container I'm certain he'd feel instantly superior. E is wavering on plans to meet Friday for a sex romp because I told him I expect to be compensated financially. I've only had one successful SA encounter, which was a lot of fun, actually, and felt oddly empowering:
"Adam" and I met up for drinks, then decided we had enough chemistry to get a room. I was nervous, but we had sex — and it was genuinely erotic and fun. After he finished, we lay next to one another for a bit and chatted. Later, he Venmo'd me $500, along with the eggplant, sweat droplet, and blonde queen emoji.  I haven't heard from him since.
2 p.m. I nap.
6:55 p.m. I'm early to meet a friend, so I order four apps and two drinks just in time for happy hour. I can't afford full-priced anything and I really don't care who knows it. I swiped into my ex on Bumble earlier, and not only does he look incredible, but this means he's in town and decided not to reach out. I miss him more than I care to admit.
10 p.m. I force-feed my friend more drinks because I'm unemployed and bored. Stopping earlier would have been fine four months ago, but I'm deep into this shame spiral and welcome the company.
DAY TWO
7:30 a.m. My friend had to crash on my couch because her alcohol tolerance is that of a normal human. She gets up and showers, and I'm regretting dragging her home because this is an ungodly hour to be awake.
10:30 a.m. I live for the ding from my phone alerting me to text messages. It's Kevin — he and I went on two dates before he dropped me because I insisted our third date be in the evening and include food and adult beverages. (He was attempting a month-long cleanse so he's obviously a monster.) I discovered his sunglasses in my couch and he's asking to meet so he can grab them. I'm ambivalent and will the gods for a text from someone better.
11:30 a.m. Call with a recruiter. I once read that you are supposed to dress and sit at a desk when jumping on calls to keep you in the business zone, but I've got one leg over the couch arm and can't remember the last time I washed my hair. I went to school originally to be a psychiatrist but then changed direction because I discovered that I really wanted to be a writer. I got my M.S. in Mass Communications and ended up in advertising. Now, I'm not sure what I want.
12 p.m. Call goes well and I decide I can't afford to jinx my luck by ignoring Kevin. I let him know that I might be able to meet up later.
2 p.m. I receive a text requesting I join a "secret" club for sugar dating. Apparently I was referred, which makes me a little worried. But the text explains that only gorgeous girls are approached, and seeing as how I'm circling the drain life-wise, I'm taking the fact that someone thinks I'd be a good call girl as a compliment.
1 a.m. I discover Ghost Adventures on Hulu. I know these shows are staged but something about the green glow of night-vision cameras and watching grown men bro out and insist every noise is an attempt at contact from the great beyond is highly entertaining.
DAY THREE
10 a.m. I open my cupboard and see I have zero clean coffee mugs. I grab one from the dishwasher and rinse it out. I'm out of soap and decide to run the dishwasher anyway because dishwasher detergent is for the one percent.
12:30 p.m. I obviously didn't make it out to meet Kevin and now he's ignoring my apology text. And E was clearly scared off by my indecent proposal, so I think I'll hit the gym and try to run some errands. I'm still a bit blue knowing my ex is probably flying back to San Francisco. I need to keep busy before I do something stupid like text him or show emotion.
My ex and I met on Tinder in early February of last year and we dated until the end of August. He's incredibly kind, interesting, and very successful. It wasn't as serious for him as it was for me. And then it was over.
3 p.m. I'm sitting at the coffee shop/bar that's essentially in my building because happy hour starts at 3 p.m., which is dangerous. Everyone who works here is very attractive and, most importantly, conveniently located.
4 p.m. Meow, hello "Rob." It's a rare occurrence that I match with someone on SA who is cute and young and willing to pony up. His profile states that he's looking for someone who is "curious." Some things to note: If a man writes that he expects "complete discretion" that means he's married. If he writes that he's looking for someone "open-minded" that means butt stuff. If he writes that he's open to "new experiences" that means you'd better prepare yourself to be asked to do group sex. I feel like "curious" will be something akin to butt stuff, but he is really cute …
5 p.m. He disappears.
7 p.m. I've had three happy-hour cocktails and haven't eaten anything. I can feel myself slipping into that all-too-familiar dark place.
10 p.m. I pass out without eating dinner.
DAY FOUR
4 a.m. I hit the bathroom and wash my face and brush my teeth.
10 a.m. I Seamless a breakfast wrap and an orange juice, coffee, ginger ale, and an iced tea. The delivery guy arrives, obviously annoyed he had to manage all of the beverages. I think I saw him wince when I opened the door and realize that I must be looking real rough. He throws sugar packets at me and runs off before I turn him to stone.
2 p.m. This day is clearly going nowhere. Friends are hanging in Meatpacking tonight, but I'm less and less inclined to go out with this unemployment cloud hovering over me.
6 p.m. Deep into my Ghost Adventures marathon and chatting with a new guy on SA. This process is tedious. He seems cute and nice and just the right amount of kinky. "Paul" is heading to India for two weeks but wants to meet when he returns.
11 p.m. I'm so over this day.
DAY FIVE
11 a.m. I make pasta for breakfast because it's all I have, and if the 3,485 hours of Food Network I've watched recently have taught me anything, it's that any food can be considered breakfast if you toss a fried egg on top.
2 p.m. I'm getting ready and attempting to hide the fact that I'm missing a big patch of eyelashes on both eyes. Apparently the stress that comes with unemployment manifests in the chakra that controls the eyeballs. I throw on some red lipstick and hope this distracts from my ocular alopecia.
10:30 p.m. I'm alerted that I have a Bumble match. He's insanely hot and lives in Astoria. This is outside of my preferred radius but whatever —  his abs are insane.
10:45 p.m. Astoria Bumble Guy starts sexting almost immediately, and where once that would have been grounds for me to unmatch, being on a site like SA has completely destroyed my moral compass. He asks me to send him pics in various states of undress and I dig through my archive because it's way too cold to take my clothes off right now. I send him a pic that was clearly taken during the day and he calls me out. I fib and tell him it's the lighting in my apartment. He buys it.
11:15 p.m. He wants videos and gives me his number. This guy is not here to play. I wonder how many women there are in N.Y. who are down to get right to business with a complete stranger? I'm guessing a lot because he doesn't hesitate with his requests in the slightest. He asks me to stick my finger in my ass and then in my mouth. I'm not a prude but good God man. I quickly move the texting to a more acceptable line of dirtiness and this prompts him to ask me to call. But I'm not in the mood, so I try to come up with an excuse when my phone starts ringing. I guess I wasn't quick enough. I answer and his voice is much higher than I expected.
11:25 p.m. He comes, drops the phone, and hangs up on me. I guess we're done.
DAY SIX
9:30 a.m. I'm lying in bed and wondering why I'm being tested to this extent. I did everything a person is supposed to do to ensure a successful life and career. I earned not one but three degrees (including a master's) and was willing to move anywhere in the U.S. for the right opportunity. I thought I'd paid my dues. Now I'm trying to peddle my ass on the internet (however unsuccessfully) and sexting or screwing half of Manhattan. How did I get here?
12 p.m. I check in with Paul because he mentioned he may have a few hours to meet before heading to the airport. I really hope he doesn't back out.
12:20 p.m. Astoria Bumble Guy texts.
12:22 p.m. Paul texts back.
12:30 p.m. Both men are feeling randy and I am trying to keep the texts straight. If you think sexting two guys simultaneously is easy, you've never done it.
3 p.m. I hit the gym and try to work off some of this anxiety.
6:30 p.m. Meeting my girlfriend at one of our favorite sushi places in Soho. I know I shouldn't be spending money on dinners out but I have to get out of the house. I'm dying to text the ex but my friend puts the kibosh on that immediately.
7 p.m. The people at the table next to us are super annoying. They are wasted and screaming at one another because they've deadened the mechanism in their heads that makes it possible to know when one is being too loud.
1 a.m. I break and text the ex trying to be breezy. I'm sure it came across as anything but. There's nothing worse than wanting to be with someone who doesn't want you back. I head to bed half-expecting a restraining order to be hand-delivered in the a.m. I hate myself a little for caving, but I guess he can't ignore me more.
DAY SEVEN
11 a.m. OH MY GOD. Kevin texts me again asking to meet so he can grab his dumb sunglasses. I know I'm trying to earn karma points by getting them back to him but this is painful.
12:05 p.m. I text "John," who is someone I have casual sex with when schedules permit. He's in an open relationship and we've hooked up a few times — we are very sexually compatible. I'm desperate for some validation and he's come through in the past.
2:30 p.m. I seem to be on a roll. I guess all of the men in my universe are abandoning ship.
4 p.m. I get a message from LinkedIn informing me the site has found ten jobs that I may be interested in viewing. If only it could find me ten guys who mean what they say and pay cash.
8 p.m. John finally responds and we make plans to meet when he's back in town. He's very tall and has amazing hair. There's no future for us since he is otherwise committed, and I'm not sure why I continue to test my resolve by involving myself with emotionally unavailable men.
11 p.m. I never thought that I would be 39 and single. Sometimes I think I forgot to get married and have kids. I do want to meet someone who can handle me and make me a better person (or at least make me want to be a better person). If I look deep down I think I do want to get married and create some sort of family, whatever that looks like.
Get Sex Diaries delivered weekly.
Want to submit a sex diary? Email sexdiaries@nymag.com and tell us a little about yourself.