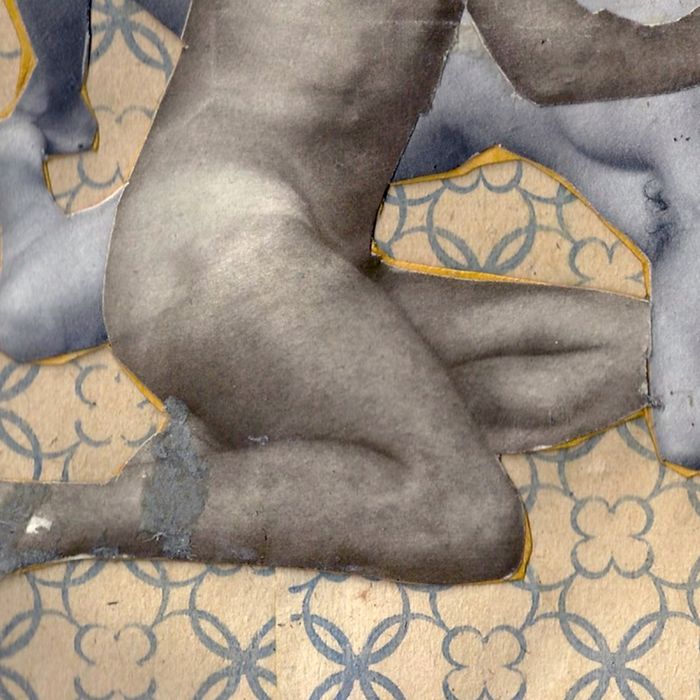 Photo-Illustration: James Gallagher
Get Sex Diaries delivered weekly.
New York's Sex Diaries series asks anonymous city dwellers to record a week in their sex lives — with comic, tragic, often sexy, and always revealing results. This week, a woman who's about to move to L.A.: 26, a server with a job lined up in marketing, Brooklyn.
Day One
9:30 a.m.  I wake up to my phone ringing. It's Zach, my fuck buddy. The sex isn't mind-blowing, but he's reliable I drunk texted him last night after Pat never responded.
He asks me to come over. I say no immediately; I can feel the hangover setting in. He starts to beg. I say I'll consider it and hang up. I struggle to go back to sleep, so I text Zach saying I'm coming over. I drag myself out of bed and throw on some leggings and a sweatshirt.
10:30 a.m. He is waiting in his bedroom naked. I undress and climb in the bed. He ask me to me blow him and I roll my eyes. Not to toot my own horn, but I give killer blow jobs.
I blow him for a bit and then ask him to do me from behind. I come and we switch to me on top. I can tell he went hard last night at the bars because he is nowhere near coming. We try a couple of different positions until he finally comes in missionary. Basic.
I roll over to snooze for a bit and casually mention that I'm moving to L.A. in two weeks for my new job. He seems shocked but is happy for me. I graduated from college a year ago and have been struggling to find a job for the last year.
Noon I'm headed back home from Zach's and I stop for a burger and fries to help shake this hangover before I head into work. I'm currently finishing my last two weeks as a server at a wine bar. Thank god this shit is about to be over. I take a couple hits, demolish the burger, and nap for a few hours.
3:30 p.m. I see my manager has sent out an email asking if anyone wants to take a cut tonight. Oh, this girl does, but apparently, I'm too late. UGH! I finish getting ready and head to work.
I'm halfway there when my manager texts me and says I can have the night off. THANK GOD! I went really hard last night celebrating my new job with my girlfriends and the struggle is real. I immediately strip off my clothes and put on a baggy sweatshirt. I order a pizza and turn on Friends.
Day Two
11:30 a.m. I sleep in. I somehow managed to get the entire weekend off, which never happens in the service industry. It's amazing. Valentine's Day is this week and the bar that my co-workers and I frequent is having a Galentine's Day brunch today. Mimosas on deck.
1 p.m. We're heading into our second bottle of Prosecco at brunch. The place has been decked out with hearts and there are a ton of cute photo ops and photographers walking around. It's a sea of ladies in pink and red, celebrating. I'm loving it.
My friends grill me about Pat, the guy I drunk-texted before Zach the other night. Pat and I met two months ago. We're both originally from the Midwest and have a lot in common, but now I'm moving. He also has no idea, because I've been waiting to tell him in person.
7 p.m. I've been casually texting Pat and I start to get passive-aggressive. He says if I have something to get off my chest then I should say it. I am more than a little annoyed that he was so silent this weekend. I have my friend Maria draft a text for my approval. She's much better at this stuff then I am. I tweak it just a little bit and send it. I hold my breath while I wait for his response.
7:30 p.m. I'm on my way to Pat's to talk and have make-up sex. Whenever I have something important to say, I prefer to talk in person so I can gauge the person's reaction.
8 p.m. We're on the couch having a really nice up-front talk about me moving. Then I lead him into the bedroom, where we have sex, then spend the next couple of hours talking and watching TV. I am so smitten by this man.
10:30 p.m. I am on my knees in front of Pat. I pull down his pants and give him the blow of his life while never breaking eye contact. He comes hard and I can't help but mentally clap for myself. I LOVE this dick. It's perfect. I always want to blow him. Before I leave, we make plans for Wednesday.
Day Three
11 a.m. Work, work, work. I started working from home this week for my new job, in beauty marketing, which is awesome because I can start making money before I get there. Because let's keep it real, L.A. is expensive and server money isn't going to help much.
3 p.m. At the restaurant, stoned and setting up. I am SO happy that I am almost done with this shit.
1 a.m. Done with work. I am exhausted. I had to wait for this couple to leave the bar so I could put up all the chairs.
Day Four
9:30 a.m. Wake up and have a solo session. Amen for vibrators.
10:30 a.m. On the phone with my dad. I sent him a long email asking for some financial help so that I could ship my car to L.A. instead of driving. My dad is very successful, and it has been hard not being able to find a "real" job. I'm the oldest of three girls and my middle sister got her master's degree a semester before I got my bachelor's, and she just moved to New York for a job. My youngest sister is a teacher's assistant at a private school — and I was serving. I am very critical of myself and I keep to myself when I'm not doing my best, which he hates. I felt like a failure for the last year while I struggled to get a job.
He says he is happy to help ship my car. YES! Because I did not want to make that drive. This probably makes me sound spoiled, but my parents have never been together, and my mom was a single parent who struggled a lot. Even though he could help out, my dad never really did more than he had to. As I've gotten older our relationship has gotten much better.
11 a.m. Conference call with my boss. We're doing some training so that I can hit the ground running when I get to the office in two weeks.
I also finally respond to my mom's text asking to borrow my computer for something. I tell her I can meet her on my lunch but that's it. I love my mother, but she is one of those people that just doesn't have it together, and she's all about keeping up appearances.
2:30 p.m. I meet my mom for lunch and hand over my computer for the next hour. She is sending some work to a potential new client. Fingers crossed she gets it. She had a really great job, but hated the location of it, so she just up and quit with no game plan. She hasn't had a steady job since. That was four years ago.
I pay for lunch with my serving money, and head back home to finish my work day, before heading into the restaurant.
10:30 p.m. It was a weirdly steady but slow night. People are so extra! I'm out early and grab a glass of wine with my friend Bridget. I don't stay out too late.
Day Five
8 a.m. I am up and at 'em plugging away at the day so I have time to shower and get ready before going over to Pat's.
2 p.m. I text asking about dinner options; I'm cooking. We decide on steaks.
5:30 p.m. Still working! Ugh. I caught some mistakes in some of the invoices submitted to me. I'm now running late. I hate running late.
7:15 p.m. At the grocery store speed-shopping. Thankfully, it's down the street from his place.
7:30 p.m. I make it to Pat's and he greets me with a sweet kiss. I start making dinner and open some wine. He sits at the counter and tells me about his day. He sat down with his boss to lock down when he would be getting his promotion.
We eat dinner and have dessert. He got red-velvet cupcakes, which are my favorite.
8:30 p.m. We move things to the bedroom, and have slow lazy sex until I come. We cuddle for a bit and then I head out because he has to go into work really early tomorrow and I'm not trying to wake up that early.
11 p.m. I am feeling so good I call Maria to see if she wants to meet up for a drink. I stop by the restaurant, which is across the street from where I'm meeting her and say hi to everyone working.
2 a.m. Because this is my last few days living the service-industry life, I'm with my friend Andrew and his girlfriend, Clare, picking up coke to take back to their place.
5:30 a.m. We're bitching about work, talking about life. Andrew is being flirty. Oh man.
5:40 a.m. Clare and I are comparing our boobs in our bras when he asks if he can make us both come. Together.
5:45 a.m. We're in their bedroom and they're undressing me. I've never done more than kiss a girl, but I've always wanted to try more.
Her nipples are pierced and it's so hot. I suck on her nipples for a bit and decide I'm going to go down on her. This is so wild. I cannot believe I'm going down on a girl! Andrew has a little bit of coke dick, so she and I focus on getting each other off. She pulls out a vibrator and pins my hands above my head. I'm damn near sobbing I come so hard.
They congratulate me on the success of our threesome. Apparently the last time they tried it didn't go very well.
Day Five
11 a.m. I wake up to my alarm. SHIT. I'm still at Andrew's and I have 45 minutes to get my ass home and log in to my computer before my boss makes it to the office.
11:35 a.m. I have a few spare minutes to grab a sub because the hangover is real.
11:45 a.m. At my computer, logged in. Dear god help me.
1 p.m. I text with Pat, talking about seeing each other a couple more times before I leave. I have got to stop going so hard like I did last night.
4 p.m. Feeling better. Take a couple of hits from the bowl and head to work.
8 p.m. I am killing it tonight. I swear I make more money serving the less I give a fuck.
Day Six
11 a.m. I log in to a very full inbox. Woof, this is going to be a day.
5 p.m. I am starting to get hangry, but I don't have any food in the fridge.
6:30 p.m. I get a text from Clare: "You working tonight?" Hmm. I tell her no. She asks what I'm doing tonight and I tell her and invite her to come along. I could be game for round two.
8 p.m. I shut my computer off and start to get ready. It's our old manager's birthday.
11:30 p.m. Clare walks in and sits next to me. Our knees keep brushing against each other's. She casually brings up how she wishes she had invested in a strap-on, seeing as how Andrew had coke dick. She says she gradually would have fucked the shit out of me with it. I'm flattered, but decide I'm not feeling this tonight and move to a different part of the bar.
3:50 a.m. On my way to get coke with my old manager. I've never really been a coke person, but it's a big thing in this group and tonight I'm feeling like being completely reckless.
6 a.m. We all head back to a friend's house. We're all in the kitchen dancing and doing bumps. I have to be to work at the restaurant at 10 a.m. I set my alarm.
8 a.m. I take a couple hits of a bowl and pass out, with the intentions of making it to work by 10:40 — so I'm at least there before we're open for business.
Day Seven
1:40 p.m. I'm woken up by a phone call from my co-worker asking if I'm alive. Barely. I'm assuming it's a little after 10. Nope. I've completely missed my brunch shift. I honestly don't give a fuck. It's my last day at this place.
3 p.m. I'm just leaving my house to head to work. This is so not my style to be this kind of employee, but I could honestly not be more checked out right now.
12:30 a.m. I head out to my co-worker's place to celebrate my last night working with them. I take it easy and drink water all night.
3 a.m. I say my good-byes and head home. I'm going to miss Pat when I move, but I'm so happy about what's ahead.
Get Sex Diaries delivered weekly.
Want to submit a sex diary? Email sexdiaries@nymag.com and tell us a little about yourself.