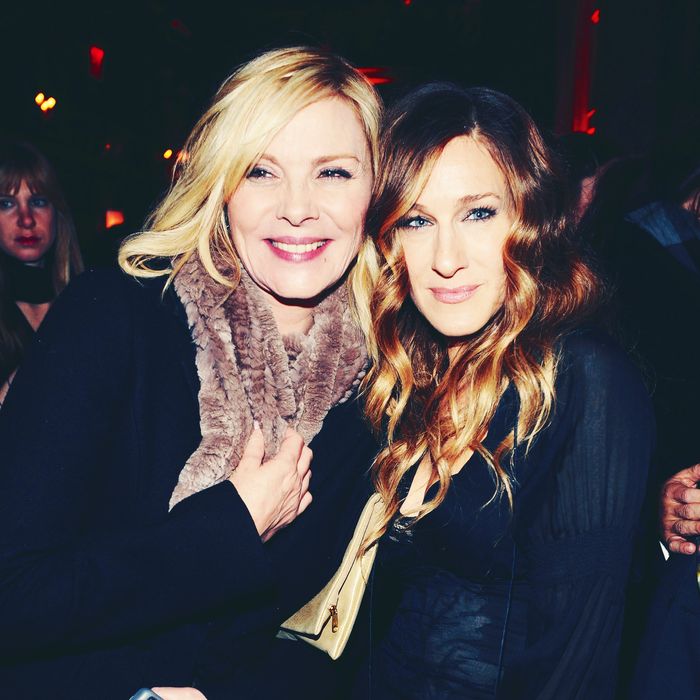 Kim Cattrall and Sarah Jessica Parker.
Photo: Bryan Bedder/Getty Images
Kim Cattrall will always be the woman who deprived the world of a third Sex and the City Movie and broke Sarah Jessica Parker's heart — at least according to SJP.
Back in October, Cattrall told Piers Morgan that she was never actually friends with her SATC castmates, just co-workers. The comment came about a month after it was announced that there wouldn't be a third installment of the movie franchise due to Cattrall's demands.
SJP survived the heartbreak caused by Cattrall's comments thanks to her close, personal friend Andy Cohen who she "spoke about it endlessly" with for a week after the fact. On Wednesday night, SJP went on Watch What Happens Live! with Cohen to publicly admit that she was "just heartbroken" over the comment.
"I found it very upsetting because that's not the way I recall our experience," she told Cohen.
SATC 3 is not dead yet, however. There are rumors that Cattrall may be replaced for a possible third film.
"I think once everybody has thoroughly experienced the grieving process, then [producer] Michael Patrick [King] can go back and sort of ponder what he might want to do and how he might want to proceed," Parker said.