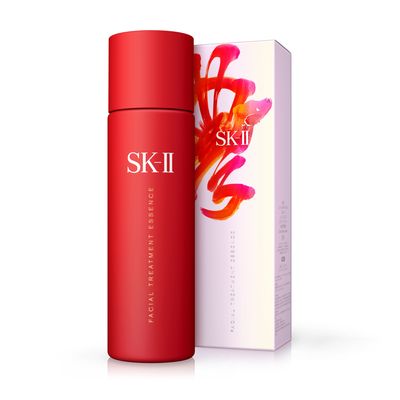 At the top of the list of amazingly beautiful women with flawless skin sits Cate Blanchett. And at the top of her skin care must-haves list is SK-II's award-winning Facial Treatment Essence. (Blanchett, who is a spokesmodel for SK-II, loved the essence so much she convinced SK-II to make a mist version to set her makeup and keep her looking fresh all day.) The popular Asian brand developed the Facial Treatment Essence and their fermented Pitera complex after noticing elderly workers at a sake brewery in Japan had remarkably youthful hands. Clearly, the water-like product is working for Blanchett's smooth "white peach" skin. The Facial Treatment Essence formula hasn't changed for 35 years, and the only change it's undergoing now is a festive, bold makeover in celebration of the Lunar New Year (February 16).
The limited-edition box was inspired by the Chinese calligraphy and the character "meng," which means "dream." The bottle itself is a fiery red that stays true to SK-II's minimalist look, and and symbolizes luck and joy in Chinese culture. "While paying homage to traditions, the modern take on this design encourages women to embrace the new year with new dreams," read a statement from SK-II.
The Facial Treatment Essence, or "miracle water" as some like to call it, is a moisturizing toner that uses the 50-plus nutrients and organic acids in the Pitera complex to soften and smooth skin. The essence also works to minimize pores and wrinkles, evens skin tone, and brightens skin for a radiant glow. The new design is available through March.
If you buy something through our links, New York may earn an affiliate commission.