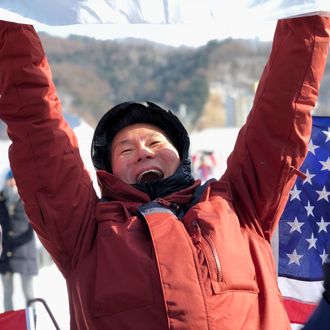 U.S. snowboarder Chloe Kim's father, Jong-Jin Kim.
Photo: Courtesy of Twitter/usskiteam
While the entire world may have a newfound obsession with the cheeky, forever-hungry charm of U.S. gold-medalist snowboarder Chloe Kim, no one's love for her can rival that of her dad, Jong-Jin Kim.
"When I came to the United States, this was my American hope," Jong told reporters after Chloe got the gold, which had everyone on the internet feeling overwhelmed by emotion. "Now, this is my American dream."
Jong has truly pulled off all the classic Dad Moves at the 2018 Winter Games, many of which has left Chloe feeling embarrassed — a mark of perfect execution on Jong's part. Below, his very best moves:
He texted her right before her victory lap.
"Today is the day imugi turns to dragon," Jong told NBC he texted Chloe, who was born in the year of the dragon, right before she jumped into the half-pipe.
He explained: "To be a dragon in Korean tradition is to wait 1,000 years. Before [you are] a simple snake, like an anaconda. But they wait about 1,000 years, and then they turn to dragon. Go to the sky, and they make a big dragon with a gold pearl. She's got a gold pearl in her mouth. I texted her this morning that this is the time to be dragon."
Chloe reportedly responded, "hahahahaha, thank you very much."
And enthusiastically cheered during her runs.
As she stood at the top of the Olympic half-pipe before claiming the gold medal, her father Jong-Jin Kim could be heard repeatedly yelling, "imugi!"
He laminated his handmade sign.
It read, "Go Chloe!" with a big pink heart.
And though she doesn't always appreciate him…
After her victory lap, Jong told The Independent, "I just hope she lives as a happy girl. I just wish she was a little nicer to me! She's such a teenage girl."
Ugh, dad.
His love for her is unconditional.