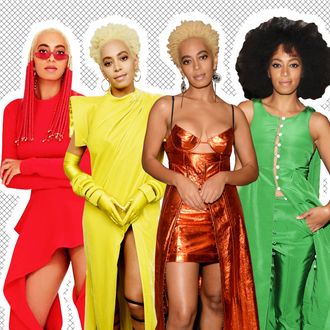 With the perma-grayness and bone-chilling cold of winter, it's almost too easy to succumb to the urge to wear camouflage, leaving the house swaddled only in various shades of blacks, grays, and … greige. Everyone has their own coping mechanisms: Victoria Beckham hides under enormous, cozy turtlenecks, whereas Solange wears vibrant bursts of a single color from head to toe.
Solange Knowles — celebrated artist, singer, writer, mother, etc. — can also add reigning queen of monochromatic outfits to her list of accomplishments, because only she can pull off literally every single hue of the rainbow and make it all look like a piece of cake. Over the past few years, the stylish founder of Saint Records has paraded splashy colors (and textures!) on the stage, red carpets, music videos, and front-row fashion events. Though she's always been partial to prints, Knowles has given equal attention to dressing entirely in any color other than black. May she serve as inspiration the next time you reach for the umpteenth black coat on your next shopping spree.
Below, treat your eyes to some of her best monochromatic looks. Note of warning: you may feel a sudden urge to dress in pastels, find the nearest national park, and pose serenely (with some subtle interpretive dancing here and there) for your social-media feeds. At the very least, you can treat yourself to a bag of Skittles.