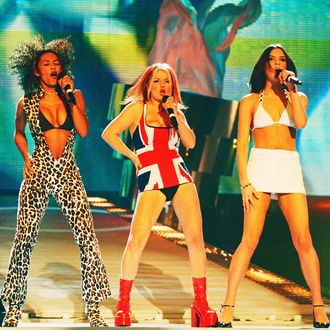 The Spice Girls.
Photo: Scan Room/Getty Images
The upcoming wedding between literal suit-wearer Meghan Markle and royal ginger Prince Harry is rapidly approaching — and now we finally have some idea about who will be invited to the event. Namely, all five of the newly reunited Spice Girls, since they'll apparently be performing at the nuptials.
Mel B (a.k.a. Scary Spice) spilled the beans during a Tuesday appearance on the U.S. talk show The Real. While being pressed for details about the event, Mel B quietly revealed that she would be attending the wedding, saying that "all five Spice Girls" received invitations. "Why am I so honest?" she asked, before seemingly confirming that they will be performing at the reception. "I need to go. I'm going to be fired," Mel B then said.
But is this spicy wedding performance really happening? Well, here's the story from A to Z: Victoria Beckham has let the world know that she and Markle have become close friends, and the girl group is already reportedly reuniting for a tour. So … perhaps the royal wedding really will have some of that zigazig ah (sorry) after all.